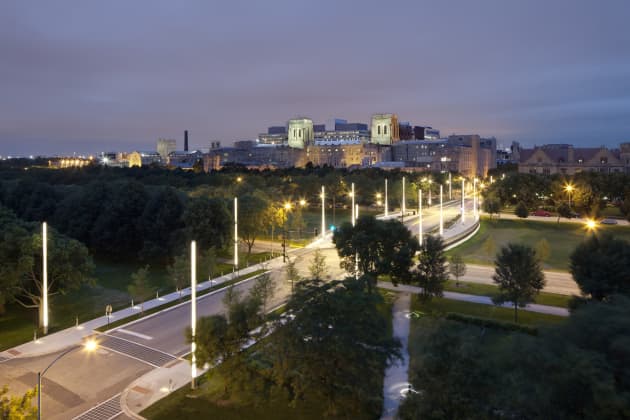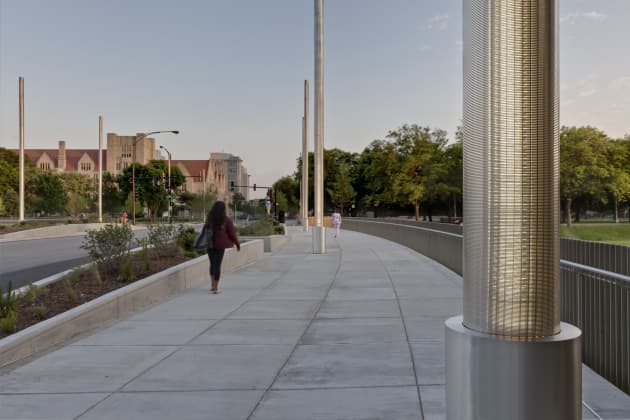 Photo: Tom Rossiter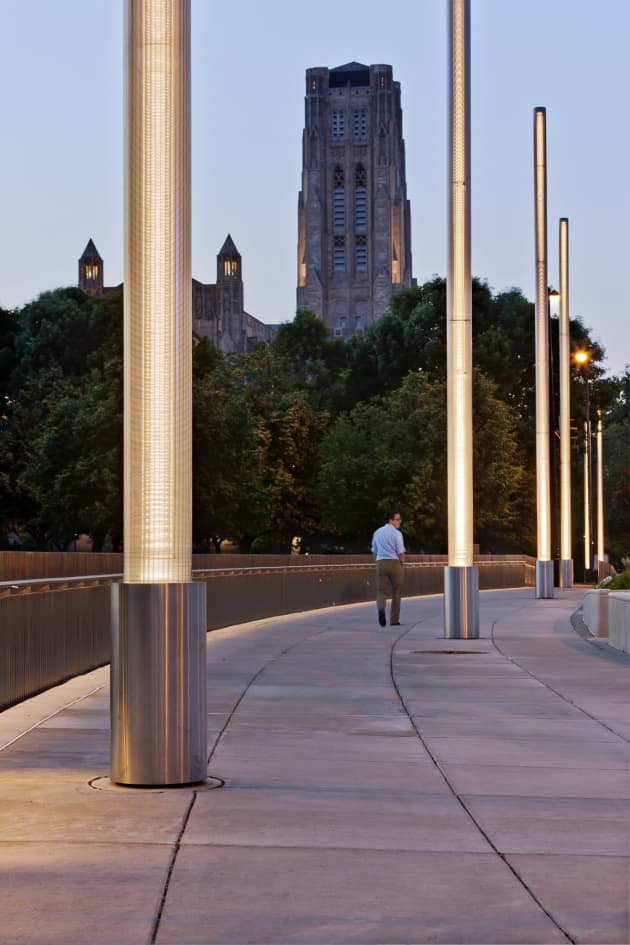 Photo: Tom Rossiter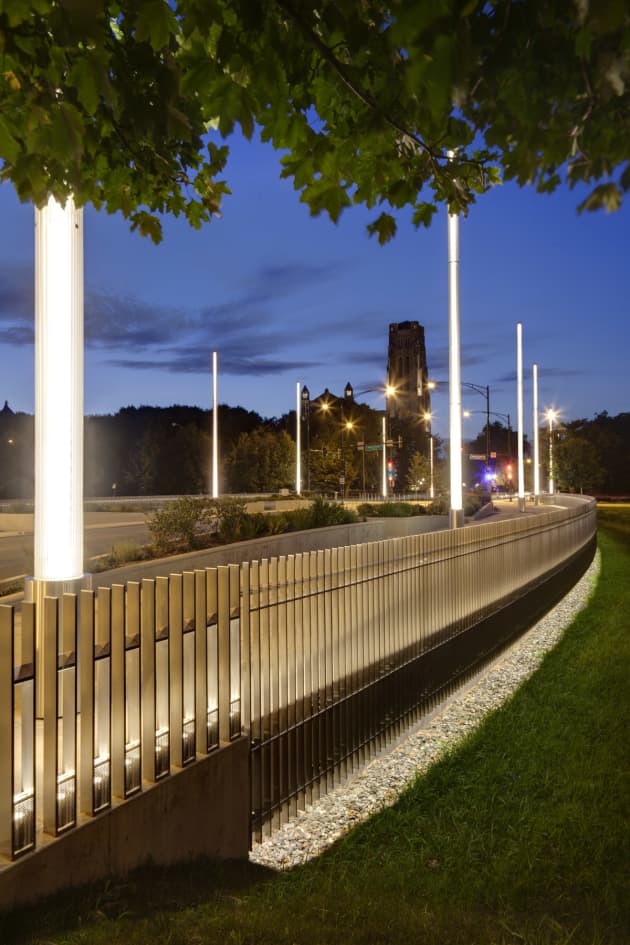 Photo: Tom Rossiter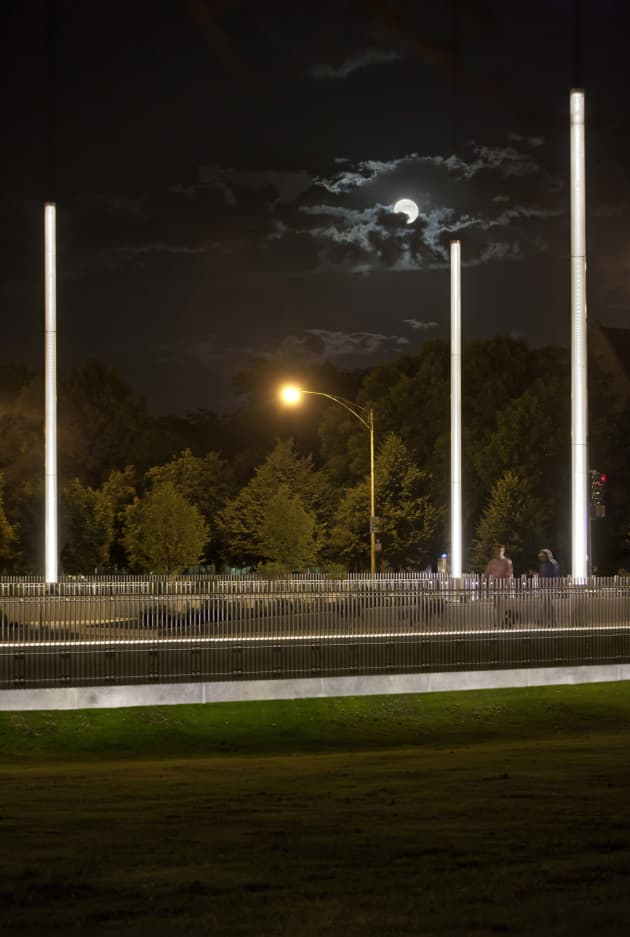 Photo: Tom Rossiter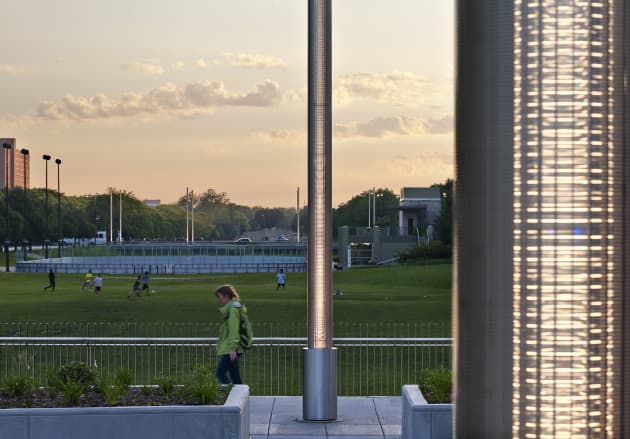 Photo: Tom Rossiter
Client: University of Chicago
Location: Chicago, IL, United States
Completion date: 2014
Artwork budget: $3,200,000
Project Team
Artist
James Carpenter
James Carpenter Design Associates
Lighting
Jim Baney
Schuler Shook
Overview
Stainless steel, LED, light pipe
3 "bridges" each 40' H x 700' L x 100' W
The "Midway Crossings" is an important civic art project, transforming a linear park originally designed by Frederick Law Olmsted. The Midway Crossings establish a coherent connection between two areas of the University of Chicago campus by marking the four main cross-Midway streets that now serve as the student bike, pedestrian and vehicular links.
Goals
This project grew out of community conflicts and problems within this neglected historic site, which was perceived as a barrier cutting through the University's north and south campuses but more critically a barrier that separated the underserved South Side of Chicago from the more affluent north side, Hyde Park. Students and the public generally avoided this area at night due to a history of incidents. Effectively, the Midway had become an un-traversed void at the center of these two neighborhoods. While lecturing for the Physics Department about my studios understanding and deployment of light, we were asked to develop a concept that could change this perception and link these two communities together.
Process
This particular project, as it was such a focal point for the City, University and local communities underwent extensive community review through the four local community Aldermen and their committees, the City of Chicago Parks Department, the City DOT, the University of Chicago Planning Department. My studio and I were part of each of these reviews over a one-year period prior to beginning construction. As the original Park was the site of the 1893 World's Columbian Exposition and the park was designed by Frederick Law Olmstead the project had independent reviews by different historical asset entities. We worked very closely with the Parks Department and the Chicago DOT.
Additional Information
One of the primary goals of this project was to use light to deliver both a means of pedestrian wayfinding and safety. The fixture also respects today's need to reduce light pollution and embrace a 'Dark Skies' strategy. The light from the new towers emanates horizontally, illuminating the facial features and the full figure of the pedestrian at a far lower level of light, but perceptually to the human eye, what appears to be a far brighter level of illumination.