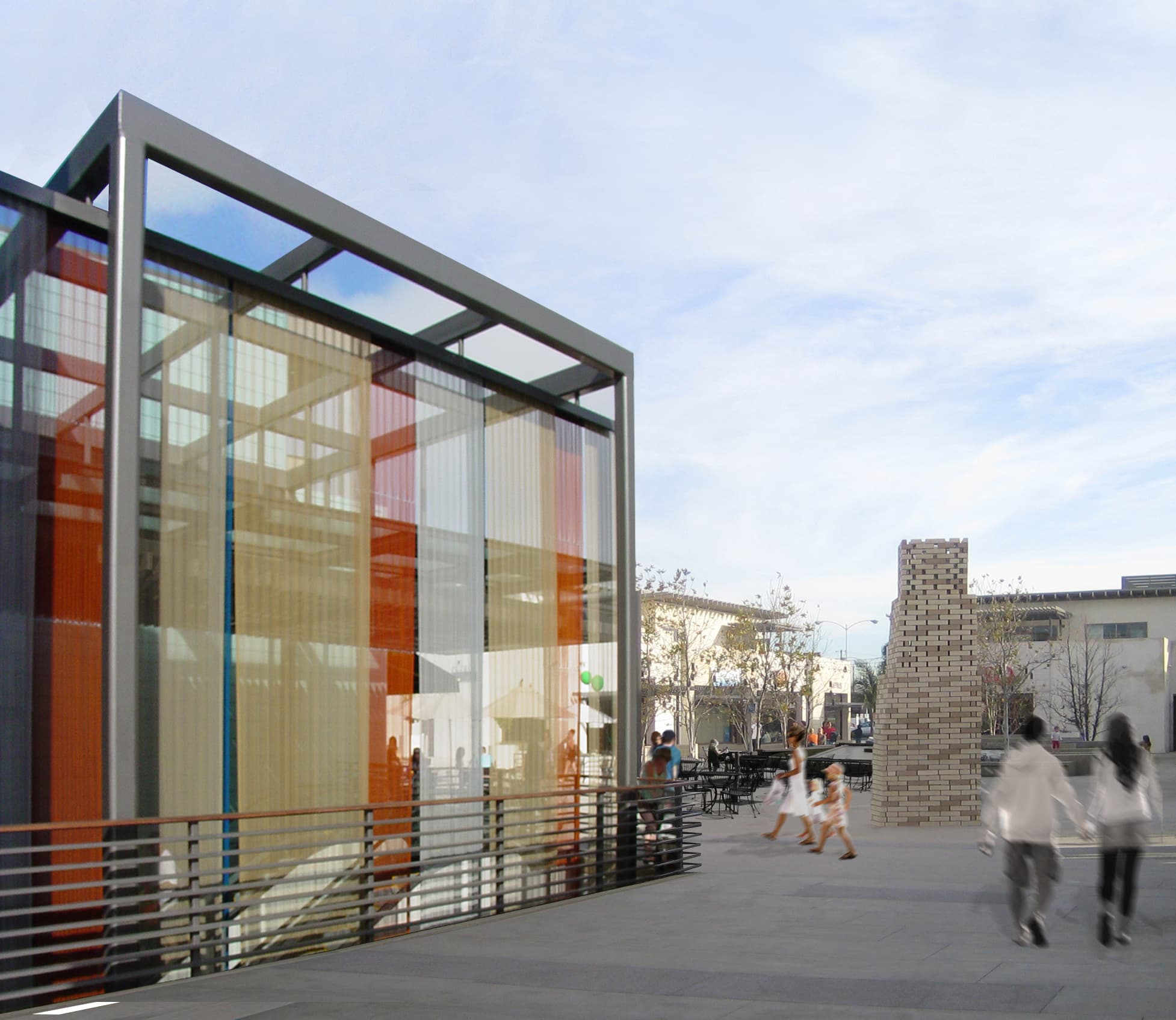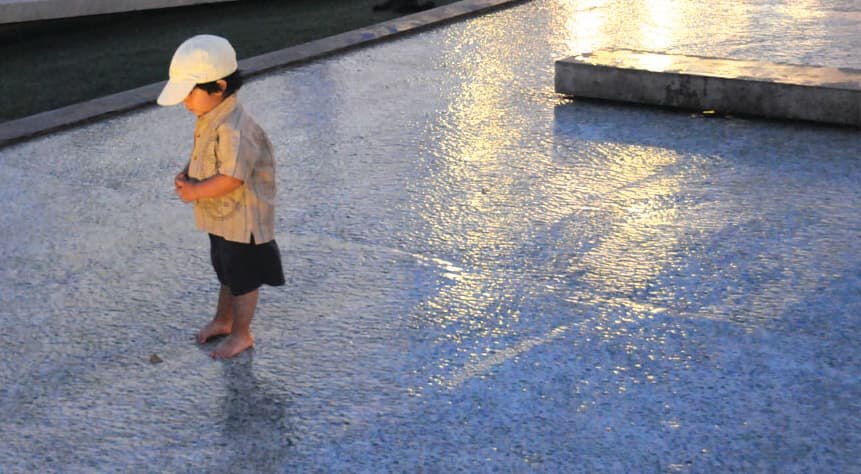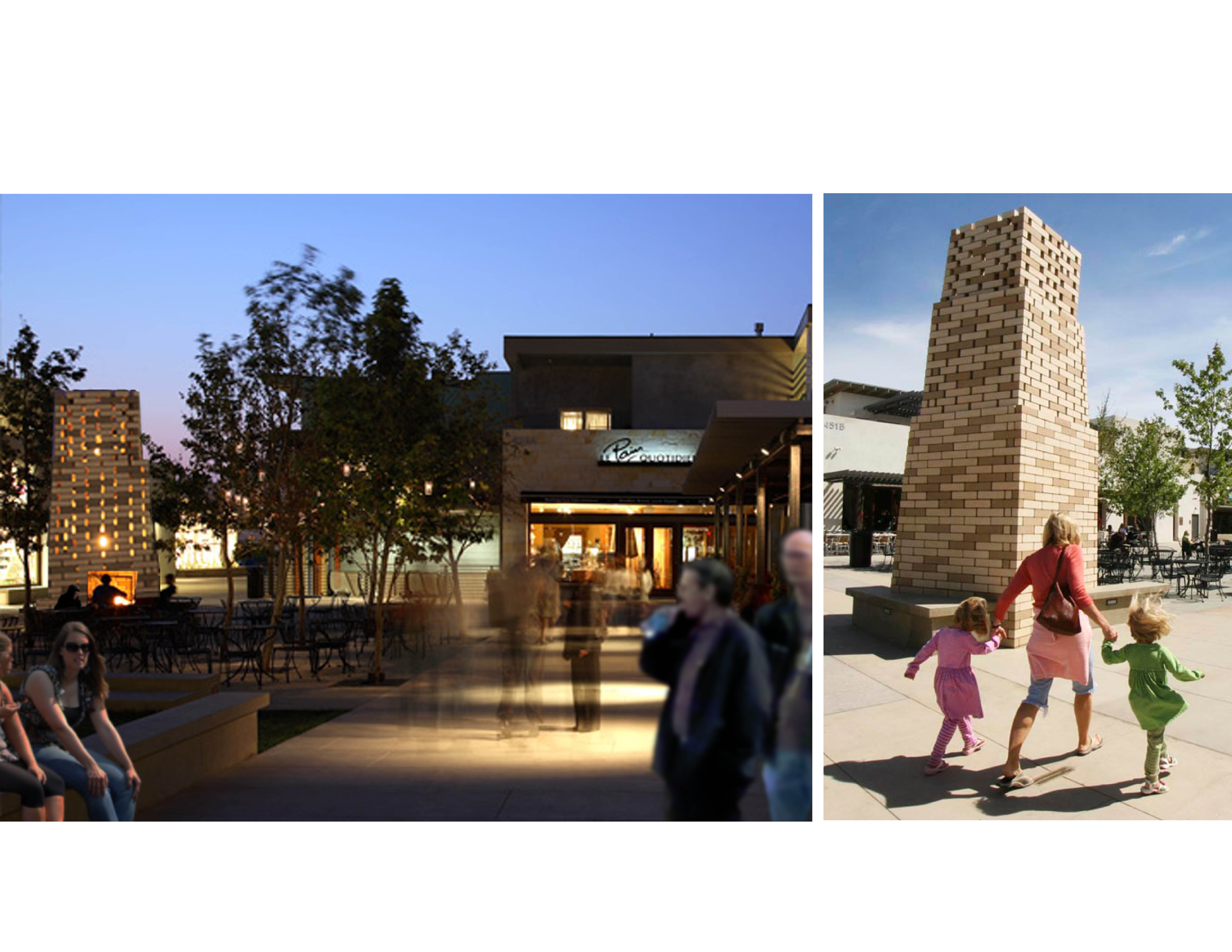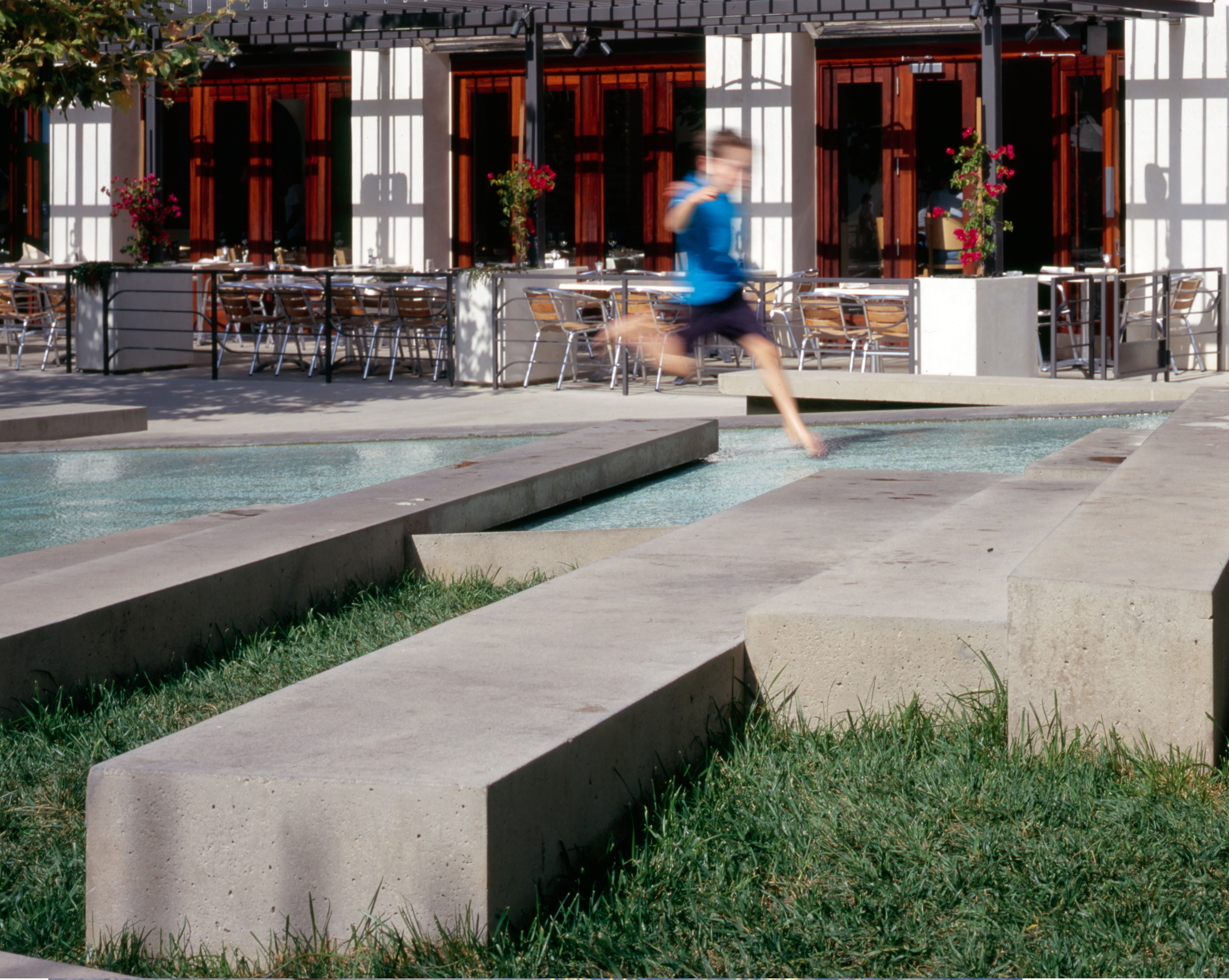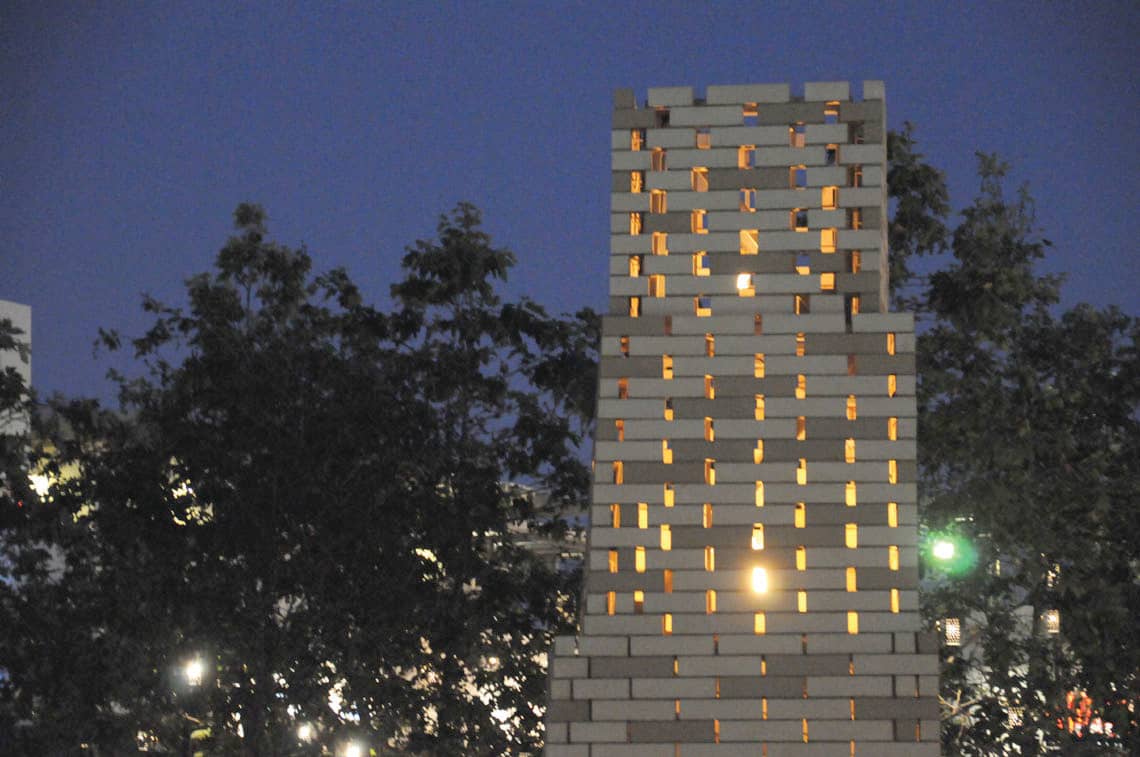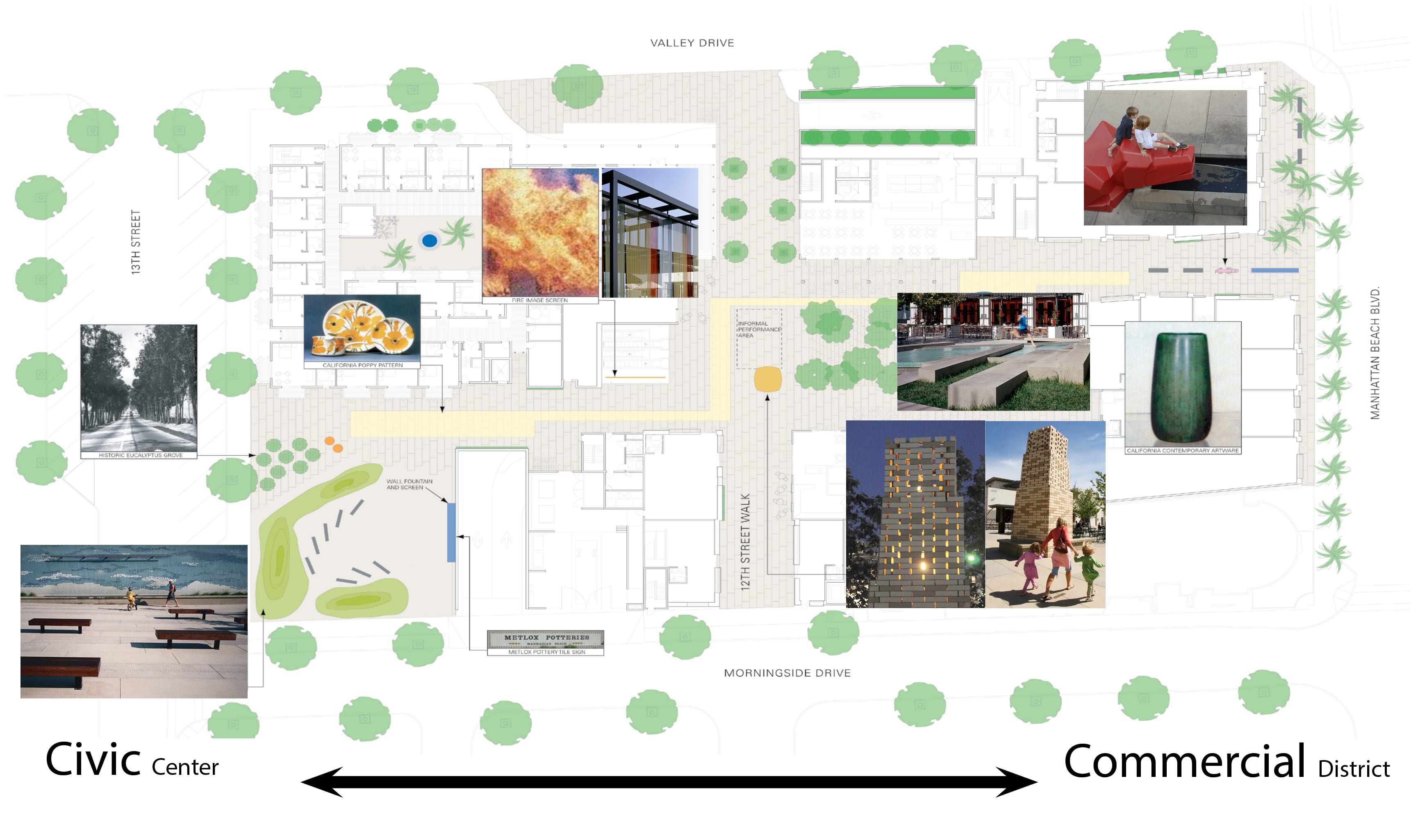 Project
Client: City of Manhattan Beach and Tolkin Partners
Location: Manhattan Beach, United States
Completion date: 2008
Artwork budget: $400,000
Project Team
Architect
Peter Tolkin
Tolkin Architecture
Landscape Architect
Wade Graham
Graham Studio
Overview
A series of interventions within the city block of plazas that link the Civic Center of this small beach town to its Main Street. The artworks draw upon the symbolism of fire and water, primary elements in the ceramics industry and a link to the site's industrial past as the Metlox Pottery Factory that operated there since 1927. They are also symbols of a modern city shaped by the ocean waves and the sun. Each intervention was designed to encourage activity and community participation. The three public plazas total 35,900 SF. Winner 2008 AIA Award in Urban Design & Planning.
Goals
Water threads its way through the project, appearing and disappearing, in a series of fountains. At the entry, an over-scaled reproduction of a Metlox dog figurine turned fountain greets you and provides a cool drink for four legged visitors. In the central plaza known as the Town Square, horizontal planes of water wash over concrete steps to form pools and play areas. Located across the courtyard, a large sculptural kiln made of fire brick provides warmth in winter and marks the symbolic hearth of the site. The escalator core that leads from the three levels of subterranean parking to the central plaza is draped with metal scrim representing fire. The illuminated screen becomes both a marker of entry and a symbol of what was.
Process
Initially this project was a collaboration with architect Peter Tolkin. When we received the art commission, the overall site plan and the building design for the new mixed use development had already been completed by his firm. Our collaboration began with brainstorming sessions after which I would go back to my studio to sketch ideas. Over time these sketches developed into a series of artworks that would link the plazas with a cohesive concept. Once the concept had been set, the team expanded to include Landscape Architect Wade Graham and Lighting Designer John Fox.