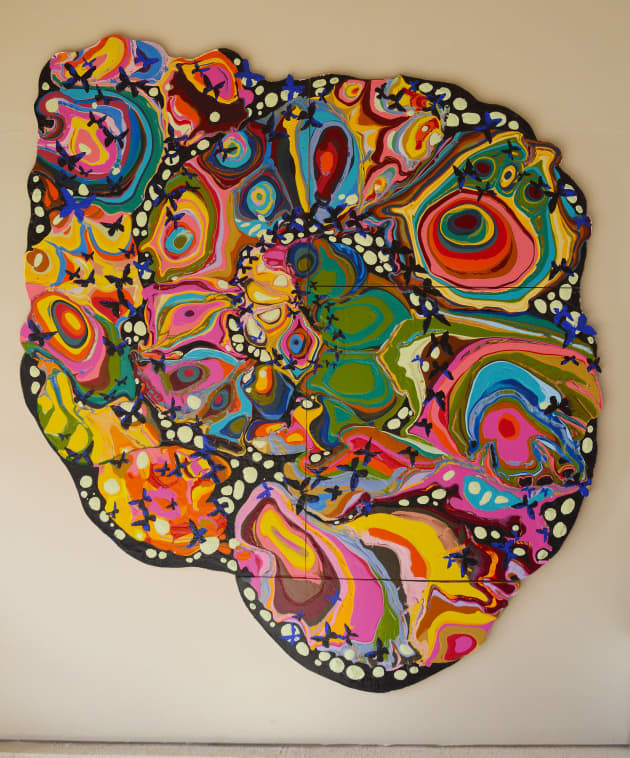 Client: Arrow Electronics
Location: Denver, CO, United States
Completion date: 2015
Artwork budget: $15,000
Project Team
Artist
Jennifer Ivanovic
Arrow Electronics
Client
Arrow Electronics
Arrow Electronics
Public Art Agent
Tara Brickell
Cherry Creek Art Festival
Overview
Ivanovic's simple, yet incredibly beautiful paint-pouring process captures and collaborates with gravity – with shocking and unexpected results. The massive, free-formed painting is based on several concentric pours and the bullseye pours are symbolic of continuous drips of radiating innovation. Hidden within the connected bullseye pours are caterpillars, cocoons and hundreds of painted butterflies swirling from the center of the work. Media: Poured Acrylic Painting on Plywood/ Dimension: 90" x 101.5"
Goals
Description: Winner of The Arrow Five Years Out Art Challenge – $10,000 innovation award. The challenge seeks painters, glass blowers, new media creators, digital artists and more from all over the world who can think beyond tomorrow and see what's coming Five Years Out. Displayed at Cherry Art Creek Festival 2015, Denver CO.
Process
Arrow's Five Years Out Challenge inspired Ivanovic to look at the Magic of Metamorphosis. These transformations symbolize what a business needs to thrive, inspire and reshape its products and thinking in a "Five Years Out" world.

Arrow Electronics has challenged Ivanovic and all creators to live and work in a world Five Years Out. She has certainly been inspired to work in the "beyond". The beauty of "Metamorphosis" shows complex painting skills, a hypnotic color palette and a large scale collaboration with a force of nature—gravity. How will you work Five Years Out?