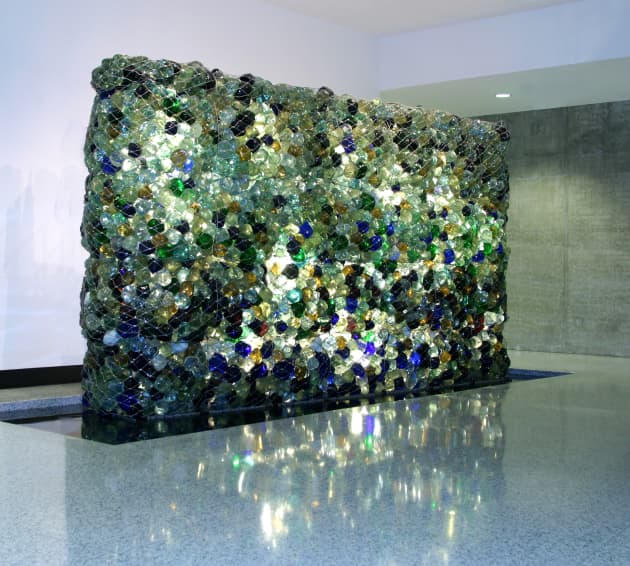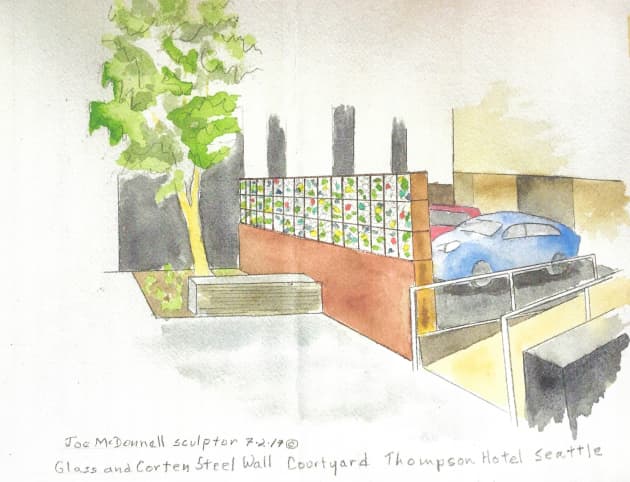 Client: Seattle Children's Hospital
Location: Seattle, WA, United States
Completion date: 2005
Artwork budget: $150,000
Project Team
Architect
Robert Bruckner
AIA
Overview
A free-standing, 8' high, multi-colored glass rock gabion fountain running 14' in length. The piece is illuminated by multiple lights from the bottom.
Goals
The goal was to create a large piece which would enhance the lobby of a hospital while introducing an element of color and tranquility. This piece combines the soothing effect of a fountain with the vibrance of colored glass stones, which are bound together by a stainless steel wire cage.
Process
After the site was presented to me by the architect, I made a series of sketches showing water and glass compositions. My proposals were reviewed, and the idea of a gabion wall appealed to the architect and developer the most. Consequently, I created a 1" : 1' scale model of the piece. Together with the architect, Bob Bruckner, we worked out the details, including the sculpture's final size.
Additional Information
This sculpture fountain was created so that it could be disassembled, stored, and placed in another site if needed.