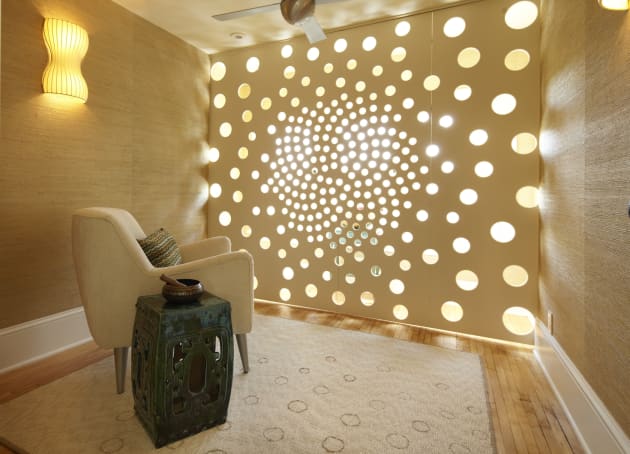 Photo: Karen Melvin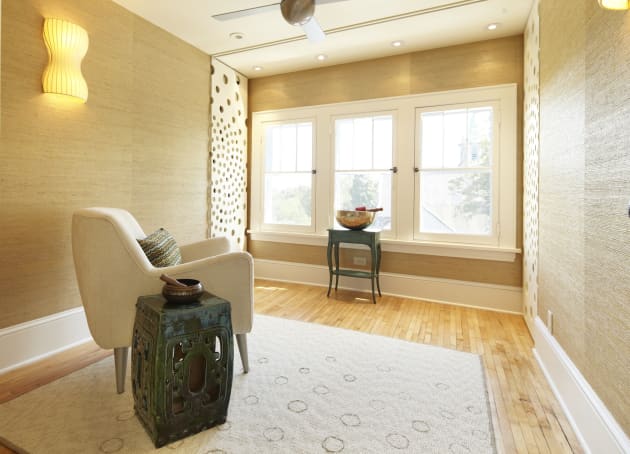 Photo: Karen Melvin
Client: Private Owner
Location: Minneapolis, MN, United States
Completion date: 2012
Project Team
Architect
Shelter Architecture
Interior Designer
Lisa Antenucci
Shelter Architecture
Overview
A daily practice of meditation brought about the homeowner's desire for a room dedicated to serenity. The request was for a chair and a place for singing bowls. Nothing else was to be in the room.
Goals
The client's practice was not based in a specific religious tradition of meditation so the design team took a more universal approach to his tranquil retreat for contemplation.
The room's windows face South. Therefore, controlling the quality of light, day or night, focused the design concept around a custom retractable screen. Research into various meditation traditions focused the design on the use of a Fibonacci sequence. Fibonacci sequences are the mathematics of repeating patterns found in nature. These patterns have a long history of use in meditation practices.
Process
The design team mocked up various versions of the screen. Finally settling on the pattern and how it would tuck into the room's walls they had it fabricated on a computerized router bed. The rest of the room coordinates around the same theme. A custom, hand stitched, wool rug with the same pattern adds softness under bare feet. Grasscloth wallpaper adds texture and warmth to contrast the silky smooth surface of the screens.
Every detail contributes to the success of the room. Dim-able recessed lights allow the tranquility of the screen to come to life at night. A ceiling fan keeps the room cool. And the screen pattern, so precisely laid out, even accounts for the overhang of the window sill. The final result: a tranquil, sparse and peaceful retreat that envelops the visitor in a magical cradle of light, allowing the mind to reflect and rejuvenate.