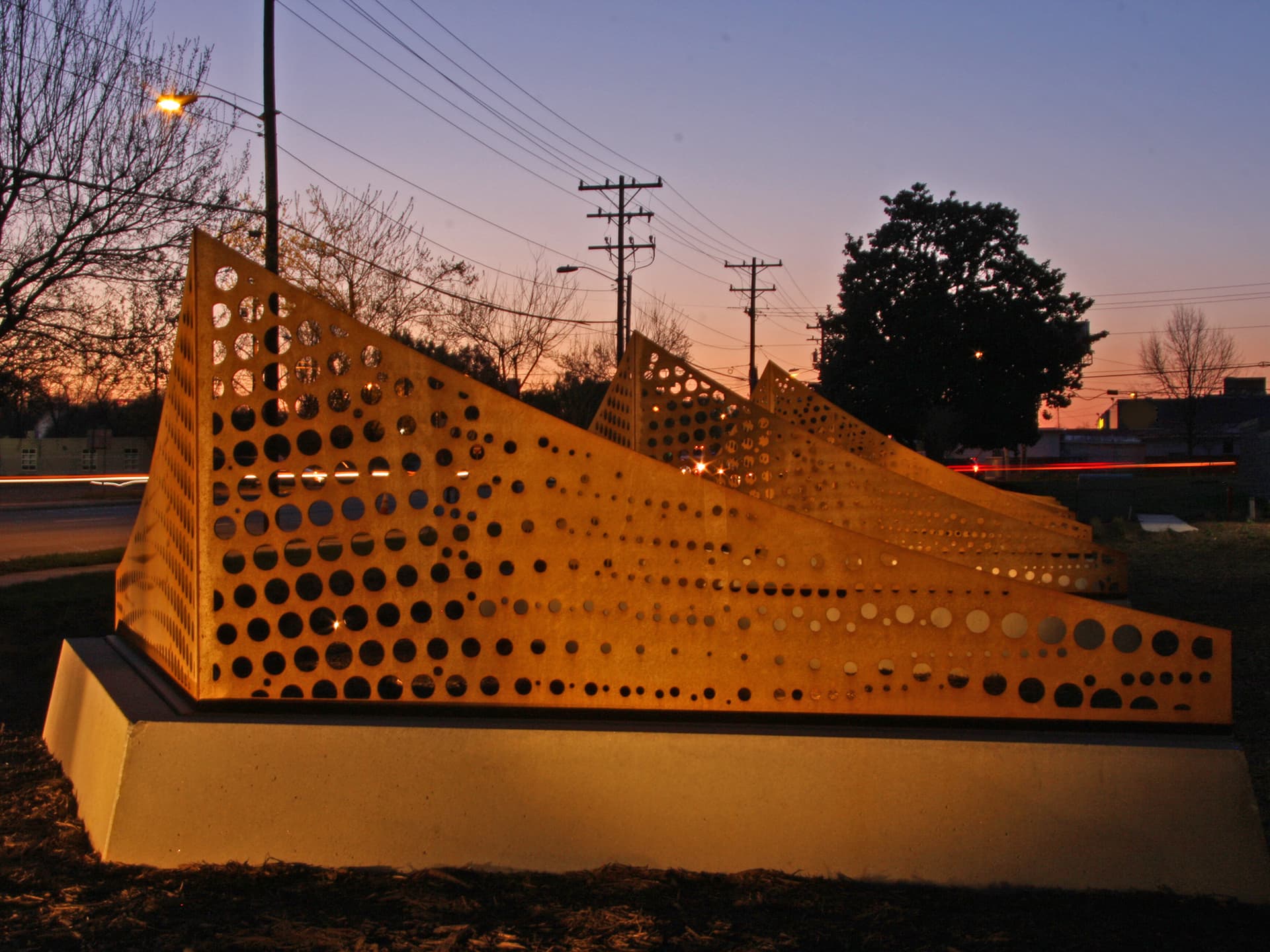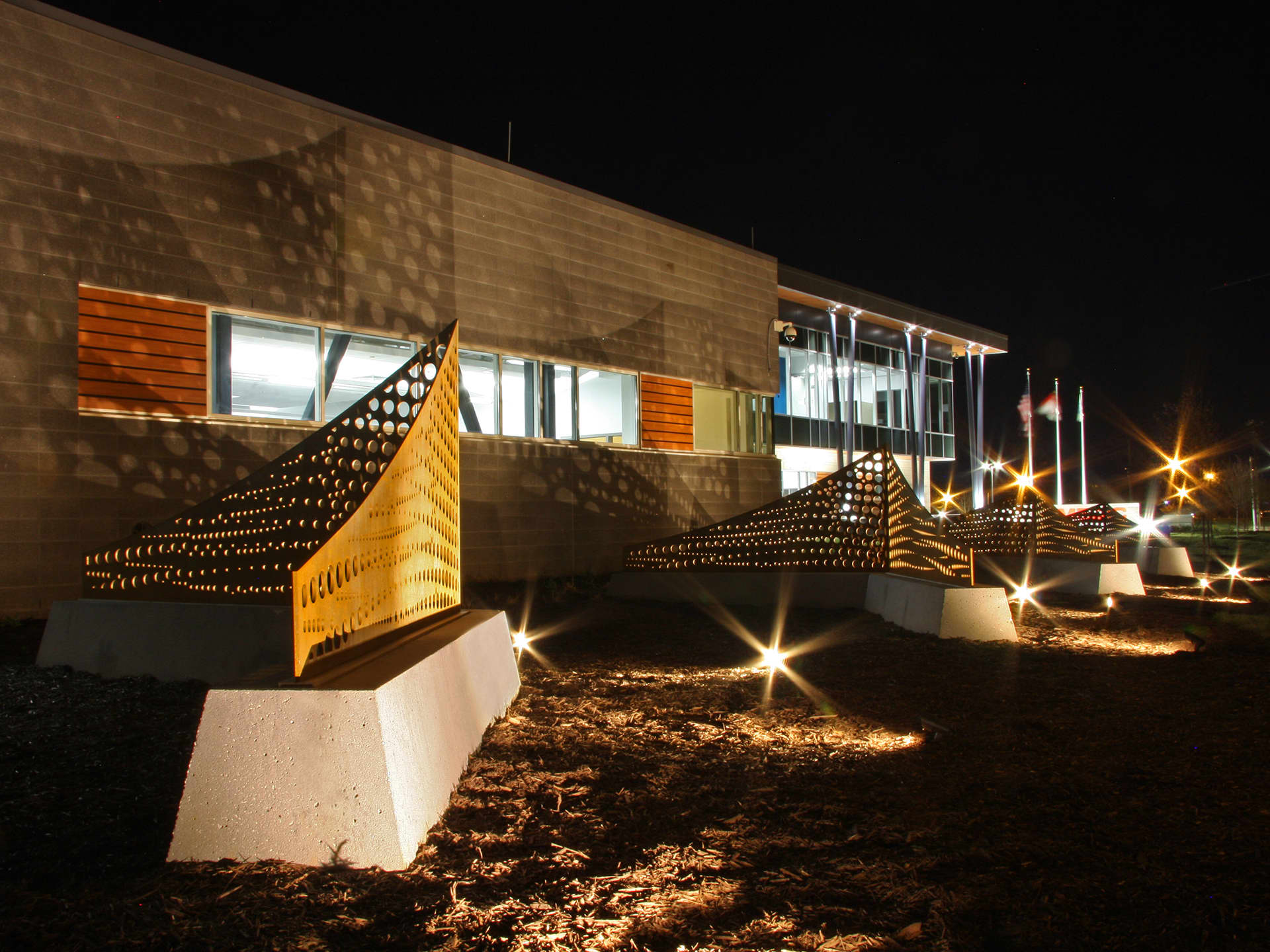 Project
Client: Arts & Science Council of Charlotte-Mecklenburg & Mecklenburg County
Location: Charlotte, United States
Completion date: 15/03/2018
Artwork budget: $276,000
Project Team
Artist
Vicki Scuri
Vicki Scuri SiteWorks
Client
Todd Stewart
Arts & Science Council
Client
Carla Hanzal
Arts & Science Council
Architect
Michael Newton
ADW Architects
Architect
Bryan Turner
Mecklenburg County
Overview
"Response" features eleven cut-metal screens inspired by the geometry of the MEDIC Shield. This project softens the site and humanizes the MEDIC Headquarters. It transforms concrete security barriers into sculptural bases for elegant screens. The patterning references the warp and weft of fabric and electrocardiographic vital signs, recalling the site's history and its current use as an EMT Training Facility. The dot patterning forms an upward, expansive movement, complementing the site and the streetscape. The screen patterning is interactive with light, shadow and environment. From inside the MEDIC Facility, the screens provide a playful cadence, beauty and sense of privacy.
Goals
The goals of this project were to add color, pattern, scale, and context to the site, creating a dynamic landmark. It celebrates Wilkinson Boulevard, the first four-lane highway in the state and the main route from the City center to the Airport. This project promotes the road's renovation and celebrates its history, by referencing the textiles mills that once stood along its route. The project sits between the building and the road and is a highly visible landmark to thousands of drivers each day. Repositioning the required security barriers as bases for sculpture serves to integrate the artwork into the project as a transformative feature. This project provides a sculptural approach to the site and its need for security. Integrating artwork into this project also involved considering its visibility from the sidewalk and from inside the building. The windows directly overlooking the artwork lead to the 911-call center. The screens frame the view out, providing a needed visual respite to the demanding work occurring inside the building. Integrating the artwork into this project was considered throughout the process, from its pattern concept to its physical installation, and is critical to its success.
Process
This was a very collaborative process. We worked closely with the staff of the Science Council, the Public Art Commission, the County Stakeholders and the Community. We coordinated with the Project Architect, the County Landscape Architect, the Project Engineer and the County Construction Manager. We built our work through the Contract Documents overseen by the Team and ourselves. The work proceeded very smoothly, as everyone supported the Project and cooperated willingly to make it work. While we were on a tight budget for a project of this scale, we extended our dollars by simplifying the Project and culling the work to its essence, eliminating six screens and reducing the Project scope. Still, the Project did not suffer. Similarly, we simplified the landscape plan, and reduced the variety of plants to a minimal number to mitigate maintenance issues, promoting mass plantings and large sweeping gestures. Throughout this entire process, we stayed in close communication with all participants. Everyone promoted teamwork. As a result of this close collaboration, the final work meets or exceeds the expectations of our Client, the County, the Community and the EMT staff. The Design Team Process made this Project possible.