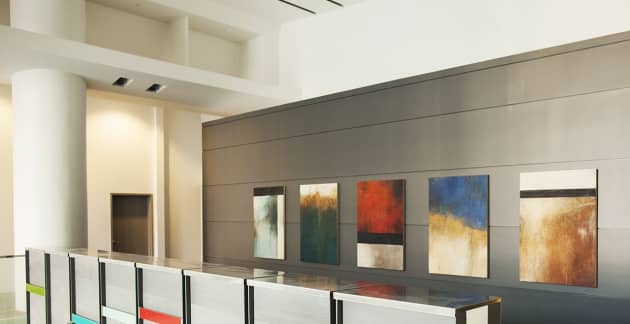 Photo: Kristen Eide
Client: American Art Resources
Location: Houston, TX, United States
Completion date: 2015
Artwork budget: $30,000
Project Team
Art Consultant
Elizabeth Dunston
American Art Resources
Overview
I was commissioned by American Art Resources to create five large paintings (52″x36″) for the new Sheikh Khalifa Bin Zayed Al Nahyan Institute for Personalized Cancer Therapy, MD Anderson Cancer Center in Houston, TX.
Goals
The paintings were installed on a large wall to be seen from a staircase descending into a lobby in the Zayed building. The overall design was meant to be a colorful, yet subtle and soothing focal point for the passageway.
Process
Through a Santa Fe gallery that handles my work ( McLarry Modern Fine Art) I was provided with images of five of my earlier paintings that had been chosen by American Art Resources as models for the commission. These were cropped and re-oriented to suit the overall design. I engaged the services of a custom panel builder, Mike Berger of Peshtigo, WI to create the panels, and also arranged shipping with Craters and Freighters of Milwaukee. The work was delivered on time and to all specifications. American Art Resources reported being very pleased with the project's outcome.
Additional Information
It was an honor that my work was selected for this new, 50 million dollar building focused on cancer research. I believe that my paintings have quiet and soothing aspects that work very well in a health care setting.