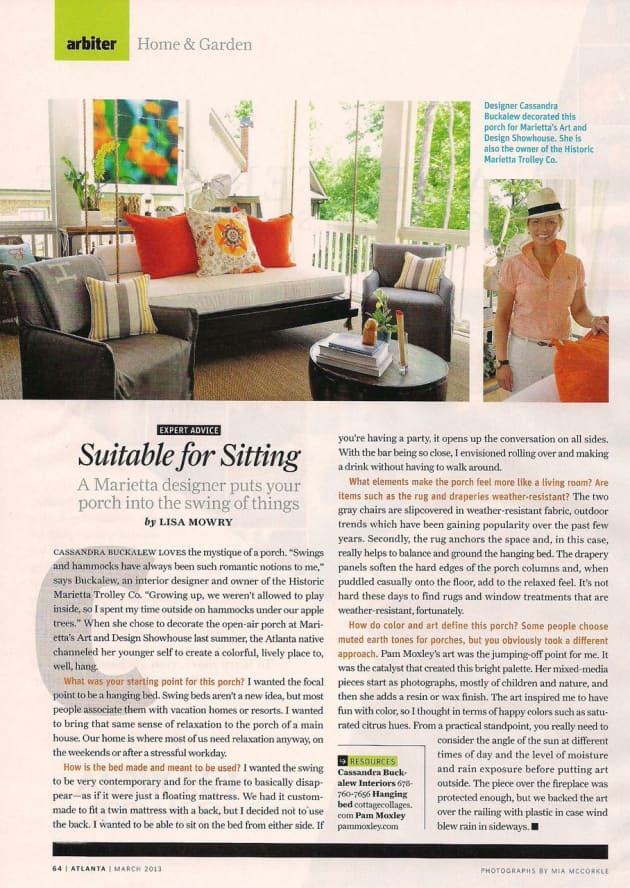 Photo: Mia Liquori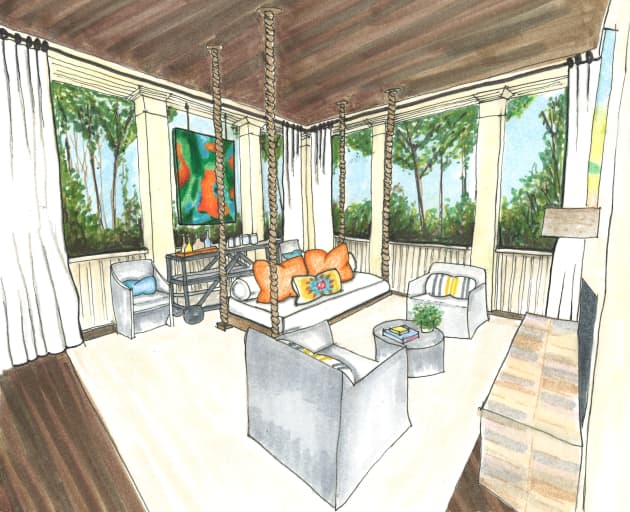 Photo: Mia Liquori
Client: Marietta/ Cobb Museum of Art
Location: Marietta, GA, United States
Completion date: 2012
Artwork budget: $10,000
Project Team
Interior Designer
Cassandra Buckalew
Cassandra Buckalew Interiors
Artist
Pam Moxley
Pam Moxley Mixed Media
Overview
Interior Designer, Cassadra Buckalew, designed the open-air porch of the Marietta Art and Design Showhouse in September of 2012. She collaborated with artist Pam Moxley to create a bright and vibrant room. The space showcased Moxley's art and was a creative colorful and lively place to hang out and visit with friends.
Goals
Cassandra Buckalew loves the mystique of a porch. "Swings and hammocks have always been such romantic notions to me," says Buckalew. "Growing up we were not allowed to play inside, so I spent my time outside on hammocks under our apple trees." When she decorated the open-air porch of Marietta's Art and Design Showhouse, she created a colorful lively place. " By collaborating very early in the design, process, Moxley and Buckalew were able to create a space that focused on the art and built the remaining components around it. The main goal of integrating the commissioned artwork into the space was to have a bright colorful component that emphasized the outdoors.
Process
"Pam Moxley's art was a jumping -off point for me. It was the catalyst that created this bright palette. The art inspired me to have fun with color, so I thought in terms of happy colors such as saturated citrus hues." says Buckalew. "From a practical standpoint, you really need to consider the angle of the sun at different parts of the day and the level of moisture and rain exposure before putting art outside. The piece over the fireplace was protected enough, but we backed the art over the railing with plastic in case wind blew rain in sideways." Moxley and Buckalew worked closely together to create and environment that highlighted the art while also keeping it protected from the elements.