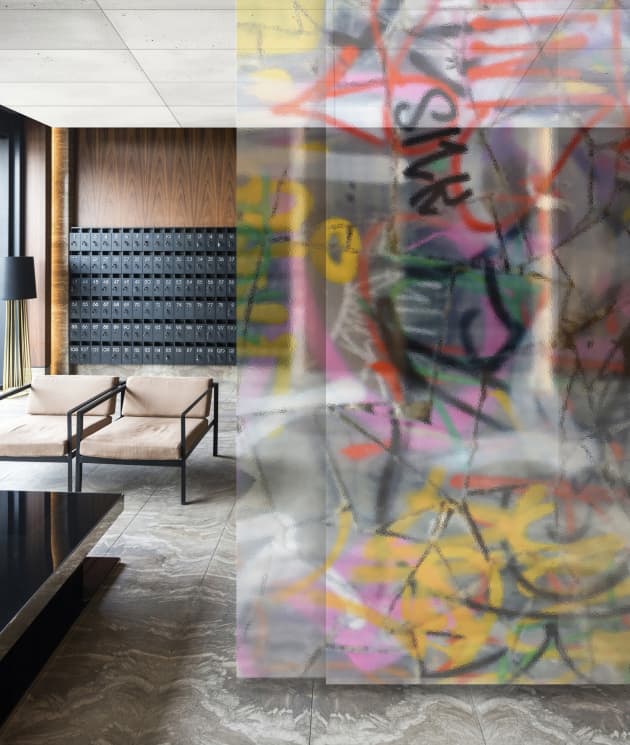 Client: LUMMA
Location: New York City, NY, United States
Completion date: 2014
Artwork budget: $65,000
Project Team
Industry Resource
Adrian Levin
LUMMA
Overview
A contemporary hotel reception was prime for a separate lounge area, but it required maintaining furniture configuration and avoiding major construction. LUMMA, a system of floating murals that are "totally off-the-wall" – provides a space solution that subdivides space, maintains luminosity, and adds a layer of artful functionality.
Goals
In addition to subdividing the space, we saw an opportunity to infuse color and art to an otherwise neutral palette. The nature of the environment, a no-nonsense urban upscale space, suggested bringing an aspect of the city life to the interior with iconic floating murals depicting graffiti. The colors and energy of the art create a visually impactful and energetic design that serves as a counterpoint to the muted interior space.
Process
The artist and artwork was selected for its depiction of urban energy and relevance to the interiors. The original artwork photo is digitized at full scale, and samples are produced using a film inter-layer between sheets of translucent resin material. A calibration process is necessary to achieve the right image saturation, light diffusion, and overall impact. The scale and cropping of the artwork is carefully measured with overall space proportions, attempting to maintain integrity of this "digital original", gaining approval of the artist.