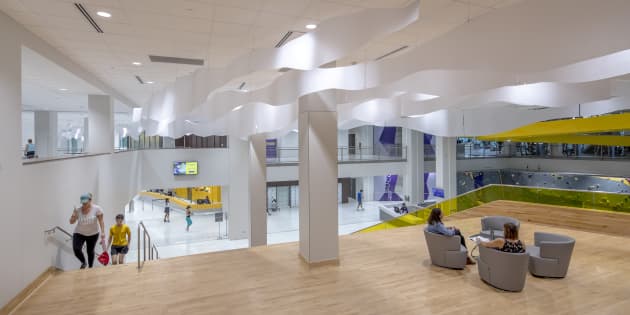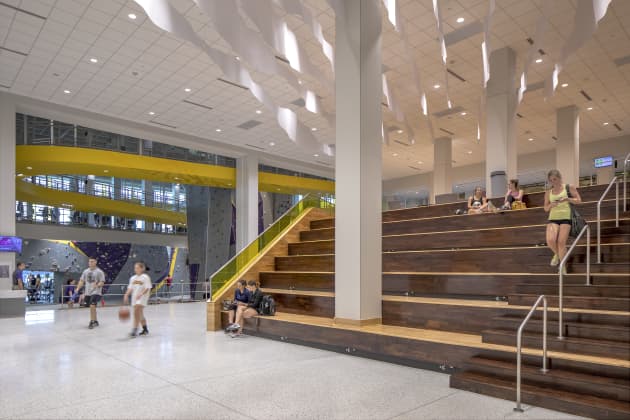 Client: Louisiana State University
Location: Baton Rouge, LA, United States
Completion date: 2017
Project Team
Artist
Adam Jackson Pollock
Fire Farm Inc
Architect
Amanda Cason
Grace and Hebert Achitects
Overview
Decorative ceiling element made from thermo-formed frosted resin panels for Louisiana State University's new recreation complex. The entire structure is built from panels suspended from the ceiling to create an organic undulating flowing river shape that carries through the building. The piece is over 120 feet long and about 30 feet wide.
Goals
This project met the "1% For the Arts" requirement defined in Louisiana State University's construction guidelines. The new recreation/sports facility includes a unique pool design that travels a meandering path outside the building and continues through to the interior, allowing swimmers a continuous, circuitous path. Elevated running pathways circulate through the structure as well. This sculptural piece was designed to flow through the space carrying the occupants from one end of the building to the other and reflect the design of the innovative pool and track.
Process
The development of this sculpture spanned several years of project design development and construction. The architects at Grace and Hebert approached us to assist with the conceptual design and fabrication of the installation. They were very involved in the details of construction and the specific code requirements for the building location. Fire Farm researched to find a plastic resin panel that met both the fire-safety code requirements and which would also be UV stable and provide easy thermo-formability. A clever design approach was deployed where a single panel could be cut to create two different forms. Those forms were then shaped by heat to create an undulating effect. The two forms could be suspended adjacent to each other, right-side up, upside-down, reversed and in any orientation, but the ends would always appear to meet in a seamless fashion with an unbroken edge curve. This allowed for an almost infinite variability in the overall shape of the river when suspended as layers next to each other. The wave forms reach up and recede and overlap as they carry through the space. Once the site was ready the panels were shipped with detailed installation instructions for the contractors.