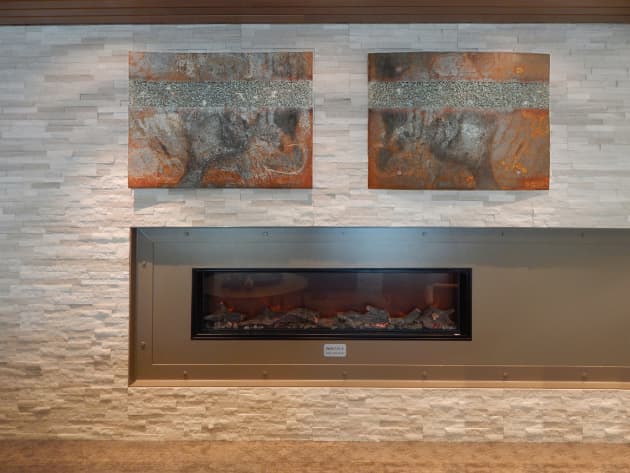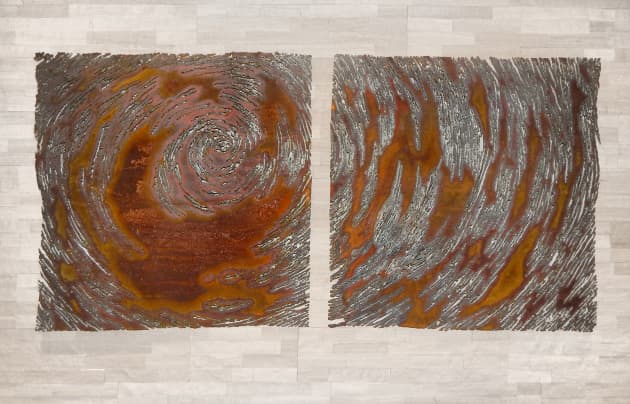 Client: The Center at Lowry
Location: Denver, CO, United States
Completion date: 2016
Artwork budget: $9,400
Project Team
Art Consultant
Adrian Koone
Noyes Art Designs
Overview
Three sets of steel wall panels were fabricated by hand using welding and cutting techniques. One set measures 80"w x 32"h and the other two measure 60"w x 30"h. All panels float from the dry-stacked stone wall about 1-inch.
Goals
Based in the developing neighborhood of Lowry, the former site of the Lowry Air Force base, the client had a strong affinity for airplanes in the design of the interiors throughout all of the public spaces. Tying in a rustic warm Colorado aesthetic, Jillian used reclaimed, rusted steel and designed three unique abstract diptychs, one for each level's common space of the facility.
Process
The consultants at Noyes Art Designs worked with Jillian to understand the client's vision and points of reference to tie in the suggestion of airplanes and birdseye views of landscapes. The artist assisted in the placement of the work.