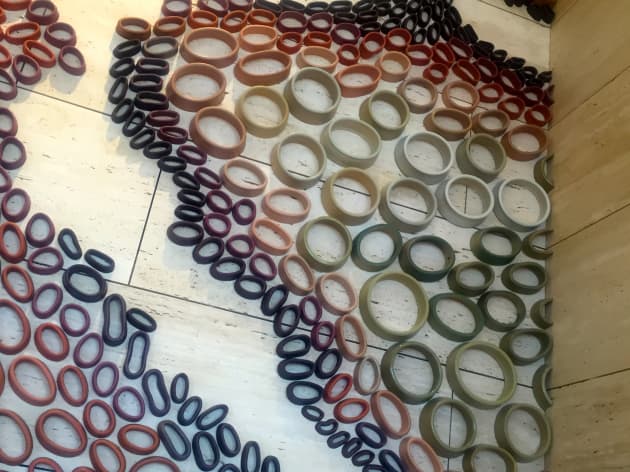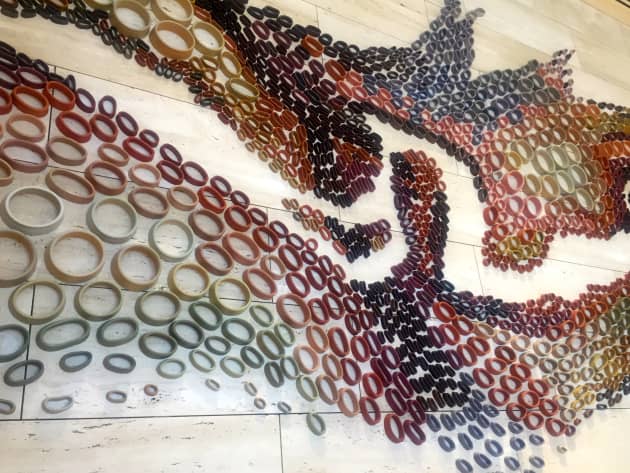 Photo: Ian Dowling
Client: Crown Towers Hotel Perth
Location: Perth, Australia
Completion date: 2016
Artwork budget: $125,000
Project Team
Overview
This artwork links the hotel with its place, on a peninsular of land poking into the mainstream of the Swan River at Perth Western Australia. The artwork is a response to the artist's experience of living with the river in this area on and off over 65 years. Across a 25 metre travertine wall several thousand shaped rings of high-fired ceramic are arranged to give the perception of visual movement. Each are made by hand on the potters wheel by the artist and Matt Griffiths.
Goals
The artwork is integrated into the wall visually. The colours and shapes complement other important design components of the room, while the wandering curves contrast with the harder lines of the built structure.
Process
Based on earlier modular wall-based artwork the artist was asked to present a design. Beginning with aerial photographs and combining that with activity and movement known through experiences of the artist, a flow through image was developed. Ian and Matt Griffiths worked to convert this into 3D form on the wheel. Glazes and colours new to the Margaret River Pottery workshop were developed to make visual movement more active.
Additional Information
Over the period of a month, the ceramic rings were fixed to the wall suing a synchronised projection of the design and sorting through many options for each place. Carmel Warner, artist and art installer, assisted Ian as seen in the video.