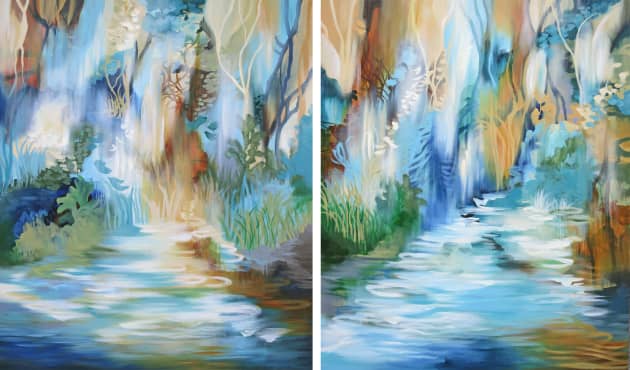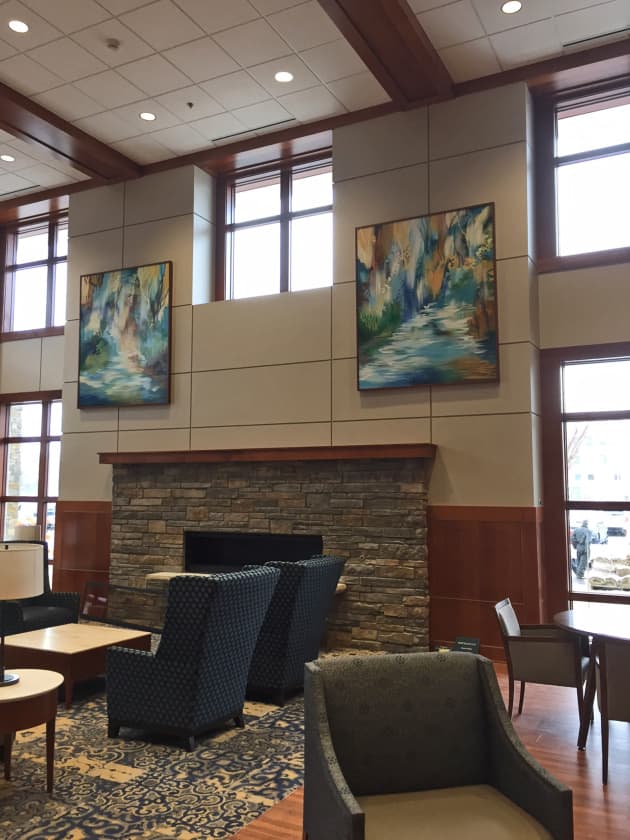 Photo: photo Chris Jackson
Client: Deaconess Hospital
Location: Evansville, IN, United States
Completion date: 2016
Artwork budget: $20,000
Project Team
Art Consultant
Chris Jackson
Director Begley Art Source Evansville Museum of Art, History and Science
Artist
Cat Tesla
Cat Tesla Fine Art
Overview
Linda E. White Hospice House
Located on the Deaconess Hospital campus in Evansville, Indiana, the free-standing inpatient hospice house provides inpatient medical services for patients with a terminal illness who need pain management or symptom control. To complete the space, the family seating area required 2 6'hx5'w paintings flanking the fireplace. Cat Tesla's "chrysalis series" was selected for the project. Tesla's "Chrysalis" series is an abstraction of nature, utilizing acrylic, oil, and other mediums on gallery wrap canvas. The paintings were to be framed to coordinate with the rooms design/textures.
Goals
Hospice provides compassionate, specialized care for people facing a terminal illness and their families, focused on meeting physical, psychological, spiritual, and social needs. It was critical to incorporate artwork that had both visual strength as well as a restful, soothing component. Artwork in healthcare settings has been shown to decrease stress and that was the major element in the decision-making process. The second goal was to procure artwork that had a strong connection to nature, in an abstract sense.


Process
Chris Jackson presented artwork to the Linda E. White Hospice House committee based on the requirements above. Chris worked with Cat Tesla on visuals using Adobe Photoshop to "paste" various paintings from Cat's "Chrysalis" Series into the architectural renderings so that the committee could then visualize what the final installation would look like. This expedited the art selection process and helped to finalize the desired look and feel of the space.
Additional Information
The money for this project came from donations at a total of a little more than $20,000.