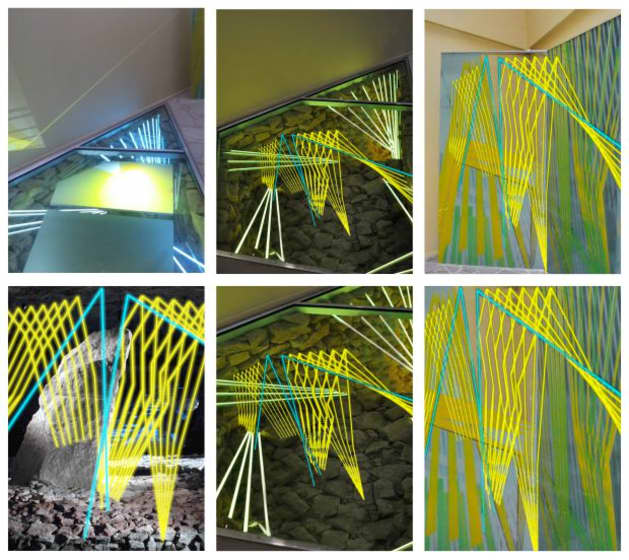 Photo: Mery Crystal Ra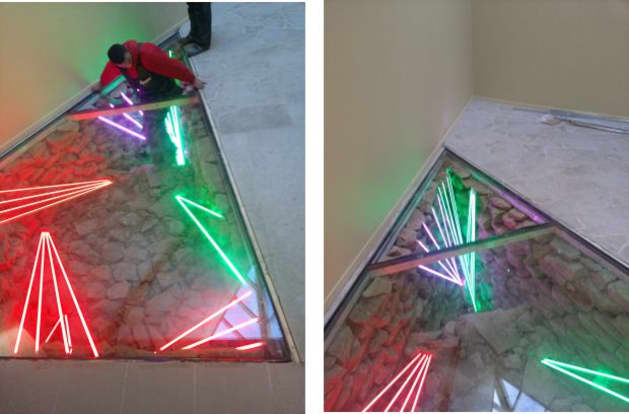 Photo: Mery Crystal Ra
Client: Maetaguse Parish
Location: Maetaguse, Estonia
Completion date: 2020
Project Team
Artist
Mery Crystal Ra
Crystal Energy Ltd
Client
Maetaguse Parish
Maetaguse Parish
Overview
TETRA building light-glass-oil shale transformative wall- video- LED sculpture visions about an underground mine, using digitally printed glass walls, atrium glass panels with digitally printed abstract motifs and with transformative projected video solutions on facade / walls and underfloor glass, LED lines-DMX controlled. Facade windows with digitally printed abstract motifs and from the background-projected videos.
Goals
I tried to create a corresponding space that communicates and leaves a positive expression to a visitor, and wanted to create a "synergy of place." How to transform the sense of place in this mining region. Intuitive way-finding within the structure. Also I re-applied the symbols of Finno-Ugric and local heritage, adding underground surface symbols and messages: light, energy, and power.The building is in the main mining area. It is under the influence of energy production area narratives. So I decided to use the "energy" narrative and the thoughts, vibrations about it, the visual ideas about the energies from past, present and the future.
Process
One of the challenges was to create a glass underground oil shale sculpture with LED light lines and from the bottom a projected video animation as a part of the glass-light sculpture. The whole aesthetics is a clear response to visual problem solving: Constantly changing concentrated energy-synergy signs, signals and messages from the universe and mirrored/executed by humans via transforming interior/exterior light-glass-video solutions.Videos, light solutions on tunnel oil shale mine walls. Verbal part of the creative process in collaboration with the local politicians. So I collected knowledge about oil shale fabrication process, feelings of local people, memories,sounds – converted them inside innovative art solutions in the TETRA building.
The preparation period included different tests with lights, materials, videos. My underground tunnel tests with light and glass. Communication tests via serendipity and changing substances. Implicit interactions in underground surfaces. Testing process via videos on mining tunnel walls.
Additional Information
US top art guru Rosemarie Montague-Tiesler: "Mery Crystal Ra is one of our artists we exhibited at our Art Gallery in Soho, New York in the 90tees ! She is an art world Tesla. She is the most talented and Internationally known artist of our times!" Mery Crystal Ra is one of the few women to work in the international environment of architectural glass art, participating in conferences and cooperating with various architects and engineers. Her innovative interactive glass-light-video sculptures were created for the UNESCO International Year OF Light closing ceremony 2016, European Parliament main building exhibition in Brussels, Belgium 2006 and Glaston Corporation. She's one of the winners of the 2013 and 2014 Light In the City European light artists competition. Innovative impression is achieved thanks to her vigorous use of innovative materials and technologies. Keeping up-to-date with the research results in the glass industry gives a fresh feel and new sensitivity to her sculptures. The artist's masterful use of the interplay of graphics and color gives a result with a unique handwriting. Website: http://merycrystalra.com/ Conference website: https://conference.merycrysta Saatchi : https://www.saatchiart.com/account/profile/96344