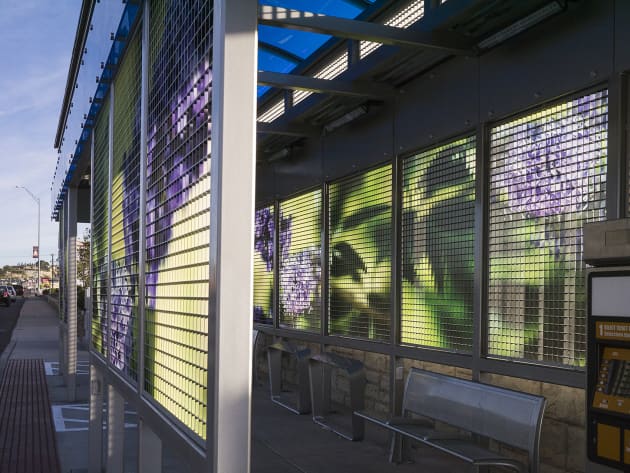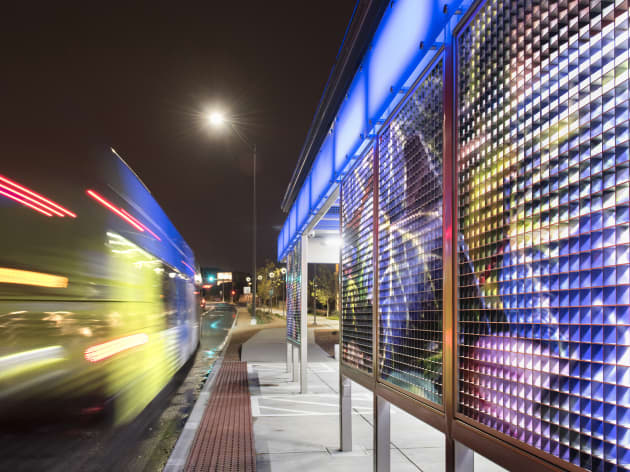 Photo: Alex Fradkin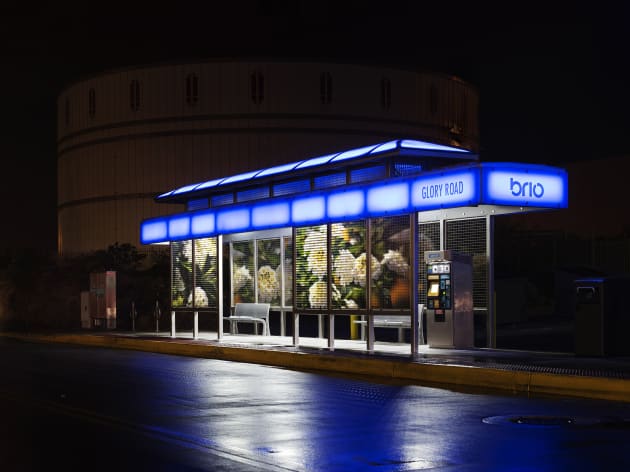 Photo: Alex Fradkin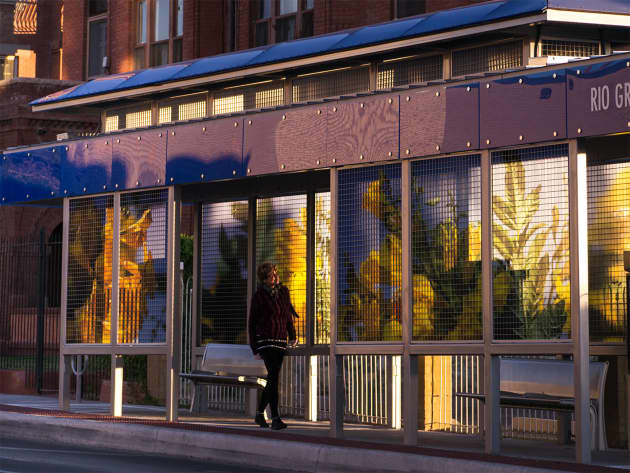 Photo: Eve Chayes Lyman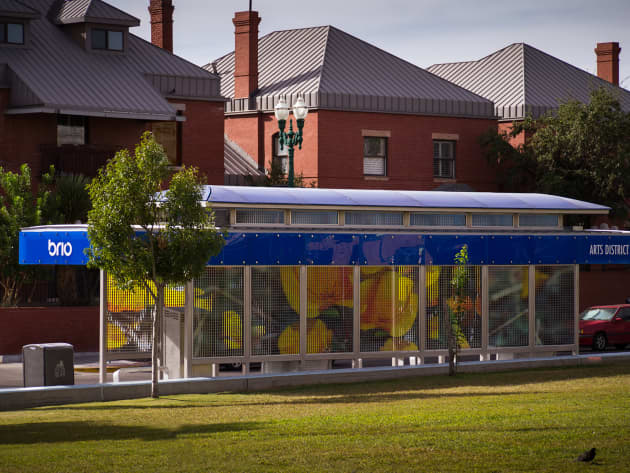 Photo: Eve Chayes Lyman
Client: Sun Metro System
Location: El Paso, TX, United States
Completion date: 2015
Artwork budget: $240,000
Project Team
Industry Resource
Jason Richter
Ohio Gratings (OGI)
Industry Resource
Joseph Hill
Prolab Digital Imaging
Client
Pat Dalbin
Museums and Cultural Affairs Department, El Paso, TX
Industry Resource
Isadore Michas, 3D rendering & technical drawings
3D rendering & technical drawings
Landscape Architect
Sites Southwest
Overview
Leaves of Wind is a series of public art installations incorporated into the twenty transit shelters on El Paso's new Brio Rapid Transit System (RTS): the Mesa corridor. At the heart of the concept for Leaves of Wind are the ideas of time, motion and our perceptions of the physical world around us. Each station creates a lively, colorful and cooling visual environment, a virtual 'garden' for those waiting in the shelters. I selected plants from each season, arranging them so that riders traveling the entire length of the corridor will experience the full seasonal cycle along their trip.
Goals
I was approached by El Paso's Museums and Cultural Affairs Department to create a series of artworks for the Mesa transit corridor, before the shelters had even been designed. My first thought was, "how can art even be seen in this environment of endless strip malls?" My solution was to work with the architects to design a series of custom-fabricated metal screens. Each is integrated into the station architecture and features different dramatic images of local flora. By designing the images to wink in and out of view, I used motion and surprise to encourage riders' awareness of the beautiful, local flowers and plants. Each station creates a lively, colorful and cooling visual environment, a virtual 'garden' for those waiting in the shelters. These shelters provide riders with respite from the blazing Texas sun and inspire people to reconnect with nature and examine the commonplace more closely.
Process
I forged partnerships with an experienced team of specialists to realize Leaves of Wind. Collaborating with Carl Daniel Architects to integrate aluminum shade screens into the station architecture, we designed shade screens that allow cooling breezes to blow through the stations while providing me with a "canvas" for my artworks. To gather my images, I enlisted Patrick Walker, a young local photographer I mentored through a training program run by the El Paso Museums and Cultural Affairs Department. I selected images from Walker's photography of plants taken over the course of a year and consulted with Deborah Blea Hradek, a landscape architect, to confirm that these plant species were common locally. I coordinated production of the works with 3D virtual modeling expert Isadore Michas, grating manufacturer Ohio Gratings Inc., and the printing professionals at Prolab Digital Imaging. After the stations were assembled, I worked with a team of local artists touched up each station by hand.
Additional Information
These shelters have created tremendous excitement amongst "the man on the street". People are not sure if the shelters are animated - and I explain that it is their own movement as they pass by, which animates to work.