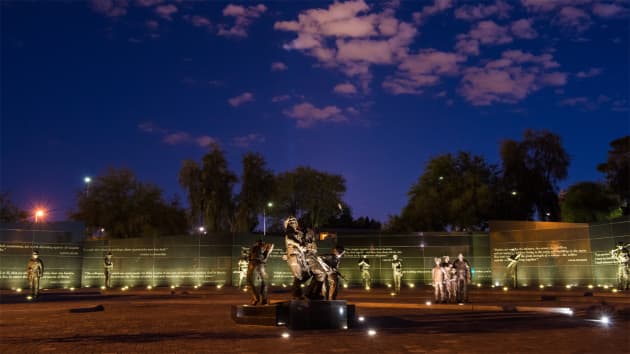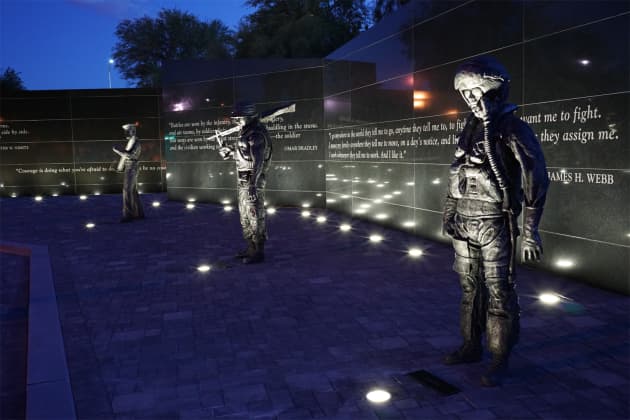 Photo: Jeff Ford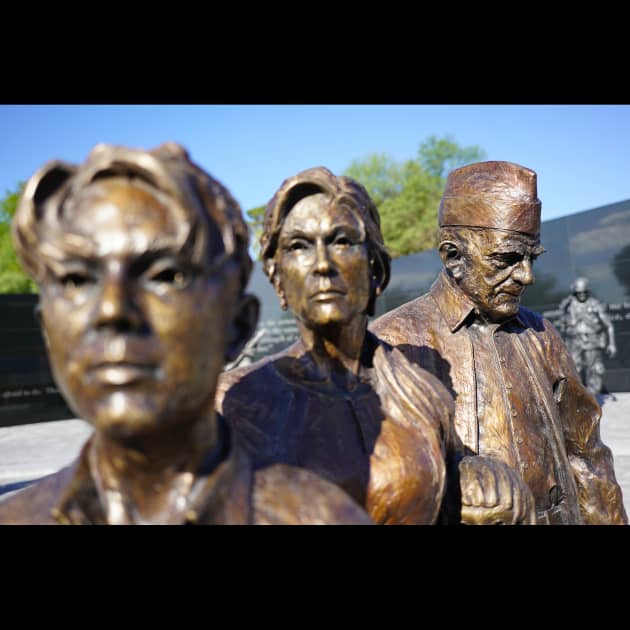 Client: Las Vegas Veterans Memorial Foundation
Location: Las Vegas, NE, United States
Completion date: 2016
Artwork budget: $1,200,000
Project Team
Artist
Douwe Blumberg
Douwe Studios
Client
Scott Tiano, Executive Director
Las Vegas Veterans Memorial Foundation
Overview
Nevada contains the largest veteran population of any state in the union and yet has no major monuments honoring their service and sacrifice. To this end, the City of Las Vegas Arts Council held a competition to choose an artist to create one in their city. After a rigorous selection process of over 250 applicants, I was selected. This was to be a memorial of "national" caliber and as such, represents a multi-year, multi-million dollar project.
Goals
The main goals of the project directors are to create a veteran's monument in Las Vegas that not only honors our veterans but will also become a "destination site" for visitors to the area. I came to the project with a set of my own goals. Firstly, I wanted to expand the scope of this memorial so that it is seen as a national and world-class memorial, equal or surpassing those in our capital. I also felt strongly that veterans from all conflicts; living, past or yet to come be honored; to create a work which shows the timelessness of the veteran's experience and sacrifice and how it runs consistently through our history. I wanted viewers to quickly grasp the continuity through history of our veteran's efforts and to see that we as a free people stand on the shoulders of many generations of men and women who have been prepared to preserve those freedoms. This broad scope will also provide an excellent learning tool for viewers and I designed a strong educational aspect into the work. Finally, I wanted this piece to acknowledge family as an integral part of the veteran experience.
Process
As the artist, I have creative oversight for the project, which necessitates much collaboration with many entities and individuals. The first stage is creating eighteen; life-and-a-half scaled bronze figures which combine artistry with historicity. The second phase will be to oversee the design of the memorial site into which these sculptures will be placed. The first stage requires the services of a historian to ensure accuracy and liaison with current military personal for the more modern or classified figures. This can require tact and patience as there is typically a different order of priorities between an artistic mind and a more practical, historically focused one. The second phase requires close cooperation with engineers, designers, contractors etc as they actually create a site which fulfills our vision for the memorial. The figures are all sculpted and finished at my studio in beautiful green hills of Kentucky and delivered to the site when ready to install.
Additional Information
Ten ghostlike, silver figures from past conflicts stand in a quiet semi-circle, gazing towards the center of the memorial plaza. Here, four modern-day bronze figures represent the creation of the next generation of veterans who will soon stand alongside those from the past. Set against a backdrop of engraved monolithic granite walls, this memorial will be highly experiential and interactive. Breaking with the current trend to focus solely on the lost, this monument is intended to honor the lost but also those who survived the experience and their loved ones who also make enormous and often overlooked sacrifices.