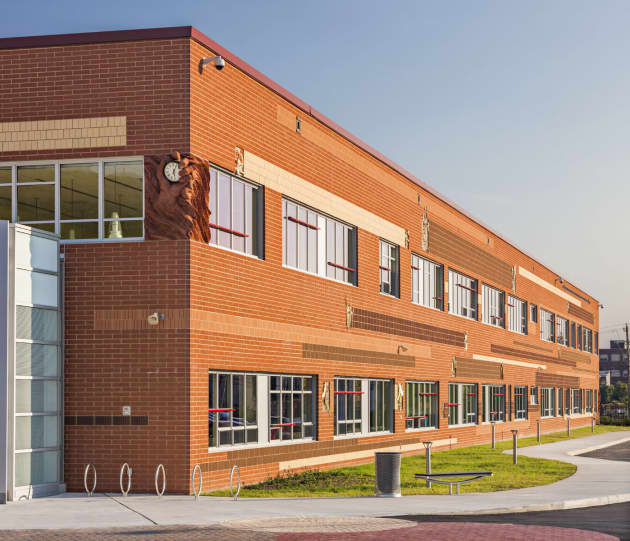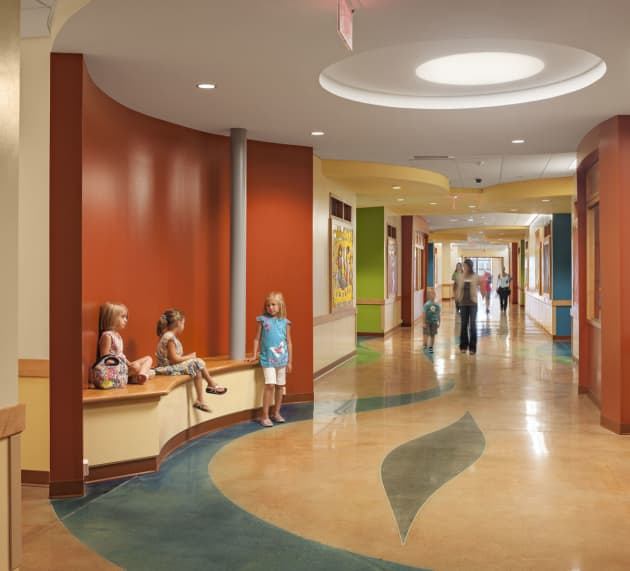 Photo: Robert Benson Photography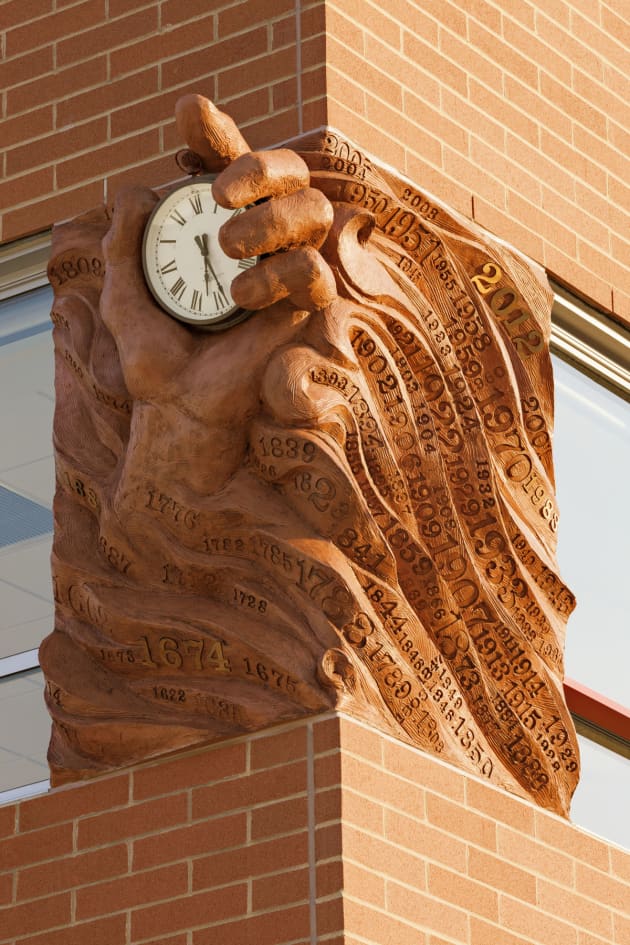 Photo: Robert Benson Photography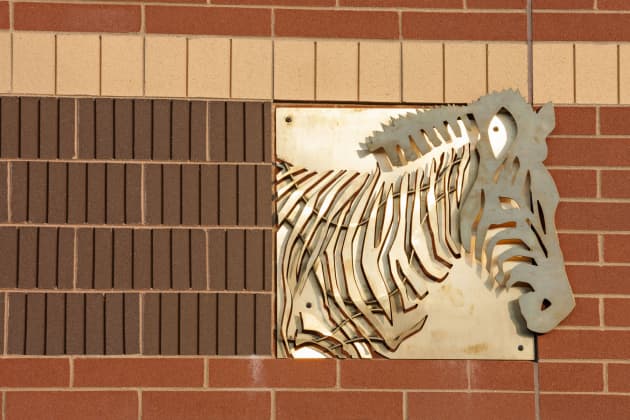 Photo: Robert Benson Photography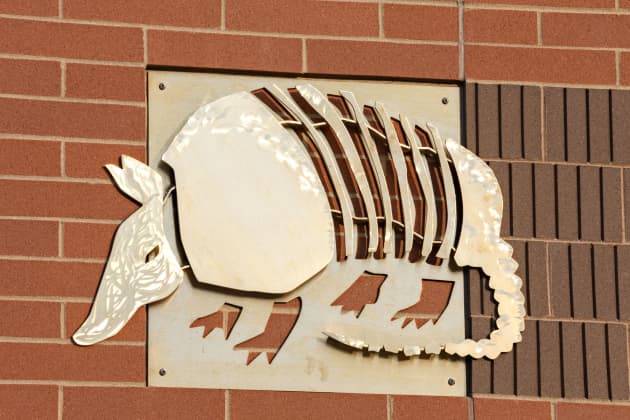 Photo: Robert Benson Photography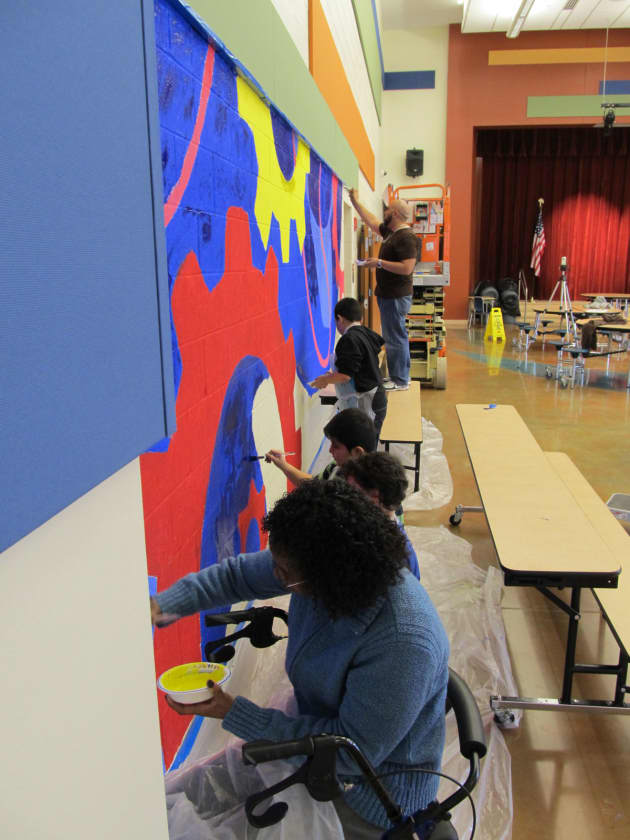 Photo: Svigals + Partners
Client: City of Waterbury
Location: Waterbury, CT, United States
Completion date: 2012
Artwork budget: $100,000
Project Team
Architect
Barry Svigals, FAIA
Svigals + Partners
Interior Designer
Amanda Hastings
Lynn Brotman Interior Design
Artist
Barry Svigals
Svigals + Partners
Overview
The new Jonathan Reed School is a testament to the efforts of many people working towards a shared goal – to create a safe and proud place of learning, a source of hope and inspiration in a city that has seen its share of blight and economic suffering. The Svigals team began the process of designing the 550-student, 79,800 sf facility by engaging local school officials, parents, teachers and students in an early-phase discussion of program needs; what emerged the theme of the City as clock makers.
Goals
We believe that design can engage, delight and inspire. That students who are surrounded by interpretive artwork are better able to relate to school, community and the world at large.
The focal point of the plaza is a large sculpture: waters of the Naugatuck River form a child's hand holding a brass watch - a symbol of the Waterbury Clock Company (Timex). The watch represents the child and her time on earth. The timepiece, is a replica of the "Waterbury" watch, and functions as a public clock to communicate the rhythms of the day to the school community. Inscribed in the currents of the flowing river are the names of significant individuals who played a part in the history of Waterbury. At the south end of the school is another sculpture with gears of a clock representing important interplay of the individual, family and the community; inscribed on it, are significant dates in the City's history. The cycles of time are further expressed with images conveying the theme, crafted from brass (Waterbury is the "Brass City") panels in the building's brick exterior. Inside, polished concrete floors depict a river theme, relating to the nearby Naugatuck River.
Process
The sculptural program at Jonathan Reed was a collaborative effort, between Barry Svigals, architect and sculptor, designer Randall Hoyt, Bob Shure, sculptor from Skylight Studios in Woburn, MA, the Electric Time Company, O&G the Project's Manager and Dimeo the Construction Manager. In addition to sculptural collaboration, Svigals Partners lead a mural painting in the cafeteria of the school. Children, staff, school officials and state commissioners were involved in painting portions of a time line that depicts gears from a watch moving across the cafeteria wall. The dates on the timeline represent significant dates to the City of Waterbury.
Additional Information
This clock theme was worked into the design in a way that ties to the school's curriculum; the cycles of time theme was incorporated through artwork depicting the four seasons, the phases of the moon, tidal flow and the cycles of day and night.