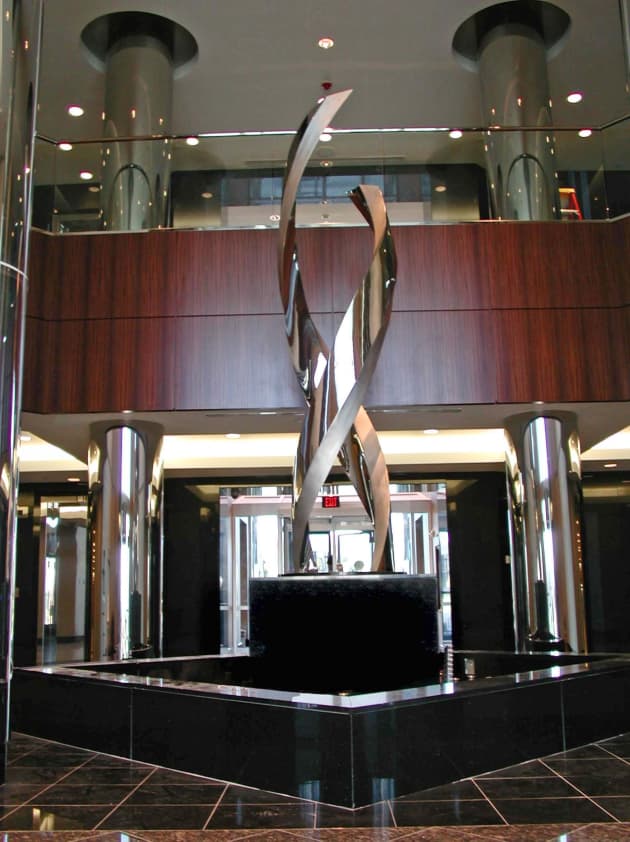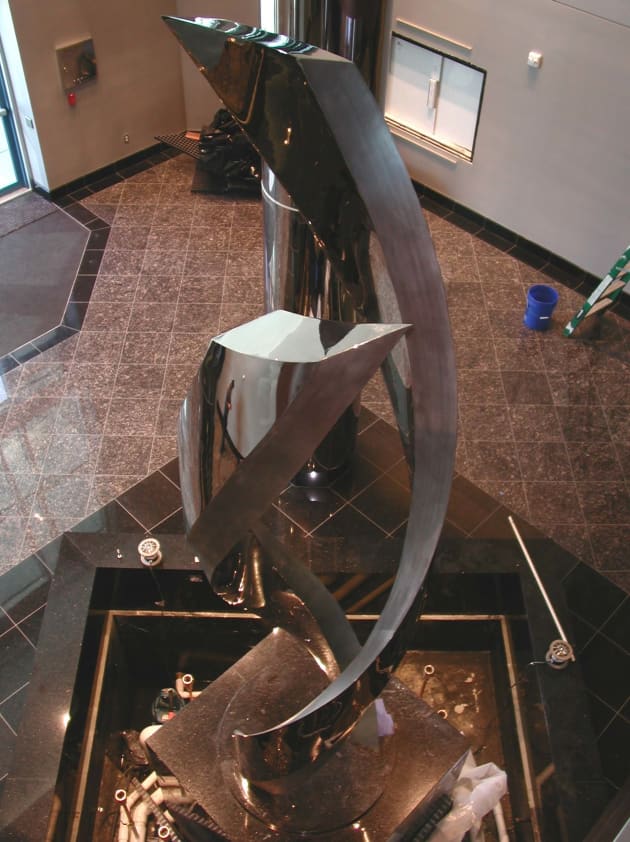 Client: John Safer
Location: Bowie, MD, United States
Completion date: 2008
Artwork budget: $50,000
Project Team
Industry Resource
ART Research Enterprises, Inc.
Overview
Sculpture was produced from Artist John Safer's model. The final height of the Sculpture was 13' and produced from 316L Stainless Steel. Metal Finish was Satin and Polished. ART Research also produced Interplay in several sizes. At 6' High or less the sculpture was cast in Stainless Steel and Bronze.
Goals
The goals for this commission was to produce Interplay in a large enough scale to be a centerpiece as you walked into the new building. The Interplay was enlarged from a model to a 13' H Sculpture that was installed on a Circular Disc and a Absolute Black Granite Base.
Process
The 13' Interplay was fabricated out of 316L Stainless steel. Patterns and layouts were cut out and assembled to specific parameters and the metal was finished to a high polish on the larger sides and brushed finish on the smaller sides. Each section was then welded to a circular disc. The 6' and smaller sizes of the Interplay were cast in Stainless steel and Bronze. Each Pattern was 3D Milled in a dense urethane foam and a rubber mold was produced from the pattern. We would then make a wax positive made from negative rubber mold. The wax positive would then be gated and vented for the ceramic shell process. The shell is then flashed and the wax is burned out which will leave a negative space for the metal to be poured into. Our technicians at ART breaks the ceramic shell from the metal and the metal is ready to be finished. All the sizes of the Interplay Sculpture's were finished to a polished surface and some of the editions were finished with a combination of polish and satin finishes.
Additional Information
ART Research had the sculpture delivered and one ART Research Technician installed.