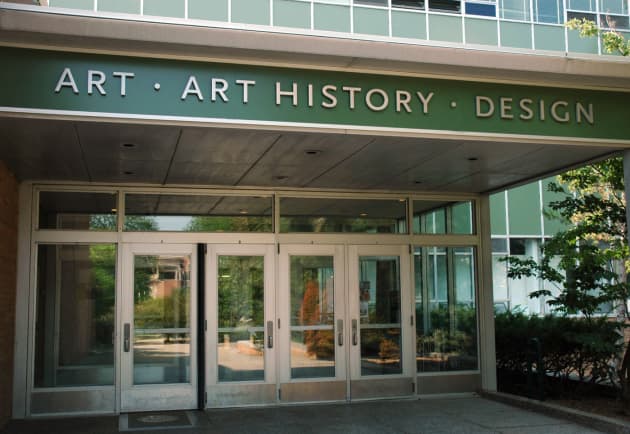 Photo: Kelly Salchow MacArthur
Client: MSU Department of Art, Art History, and Design
Location: East Lansing, USA
Completion date: 2012
Artwork budget: $2,000
Project Team
Art Consultant
Tom Berding
Michigan State University
Art Consultant
MIchelle Word
Michigan State University
Overview
When the department name was recently updated, the exterior building signage needed to be updated. Subsequently, a drab interior of white cinderblock presented an opportunity for a bold image just within the interior. While the exterior signage is an outward, architectural face, the interior corner is meant to pop from its surroundings, and signify the creative energy of the department as a whole. The exterior area is 42 square feet. The interior area is 50 square feet.
Goals
The exterior signage is informed by the materials, proportions and palette of the building. It is assumed to be a permanent part of the building. The super graphic introduces visitors to the Kresge Art Center, which houses the Department of Art, Art History, and Design (and is meant to change every few years). The dominant element is the newly designed logotype (AAHD). The image folds around the corner—which is a repeated element in the building, as most doorways are recessed within alcoves. Typographic direction and placement, as well as quantity of yellow help aid the visitor towards the center of the building.
Process
The new department name was the incentive for me to design a new logotype for AAHD. I received feedback from administration within the logo design and spatial integration process. Both the exterior and interior designs were developed towards appropriate function within the context. I provided the specs to Physical Plant, which produces signage across campus.