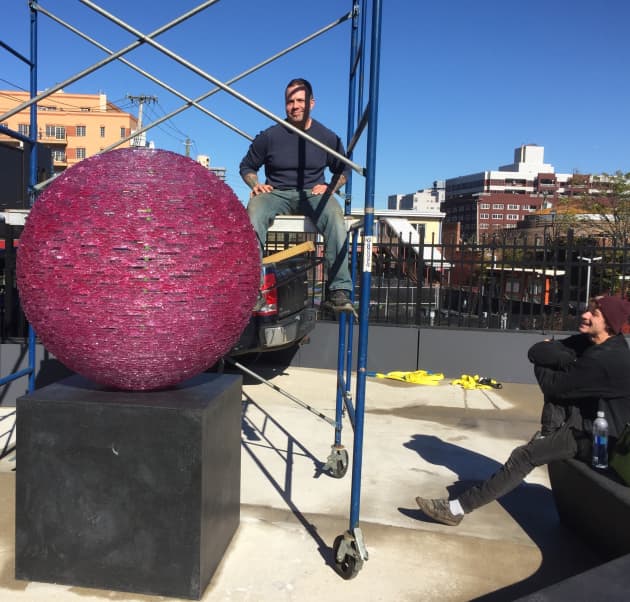 Client: Anguili Group
Location: Staten Island, NY, United States
Completion date: 2018
Artwork budget: $60,000
Project Team
Client
Henry Richardson
Anguili Group, Inc.
Overview
Inspiration Plaza is a new public space in Staten Island, NY. It is a diverse community, and this new plaza was conceived as a space for all to come together. The centrepiece of the plaza is my four foot diameter, chiseled glass orb entitled Universal Harmony. It sits on a black stone base, a material also used for the benches and planters in the plaza.
Goals
I am inspired by the concepts of hope, healing, unity and light, of fractured pieces of glass bonded together as a metaphor for a better world. The light in this work implies spirituality, which can be transformative. In this current political climate of dissension and division, the orb is a symbol of how individuals in society can create a common bond.
Process
The client boldly chose magenta as a color that was not only uplifting, but would invite contemplation. We worked together to design a base for the sculpture that was echoed in the other surfaces in the plaza. The result is a uniform design that integrates the art with its surroundings.
Additional Information
The work has become a beloved meeting place!