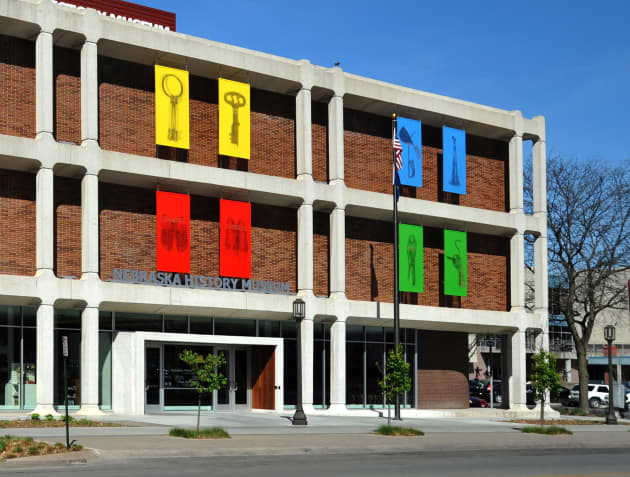 Photo: Russell Rock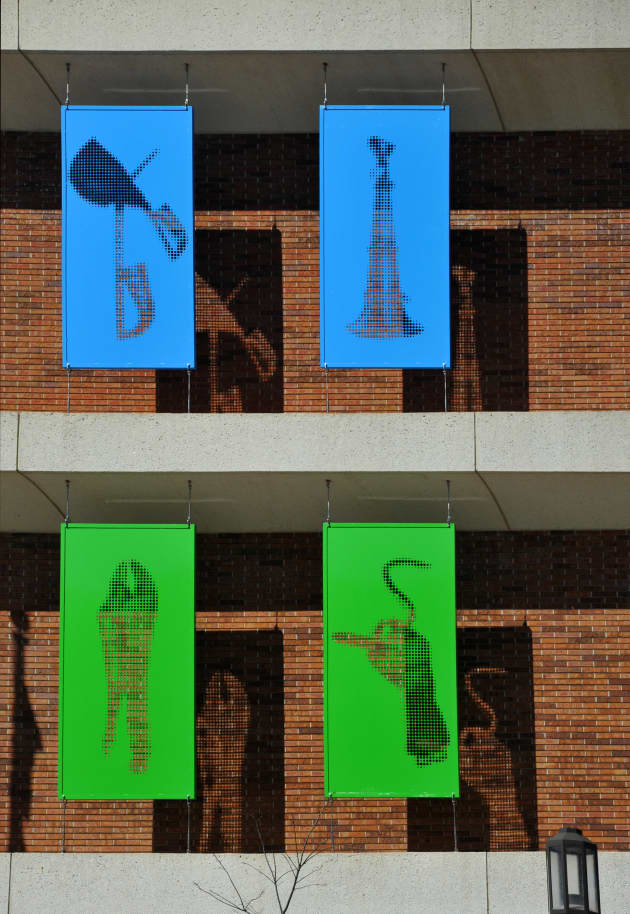 Photo: Russell Rock
Photo: Russell Rock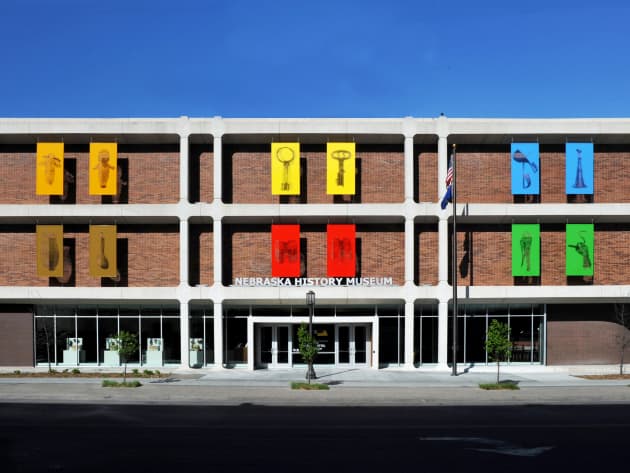 Photo: Russell Rock
Client: Nebraska Arts Council
Location: Lincoln, NE, United States
Completion date: 2016
Artwork budget: $52,000
Project Team
Artist
Jeanine Centuori
UrbanRock Design
Artist
Russell Rock
UrbanRock Design
Client
Lynne Ireland
Nebraska State Historical Society
Public Art Agent
Launa Bacon
Nebraska Arts Council

Overview
"INSIDE OUTSIDE" is an integrated facade public art project for the Nebraska History Museum in Lincoln, NE. It was commissioned by the Nebraska Arts Council in fulfillment of the Percent for Art Program. The blank façade is a vestige of the building's original function as an Elks Lodge on the Centennial Mall. The façade artwork expresses the building's transformation into a museum with imagery projecting the collection.
Goals
The primary goal for this integrated commission artwork was to create the highest impact on the facade within the constraints of a tight budget. The artwork provides metaphoric "windows" on this blank building by showcasing objects from its collection. These aluminum panels are fabricated using waterjet cut interpretations of images rendered with a modified halftone dot pattern emulating the process of offset printing presses. These images make an ethereal appearance on the exterior of the museum, coming in and out of their recognizable image-state, depending on the point of view and lighting conditions. Poetically, this state of flux is like the reading of the items in the collections- the meaning and perceptual understanding becomes greater the more things are examined. The colors are derived from the Nebraska landscape.
Process
UrbanRock Design, the artists worked closely with curators at the museum to determine representative imagery. This process involved close scrutiny of photographs of the museum's artifacts and objects. The project architects and engineers were also consulted regarding the cable swage connection detail that was minimally attached to the concrete structural frame.
Additional Information
Because of the manner in which these artworks are made, the voids within the metal create the image; what is not there is what is seen. Furthermore, as morning light strikes these artworks, a shadow image is cast upon the brick wall of the inset envelop of the building. This creates a verso image, a negative the to positive, looking much like a photographic film negative. This is the second type of antiquated technology referenced by the artworks. At night, by backlighting the panels, they appear as an image reversal of their daytime condition.