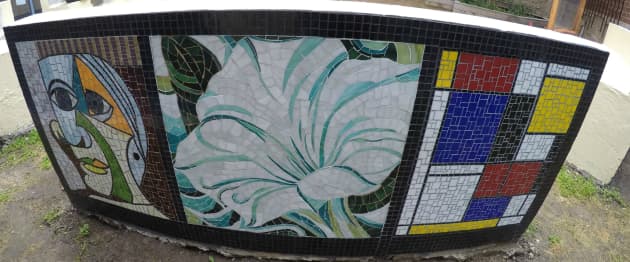 Photo: Art Icons Panel 3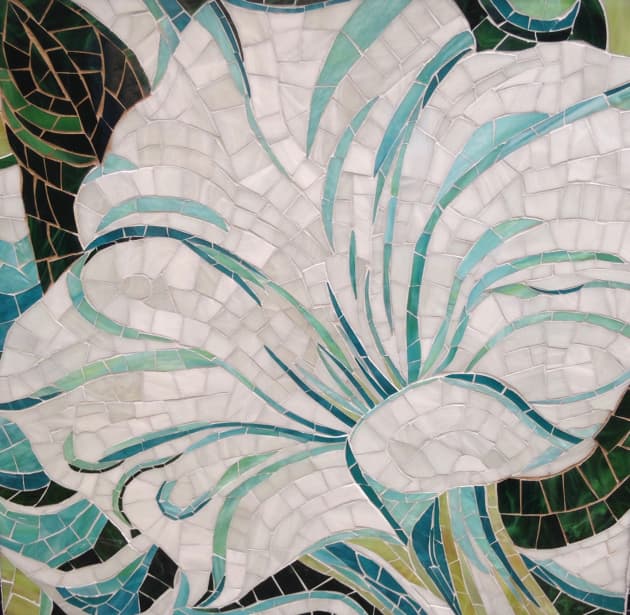 Photo: Art Icons O'Keefe Inspired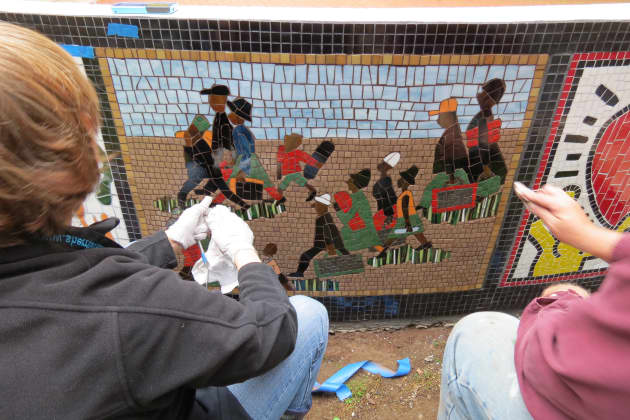 Photo: Art Icons install in progress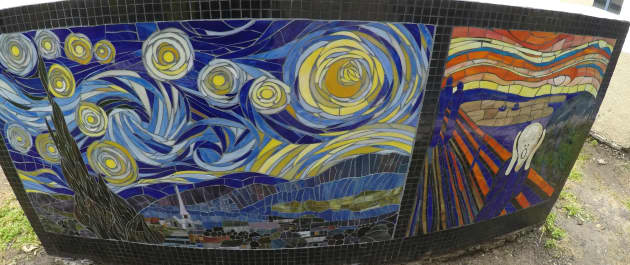 Photo: Art Icons Panel 2
Client: Drew model School
Location: Arlington, VA, United States
Completion date: 2016
Artwork budget: $25,000
Project Team
Overview
This site specific work was created for an elementary school "Art Garden." Twelve individual works depicting the History of Art grace the backside of four concrete risers. The risers form an amphitheater where children stage dance and theater performances. The mosaics were designed as a learning tool featuring iconic art images throughout the history of art. Located in a central courtyard the mosaics are seen at perfect eye level for the children from the glass hallways surrounding the courtyard. Size: 3 feet high x 32 linear feet, 96 sq. ft. total. Materials: Stained glass and vitreous glass tiles.
Goals
It was essential the artwork be timeless, inspirational, durable and educational. The design brilliantly addresses the desire to educate, the imagery is a timeline of iconic art works. As a child friendly installation safety concerns were a big consideration. Materials selected met all technical requirements.
Process
Working closely with the stakeholders Fitzgerald's design idea of a timeline was an immediate hit. Art teachers use the artwork as a teaching tool. The final execution exceeded everyone's expectations. Selecting the exact artworks was a collaborative effort with the school art teachers and a parent group and selections range from cave paintings to contemporary art works. The art work was fabricated by Fitzgerald and a small staff of professional artists.
Additional Information
This installation was conceived and created in keeping with, and honoring the brilliant works of iconic artists throughout history: Cave Paintings, Egyptian Woman, "Vitruvian Man" by DiVinci, "Girl with the Red Hat" by Vermeer, "Starry Night" by van Gogh, "White Flower" by O'Keefe, "Composition with Red, Yellow, Black and Blue" by Mondrian, "Icarus" and "Cut-outs" by Matisse, "The Great Migration, panel #40", by Jacob Lawrence, "Wicked Halo" by Keith Haring.