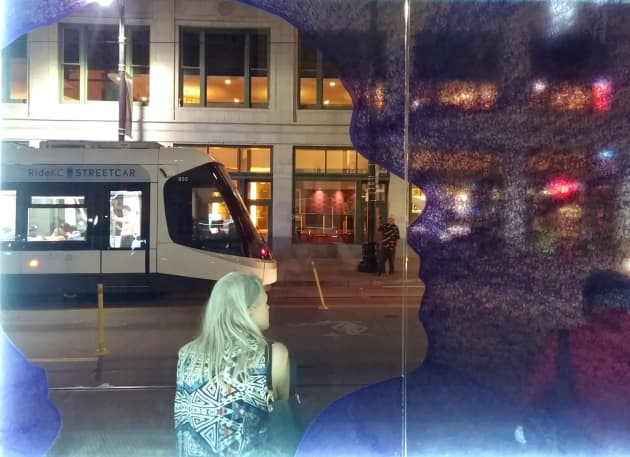 Photo: Rachelle Gardner-Roe
Client: Art in the Loop Foundation
Location: Kansas City, MS, United States
Artwork budget: $1,500
Project Team
Artist
Rachelle Gardner-Roe
Public Art Agent
Ann Holliday
Art in the Loop Foundation
Other
Donna Mandelbaum
Kansas City Street Car Authority
Art Consultant
Jessica Borusky
Art in the Loop Foundation
Other
Donna Mandelbaum
Kansas City Streetcar Authority
Overview
I See You is a 67 square feet vinyl mural sited along the KC Streetcar line, now in its inaugural year of operation. The mural references a series of drawings created from the desire to transcribe consciousness into visual form, specifically as a depiction that is honest, yet not beholden to literal, physical form. The appearance of the figures is the result of layer and layers of writing, relayed as an act of meditation through the repetition of a text meaningful to the artist.
Goals
The mural was designed to related to the theme of connection. When individuals truly connect, it has little to do with the superficial qualities that distract us in our busy, everyday lives. We connect when we share our ideas, our hopes and dreams. This mural illustrates and reminds the viewer of the rich possibilities the minds in those that surround us, beyond appearance and artifice. Meaningful connection can happen anywhere, even at a public transit stop. The piece was designed to have visual impact for those riding the streetcar, while also have rewarding detail for riders waiting at the streetcar stop.
Process
I See You was commissioned through The Art in the Loop Foundation, which is a unique partnership of the Downtown Council of Kansas City, the Kansas City Art Institute and the City of Kansas City, Missouri. This commission is part of The 2016 Art in the Loop Project: Connect, curated by artist and educator Jessica Borusky, with the goal to infuse the center of Downtown Kansas City with innovative and engaging art. This project is also in partnership with the KC Streetcar Authority, allowing for artistic interventions along the brand new streetcar line.
Additional Information
Whether drawing, sculpting or working with textiles directly, the artist Rachelle Gardner-Roe considers all her work as lace works. This mural, with it's overlapping patterns of looping cursive text, is no exception. When viewing the surroundings through the mural, I See You becomes a visual filter, creating a lacy urban landscape.