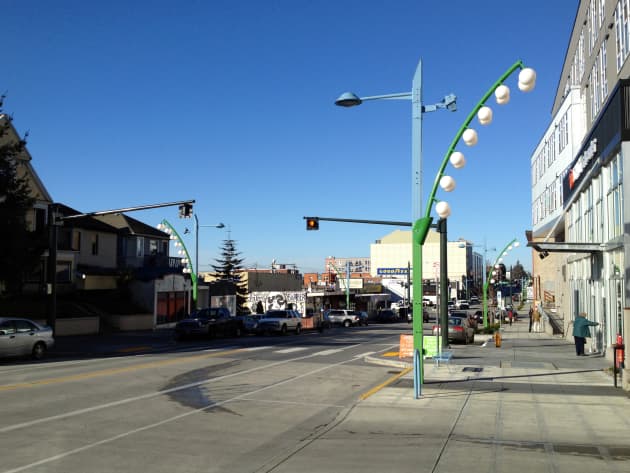 Photo: Susan Zoccola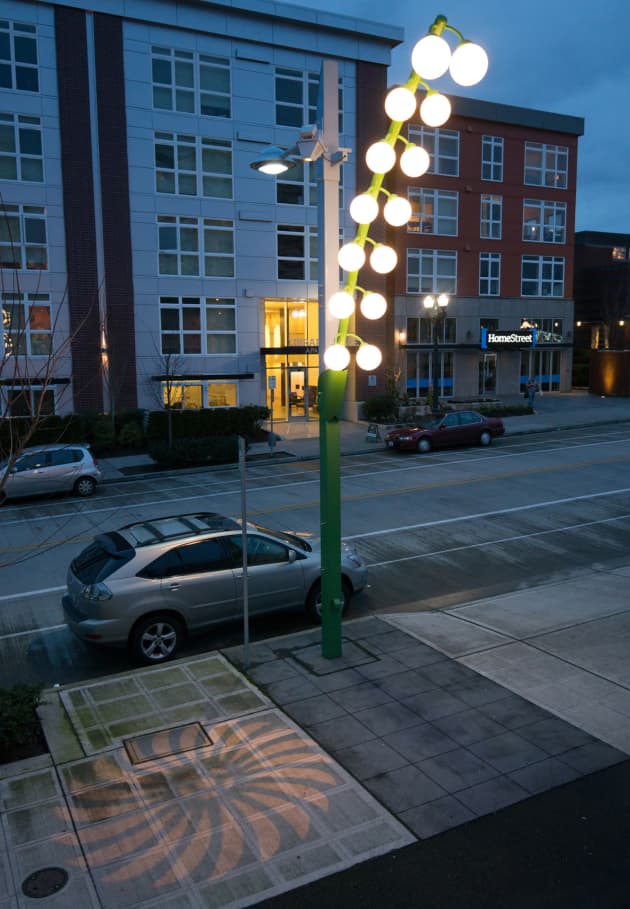 Client: City of Everett
Location: Everett, WA, United States
Completion date: 2021
Artwork budget: $160,000
Project Team
Artist
Susan Zoccola
Susan Zoccola
Public Art Agent
Carol Thomas
City of Everett
Overview
The Hoyt Avenue Light Sculptures consists of sixteen sculptures spanning seven city blocks (11 sculptures in 2013, 5 additional sculptures commissioned in 2021). Inspired by festival lanterns and seedpod shapes they are a fun and ebullient artwork that connects drive-by and pedestrian visitors and changes from night to day. The sculptures bend slightly over the sidewalk, creating a pleasing lit walkway canopy. During the day the sculptures look like joyful forms reminiscent of natural shapes and are easily recognized at a distance as well as enjoyed close-up. At night, they act as lanterns, welcoming visitors with warm glowing shapes on the poles and their related round gobo projections.
Goals
This commission was designed with the intention of helping to create a vibrant new arts district along seven city blocks of Hoyt Avenue in downtown Everett. They act as beacons and help unify and give a visual identity to the Arts District in the City of Everett. The Schack Arts Center, Children's Museum, and the historic Everett Public Library are located on this stretch of Hoyt Avenue and a beautiful new plaza, designed by artist Linda Beaumont, is nearby.
Process
This project involved modifying five blocks of street lights by attaching the light sculptures to the existing poles. The final design was settled upon following a series of meetings between myself, the community, and the city of Everett. A major part of the success of the commission was the cooperation and help I received from the engineering department of the city of Everett in determining how I would be able to attach and power the light sculptures. I also worked closely with the fabricators, engineers, and installation crew to ensure that the project would be durable through all seasons, function properly and look beautiful.