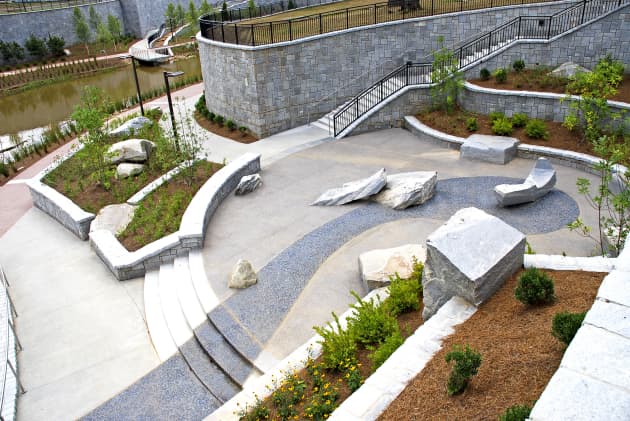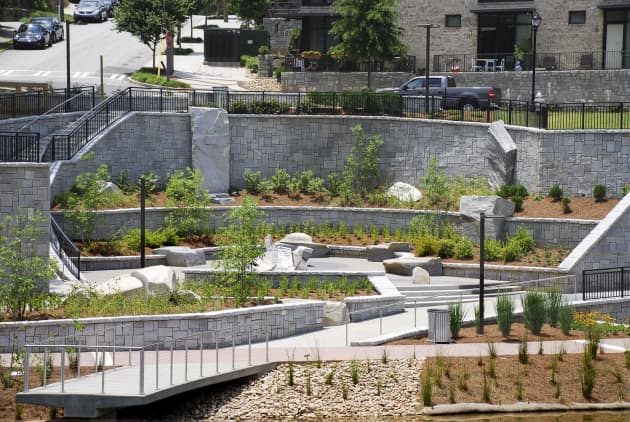 Photo: Maria Artemis
Client: City of Atlanta & Beltline Inc.
Location: Atlanta, GA, United States
Completion date: 2010
Artwork budget: $105,000
Project Team
Architect
Robert Bryant
Landscape Architects/Engineers: HDR
Artist
Maria Artemis
Artemis Studios, LLC
Overview
Artemis was commissioned by Atlanta Beltline Inc. to work with the landscape architecture and engineering firm HDR during the planning phase for the Clear Creek Storm Water Relief Project and Park. Through the design process, three sites were designated for her work to be integrated into the first phase of the new larger Historic Forth Ward Park: The Sculpture Plaza, North Fountain, and the Water Wall Stones.
Goals
The overall Goal was to provide an aesthetic solution for a complex storm water facility. Three sites were chosen with the design team for concentrated artistic engagement. Two water features serve the aeration requirements for the pond and custom shaped stone and seats shape the experience of the sculpture plaza and invite engagement from visitors. All the sculptural elements in stone serve as visual and physical counterpoints in the landscape to the massive granite walls necessary for the engineering of the park.
Process
During an intense three-month period the hydraulics engineer, Landscape architects and artist met weekly. The artist provided ideas that became part of the overall plan and dialogue with the engineer during the early stages of fountain design facilitated the process of the fountain design. Some of the ideas the artist brought to the table regarding the overall plan were incorporated in the finish design, such as marking the line of the statistically calculated elevation that water would rise during a 100 year and 500 year storm. This was marked in the granite walls of the park with inset river stones, and labeled with sandblasted text into the wall. The artist also selected the custom blend of glass and granite exposed aggregate for the sculpture plaza paving design.
Additional Information
Please follow the link to the feature article in the March issue of Landscape Architect. The park is featured on the cover. http://landscapearchitect.epubxp.com/i/114761/51 From Robert Bryant, the lead designer at HDR: "Maria's innovative and artistic ideas for her sculptural pieces were integral to the success of the project. Here ability to see the bigger picture of the design and keep the integrity of her own work was a refreshing quality. Not only are her sculptures and water features beautiful, but they are also quite functional and essential to achieving our overall goal.