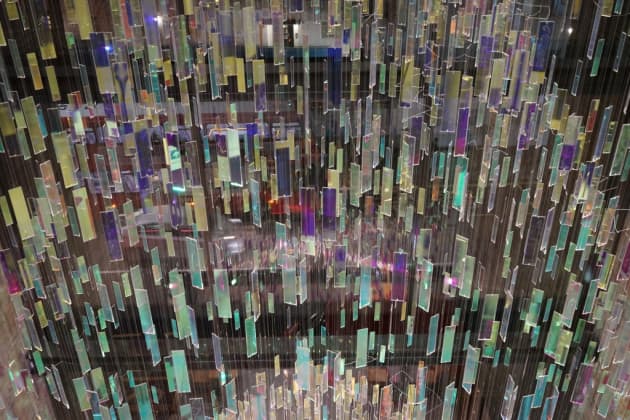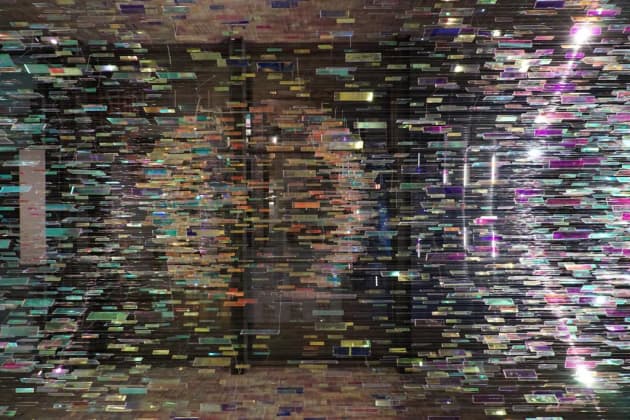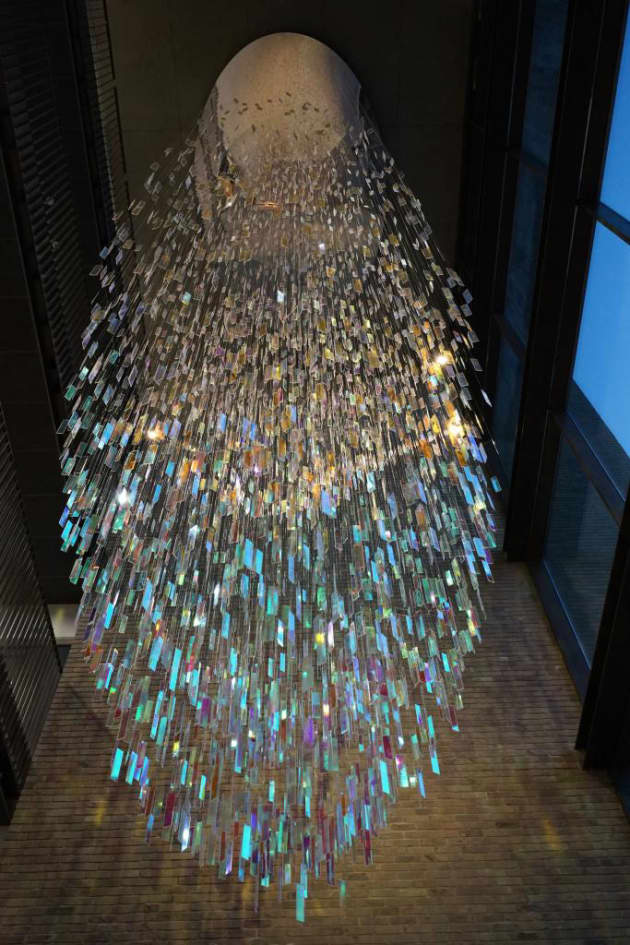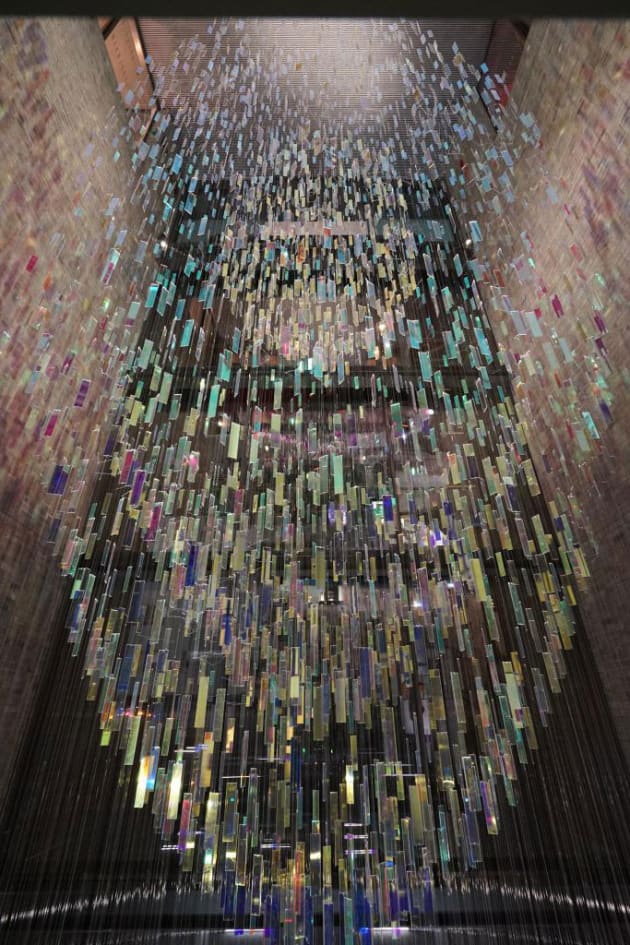 Client: Workspace Group
Location: London, United Kingdom
Completion date: 2016
Project Team
Industry Resource
Mark Sutton Vane
Sutton Vane Associates

Overview
Martin Richman was asked by the architects AHMM to consider an artwork for the entrance lobby of a new building in West London. The building houses start-up offices and studios. The space is four floors, over 15m, 50 feet, high and has bridges crossing it and a glazed frontage facing onto the street. The floor is 7m x 7m, 23 feet x 23 feet. The piece Martin developed consists of 'blades' of dichroic filmed acrylic, hanging from a mirrored oval on the ceiling, and forming a12M 39 feet high egg shape suspended by nylon threads.
Goals
The 'egg' shape refers to notions of generation as the offices are intended for new start-up companies.

It was important to respond to the qualities of space created by the lobby and bridges. The work engages with the street, blurring the boundaries of the internal and the external spaces. Martin wanted the work to engage both at a micro level for those inside the building and at a macro level, where the piece is seen and engaged with by pedestrians and the many bus passengers who pass.

The shape of the 'egg' is governed by the lobby space and the needs of access to the windows etc.

The building faces westwards, so on sunny afternoons the sun enters the space activating the reflections and transmissions of coloured light floating and spinning around the space. Martin enjoys the dematerialisation of the space created by the LED illumination designed by Sutton Vane Associates and by the sun reacting with the dichroic film, as rectangles of light spin and whirl around the space.
Process
Martin first worked closely with engineers Price and Myers to help generate the shape required so that the 'blades' of acrylic form the 'egg'. The computer aided design developed by Emma-Kate Matthews was invaluable in developing the overall coherence of the piece, as well as fully understanding its placing in the space.

Then Martin commissioned Mark Sutton Vane of Sutton Vane Associates, lighting designers, to design the artificial lighting. This takes over the lighting of the piece when there is no sun. The lighting that Mark designed also lights the ground floor of the atrium. This is a modern, edgy building, so deliberately revealed spotlights were used. They fit in with the young aesthetic of the space. Mark carefully designed the electric lighting to enhance the piece, to give the maximum amount of reflection and to show off the egg shape and its wonderful, hypnotic movement.
Additional Information
Mark Sutton Vane and Martin Richman have worked together on many of Martin's light based works of art for many years. They have a collaborative process to developing schemes so that the final piece is more that the sum of its parts.