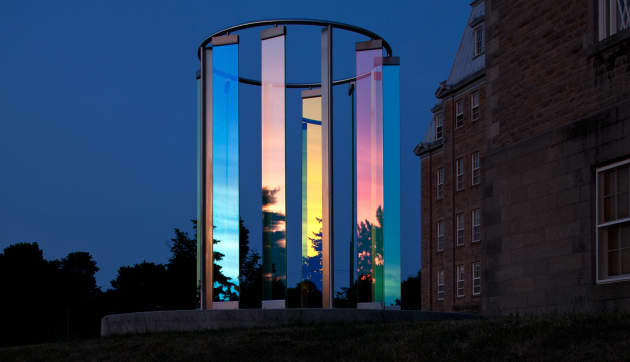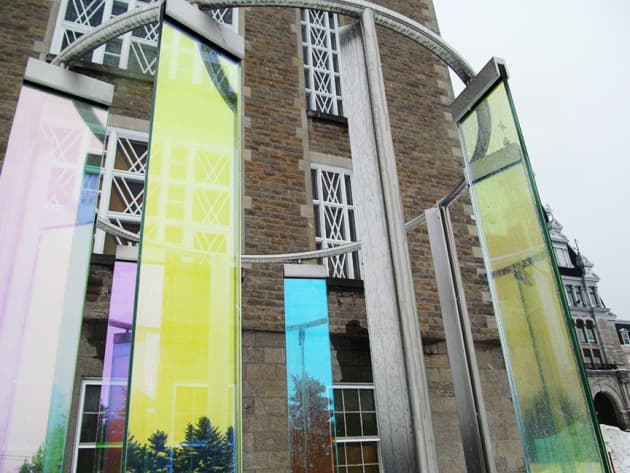 Photo: Linda Lambert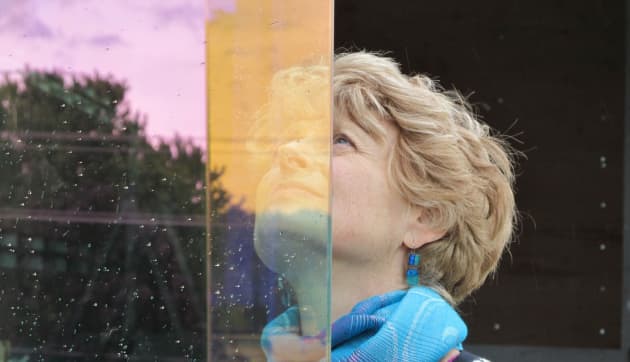 Photo: Michel Dubreuil
Client: Collège Bourget de Rigaud
Location: Quebec, QC, Canada
Completion date: 2012
Artwork budget: $85,000
Project Team
Industry Resource
Isadore Michas
Industry Resource
Franz Knoll
NCK Engineering
Industry Resource
Linda Lambert
Industry Resource
Michel Dubreuil
Overview
Halo has an ethereal presence and is a metaphor for an elusive reality while at the same time an interactive place for the children to gather and play with their own reflections and their surroundings. Visitors can step inside and become a part of the work, manipulating it. Halo exists beyond its physical boundaries. Glass, dichroic Glass, stainless steel, concrete base. Built for the grounds of the elementary school Collège Bourget de Rigaud, eight panels 24cm wide stand vertically in a two meter diameter circle. Each glass panel is 240cm tall. They turn to create a variety of configurations.
Goals
The school and I wanted a work that would engage the children so they could understand art in a new way, not just something that sat as a separate inanimate object. It is visually mysterious, changing with the light and the viewer's perspective, at times almost disappearing. As an object in space it reflects, refracts and projects light, color and image. The viewer interacts simply by coming close and seeing bits of reflection and the disjointed reflections of the surroundings. The panels turn with a touch of a hand fragmenting the world around. Halo is a meditation on the nature of physical reality as revealed through light, challenging our perceptions.
Process
This is an example of a project where the client, artist and fabricator wanted to make it happen with the understanding that no one would be making money on this so funding was gathered and we all worked together, with special thanks to the Peters Studio for the glass and Dominique Rolland , Président-directeur général of the Centre des arts contemporains du Québec à Montréal for his organization and of the project and funding.
Additional Information
This project has been enormously popular not only with the students but also with the neighboring community. A note about the dichroic glass: The dichroic micro-layer is sandwiched between two 7mm thick tempered laminated plates of glass. Dichroic glass containins multiple micro-layers of metal oxides that give the glass dichroic optical properties. The main characteristic of dichroic glass is that it has a transmitted colour and a completely different reflected colour, as certain wavelengths of light pass through or are reflected. This causes an array of colour to be displayed. The colours shift depending on the angle of view.