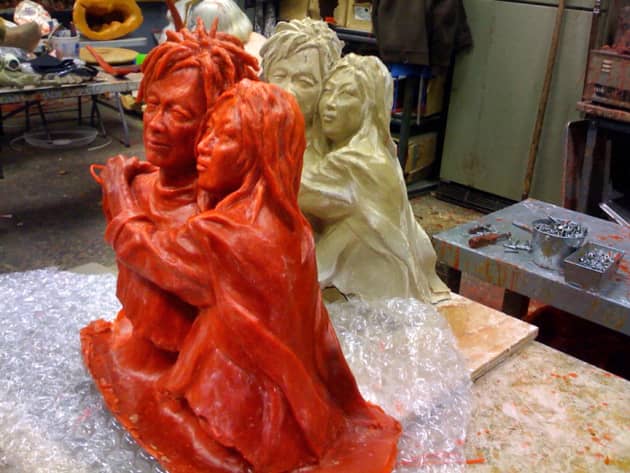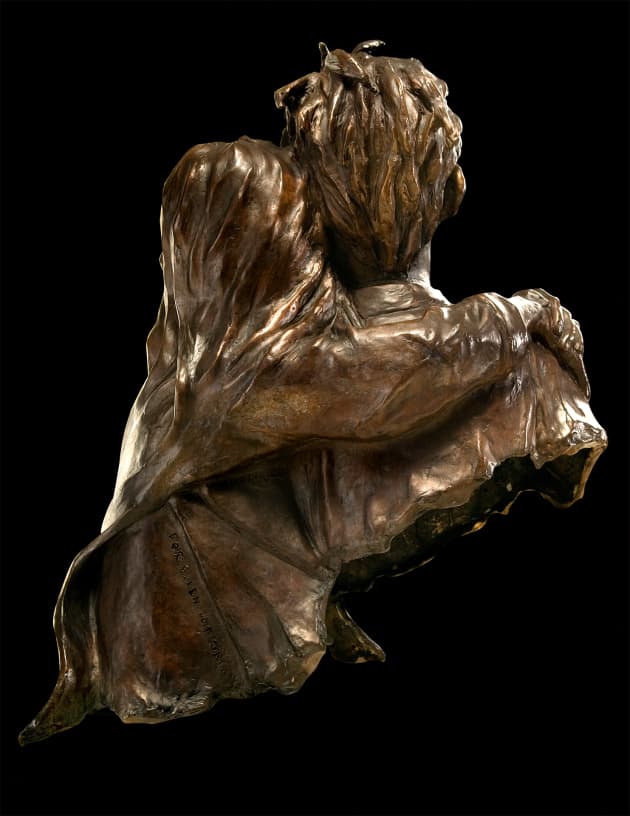 Photo: photo by Frank Wing ©
Client: Art Commissioner
Location: San Francisco, CA, United States
Completion date: 2013
Artwork budget: $25,000
Project Team
Industry Resource
Alan Osborne
Art Foundry
Overview
Conceived as a surprise gift for a special birthday from husband to his wife. Subject is very involved with art and is a City Art Commissioner. He wanted a way to commemorate his love and their years of being together and selected the artist based on her other portrait commissions. Her work is known for being interpretive rather than literal.
Dina first obtains a broad perspective on her subjects, studies current as well as past photographs and when possible live sketches. In this case she relied on photographs, sketches of the husband and meetings with the unsuspecting wife.
Goals
To achieve an interpretive likeness of two individuals integrated together to form an integral cohesive sculptural totality with elegant positive to negative spacing to be viewed from any direction, as the piece was to be installed on a pedestal in a residential location large enough to accommodate circumnavigating the piece. The husband is known for his Andy Warhol-like white spiked hair and similar appearance, and wanted to project an homage to Andy Warhol's Fright Wig, while the wife is known for her soft spoken intellectual approach to media sales.

While she is supportive of the husband's artistic endeavors, her own calm rational approach to life, in a way supports the relationship and forming her shape holding up the husband is a literal manifestation of the underlying subconscious sense that the couple radiates. There is independence yet dependence. There was a conscious attempt to convey this interlocking relationship without it interfering with the aesthetics of the sculpture. The flowing of the kimono contributes to the visual dynamic that integrates the two people.
Process
The process was more involved because of the need to keep the creative background research unobtrusive. Dina studied many photographs of the couple both together and in separate contexts from the earliest times they were together to the present. She also made a series of live sketches of the husband and went so far as to develop maquettes and bas relief clay forms to study the relationship of the massings of two people converged to make one sculpture.

The process included updates and checks by the husband and him signing a dedication to his wife and insuring the shape and size of her ring. Like many sculptures, this one required a consideration of the final display location in deciding the appropriate base, medium, size and mounting location to offset the piece.

The piece was cast at the Art Foundry in Sacramento with owner/artist Allan Osborne working on the patina to achieve a classic Rodin style mottled sepia with a hint of red wash.
Additional Information
Since Greg is known around the city as looking a lot like Andy Warhol with his circular eyeglasses and long white hair, we decided to play with the look of Andy Warhol's Fright Wig art piece to bring a little sense of humor to the final sculpture which was to be exhibited in their own residence.