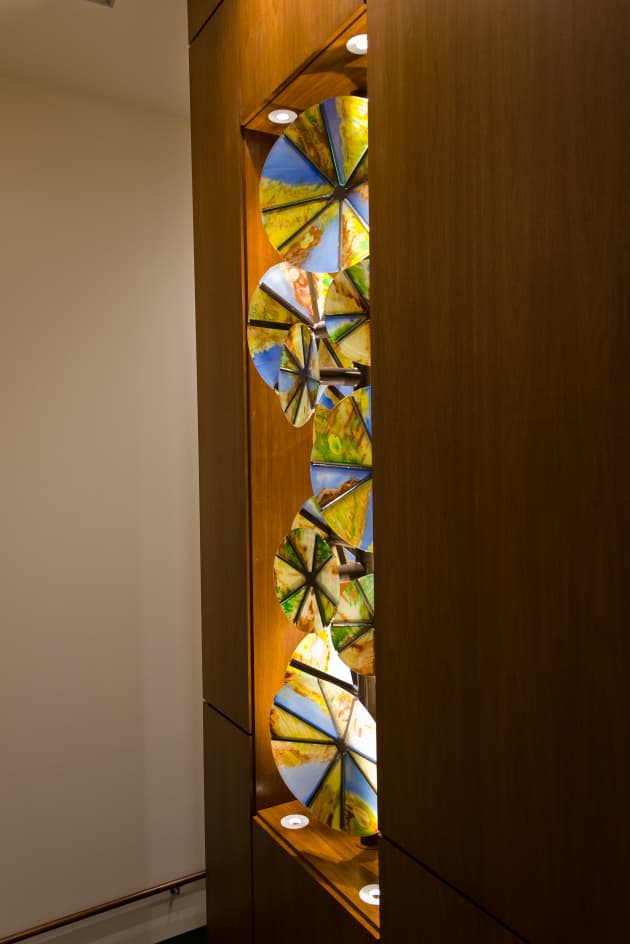 Photo: Seale Studio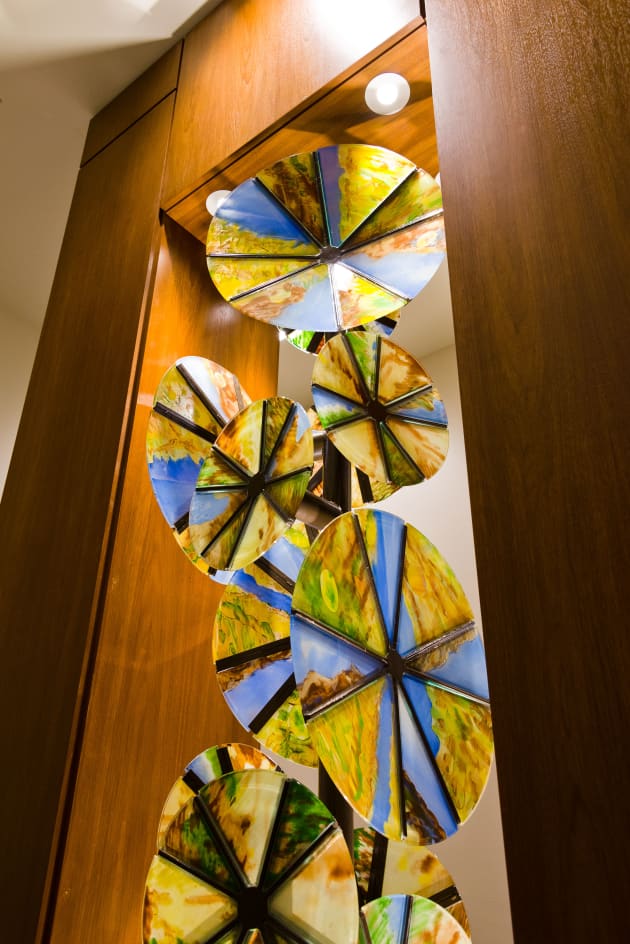 Photo: Seale Studio
Client: Grande Cheese Company
Location: Fond du Lac, WI, United States
Completion date: 2016
Artwork budget: $100,000
Project Team
Artist
Laurel Porcari
LA Porcari, Architectural Art Glass
Art Consultant
Allison Hays Lane
Olana Group
Overview
Three landscape themed, hand-painted niche sculptures comprised of enameled glass and steel. The sizes range from 10 to 13 feet tall and each arrangement is custom fit to its niche in both size and content. A floral arrangement greets visitors in the main lobby, an autumn canopy is the focus of the great hall, and Sicilian landscapes are featured in the CEO stairwell. The sculptural forms are inspired by iconic agrarian and historic images such as stacks of wagon wheels, old fashioned market carts, and of course, cheese wheels.
Goals
The challenge was to make a visual impact while being graphically specific. This was accomplished by filling the niches with various large and colorful wheel forms that addressed both front and rear elevations. The themes and colors were directly influenced by the landscape architect's vision for the project. 'Pollinator's Perspective' is a floral arrangement located in the main lobby. It relates directly to the spring and summer floral plantings that run through the site. 'Annual Display' relates directly to the tree planting scheme and what the autumn canopy will look like each year. 'Dreams of Sicily' features landscapes from the company founder's ancestral home.
Process
My process is one of analysis, collection of parts, atomization of parts, and assemblage into a cohesive whole. As is typical of my work, hundreds of parts are assembled to make each project. In this case, I began by gathering many images and making dozens of watercolor paintings that were then cut up and reassembled into collages. Each wheel segment has a corresponding collage that was interpreted in enamels on glass.
The most important aspect of the collaborative process was communication and sharing of vital information across all scales of the project. The project benefited immensely from the art consultant, Olana Group's Allison Hays Lane, the main conduit for all information and feedback, from acquiring source material to sub-contractor details, construction and installation specifics.