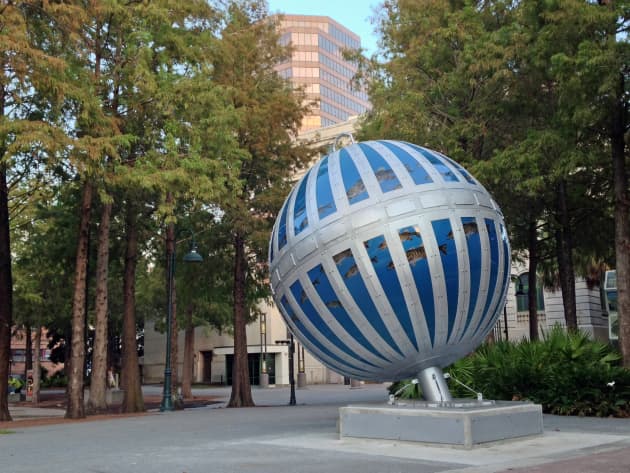 Photo: Bright House Networks
Photo: Bright House Networks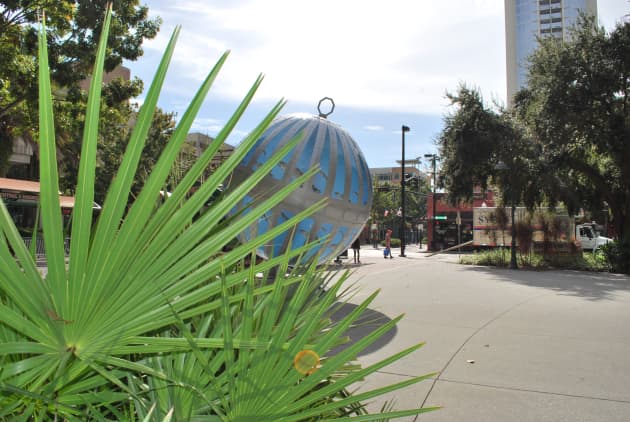 Photo: Bright House Networks
Client: See Art Orlando - History Center
Location: Orlando, FL, United States
Completion date: 2015
Artwork budget: $80,000
Project Team
Client
Frank Billingsly
See Art Orlando Public Art
Industry Resource
Randy Anderton
Tri Fabrication
Industry Resource
CSE Graphics
Industry Resource
Richie Gudzan
Paddle Out Studio
Industry Resource
Scott Hayes
DSW Laser Cutting Service
Overview
The Global Convergence sculpture celebrates Florida's rich bio-diversity. The blue panels inside the globe represent the fresh water systems on the planet. In a world in which it seems that nearly every natural ecosystem is under stress, freshwater ecosystems – the diverse communities found in lakes, rivers, and wetlands – may be the most endangered of all. Florida's protected Shoal Bass swim inside the Global Convergence sculpture in a LED lighting system programmed to simulate changing colors in Florida's fresh water systems.
Goals
The innovative use public art within public spaces utilizing new technologies can foster communication and social interaction in the context of urban revitalization and renewal efforts. Public art in an urban environment can have a powerful social function, renewing citizenship through a sense of place and cultural activities. SeeArt Orlando's compelling call offered the tremendous opportunity to help promote and encourage an understanding of the natural environment around Orlando.
Process
Morrison will worked with the Mayor's Office, Chief of Staff, city architects and engineers for the lighting requirement and installation methods for the Global Convergence sculpture.
Additional Information
Global Convergence is in front of the History Museum in Orlando, Florida. A children's story was written in conjunction with the sculpture installation. School children n regularly gather around the sculpture for story time to hear the tale of a native american boy's relationship with the shoal bass. It is the introduction to learning about the natural environment that they live in and a part of.