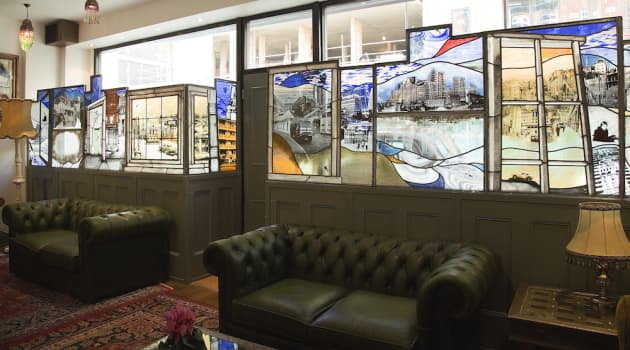 Photo: MG
Photo: D.Sandersley
Photo: D.Sandersley
Photo: D.Sandersley
Photo: D.Sandersley
Client: Foodat52
Location: London, United Kingdom
Completion date: 2012
Artwork budget: $8,000
Project Team
Glass Artist
Deborah Sandersley
Deborah Sandersley
Owner/ Project Manager
John Benbow
Foodat52
Overview
Designed and made for London based cookery school, Food At 52.
The brief was to create a glass screen to go behind the street level shop window, obscuring the street outside.The School is on two floors, the basement was to be the kitchen and the upper floor was to be used as a recreational area. The clients wanted a homely feel, relaxed but interesting. They have an eclectic taste and a very varied collection of objects.
We settled on using a mix of traditional stained glass techniques combined with more modern methods to reflect the owners style and vision.
The images used were a combination of personal stock photos of the local area and the odd archival image. I wanted to give a nod to what was whist keeping the overall feel of the piece fresh and real. The mix of fantasy and reality encourages the viewer to look closer, to find the extraordinary in the ordinary every day, to look around the corner.
The panels were constructed using traditional leaded light methods. The sheet glass is cut, each piece surrounded with lead came which are then soldered together, cemented and finally cleaned. In this case the glass was also screen printed and or hand painted, kiln fired and etched. The leaded panels were then fitted into steel frames to create the final screens.
Goals
The screens were an integral part of the interior design from the start.
The goal was to create a glass partition the length of the shop window, allowing the maximum amount of light in but obscure the street outside, providing some privacy to the people inside and helping a more intimate.
Process
I worked very closely with the owners of the business in designing the overall look and feel of the screens although the choice of images and type of glass to be used to left to me.
The glass panels were backed with 4mm toughened glass for safety and mounted in steel frames which were actually made by the client.