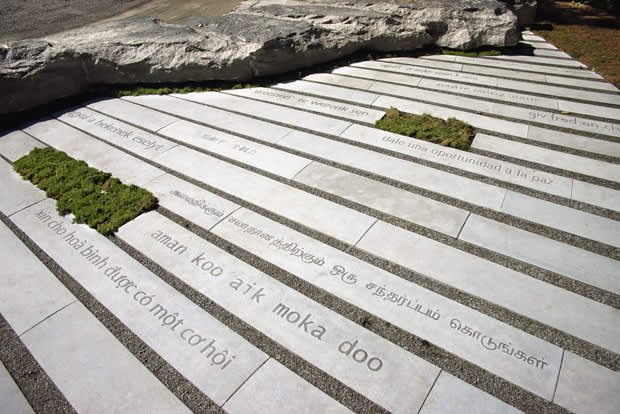 Project
Client: Ville de Montréal
Location: Montreal, Canada
Completion date: 2009
Artwork budget: $104,000
Project Team
Industry Resource
Transformation Éclipse
Transformation Éclipse
Landscape Architect
Marie-Claude Séguin
Groupe Cardinal Hardy/Marie-Claude Séguin
Industry Resource
Arco Stone
Overview
In autumn 2006, the City of Montreal held an open competition call for professional visual artists, to conceive an artistic intervention in collaboration with a landscape architect. This project aimed to commemorate the John Lennon – Yoko Ono bed-in for peace that was held in Montreal May 26 to June 2, 1969. Added to the City's public art collection, it was realized in the context of the redevelopment of the Peel entrance to Mount Royal Park financed by the Agreement on the Cultural Development of Montreal between the Minister of Culture, Communications and Condition feminine and the City of Montreal.
Goals
Mount-Royal Park is an important heritage site in the heart of Montreal, its layout originally conceived by Frederick Law Olmsted. The redesigned Peel Entrance is the principal access from Montreal's downtown. The new stairway and its surroundings were laid out to showcase the perspective offered towards the city and the river. The intervention borders a hairpin turn in the Serpentine, a path winding up the mountain's southern flank. The phrase "give peace a chance", from the song written during the bed-in, is carved in relief on stone slabs in forty languages spoken in Montreal. Subtly integrated into its milieu, the artwork sets off a spectacular rock face; marks the transition between city and park; underlines the relationship between natural and built elements; references the historic forest ; and creates a space that invites reflection. Rough stone blocks mark the installation entranceway, provide seating and reference the stone of the mountain. Interpreting the path's rhythm, the artwork reinforces Olmsted's aim to provide a varied experience in a natural setting. Accompanying the visitor's progression along the path it offers a pause, a quiet place for a moment of repose. Moss and ferns complete the work.
Process
The Mount Royal Park project privileged the collaborative approach, with both the artist and the landscape architect developing the concept from the start. We had an initial meeting to discuss the physical properties of the site, compile a list of concerns to be addressed, determine the range of possible responses and establish the points we wish to express in the intervention. John Lennon's song Give Peace a Chance and a concern for peace were the starting points. We began by walking up the mountain's southern flank to choose the site for the intervention. The work then continued individually and together. Each successive meeting was a coming together of ideas developed separately from the previous encounter, building to elaborate the final intervention. The principal idea was to create an artwork (the artistic intervention) within an artwork (Olmsted's vision of the mountain). During production I worked closely with the company that prepared the limestone slabs and the rough stone blocks as well as the company that sandblasted the words in relief .