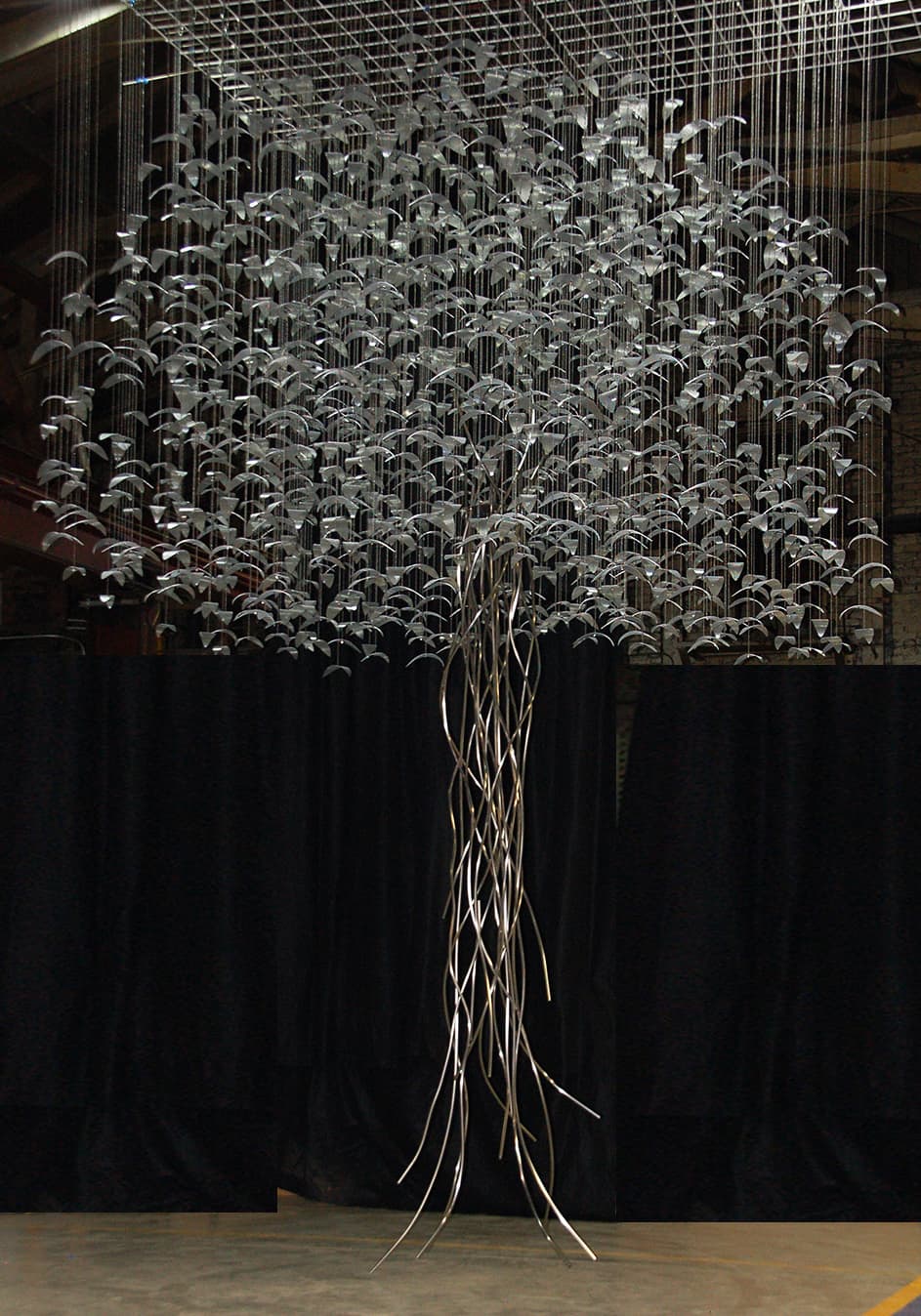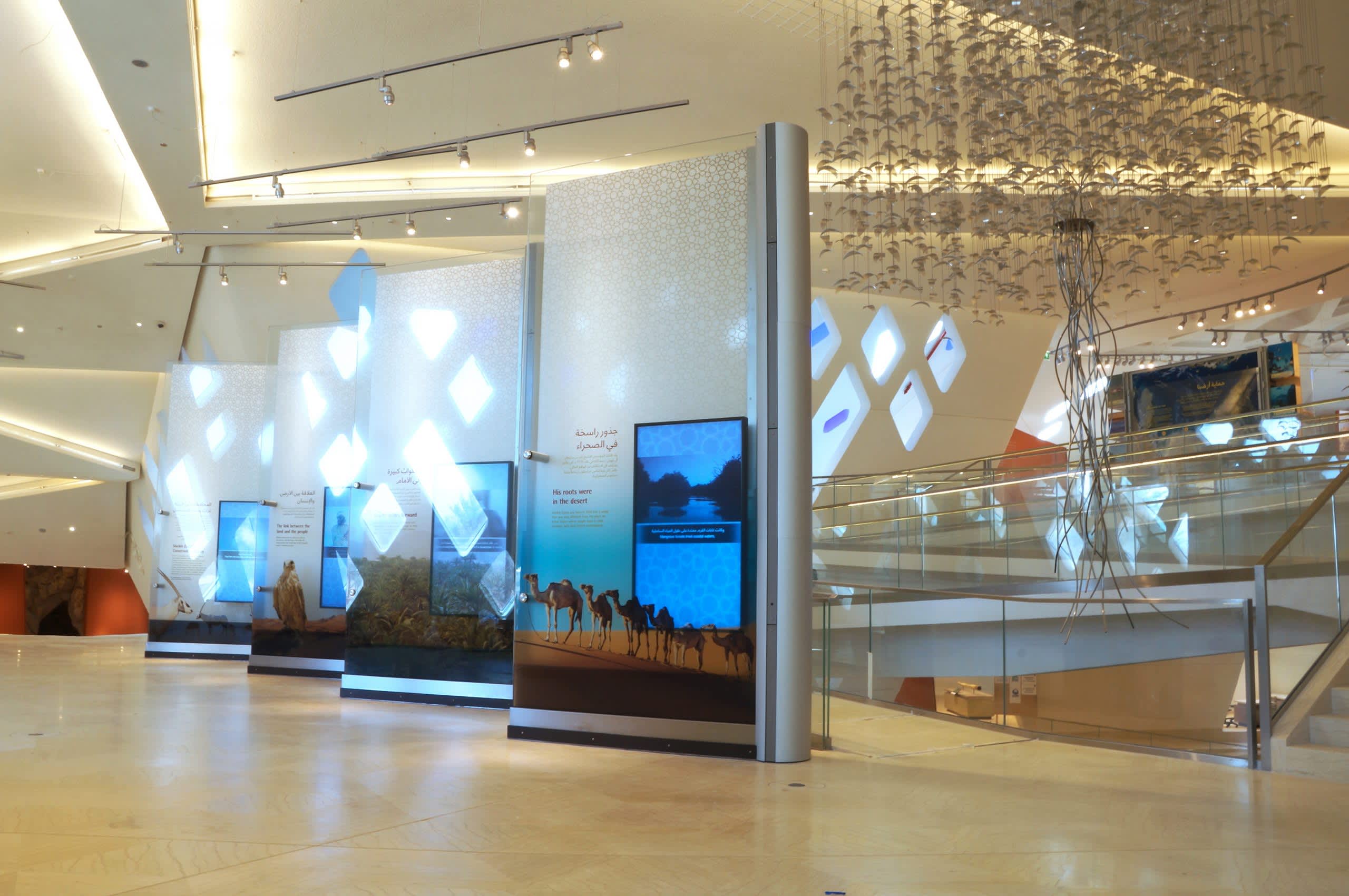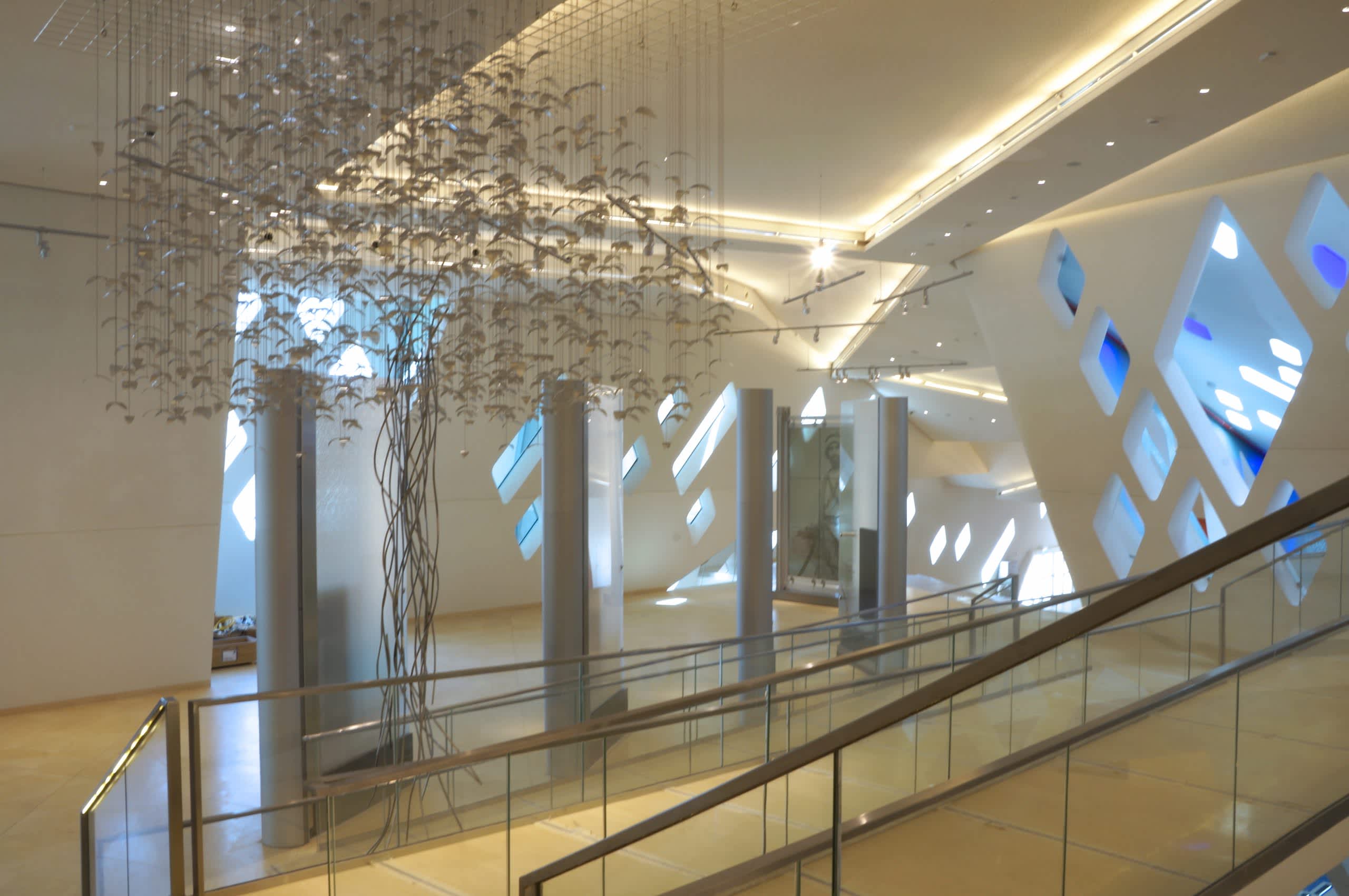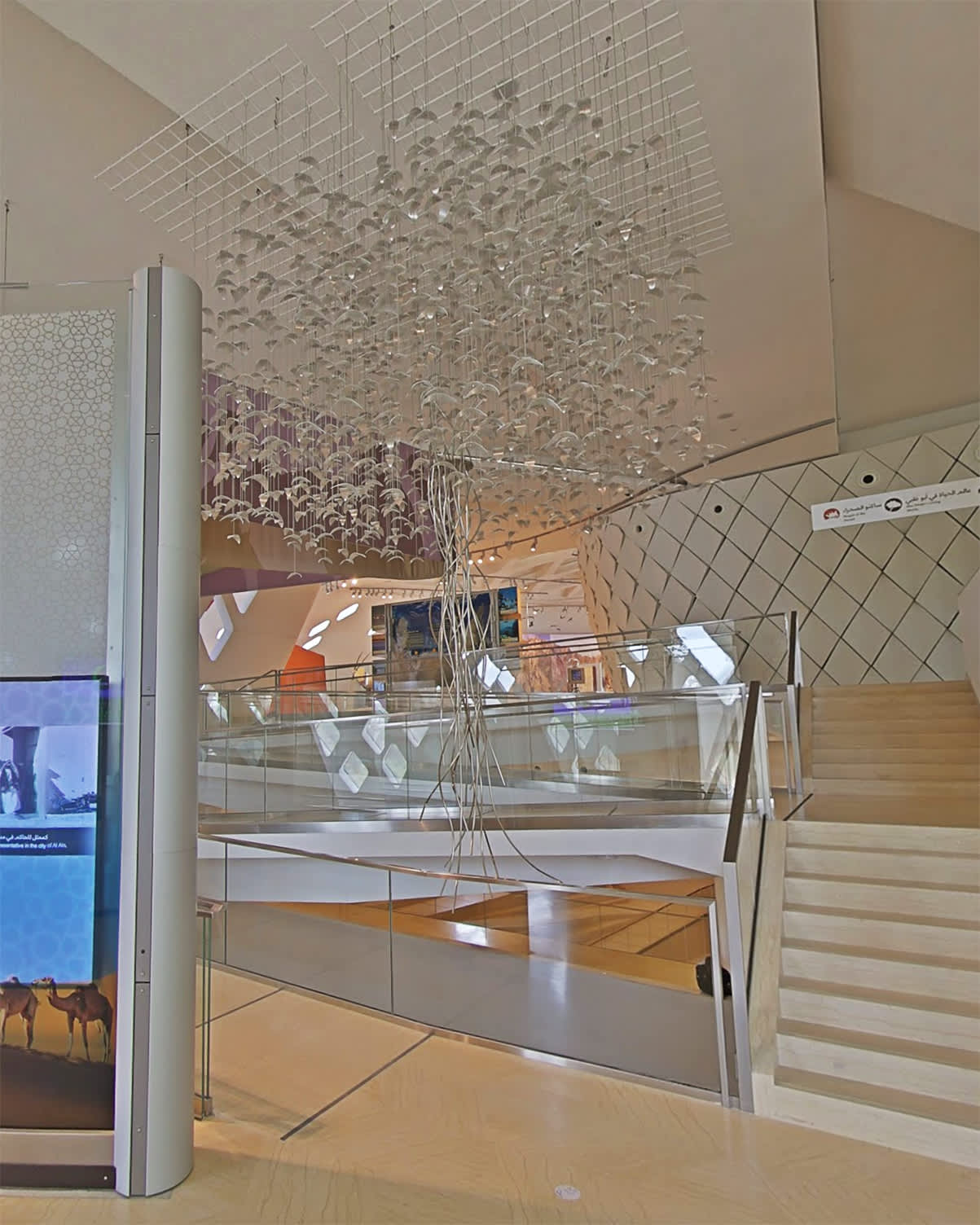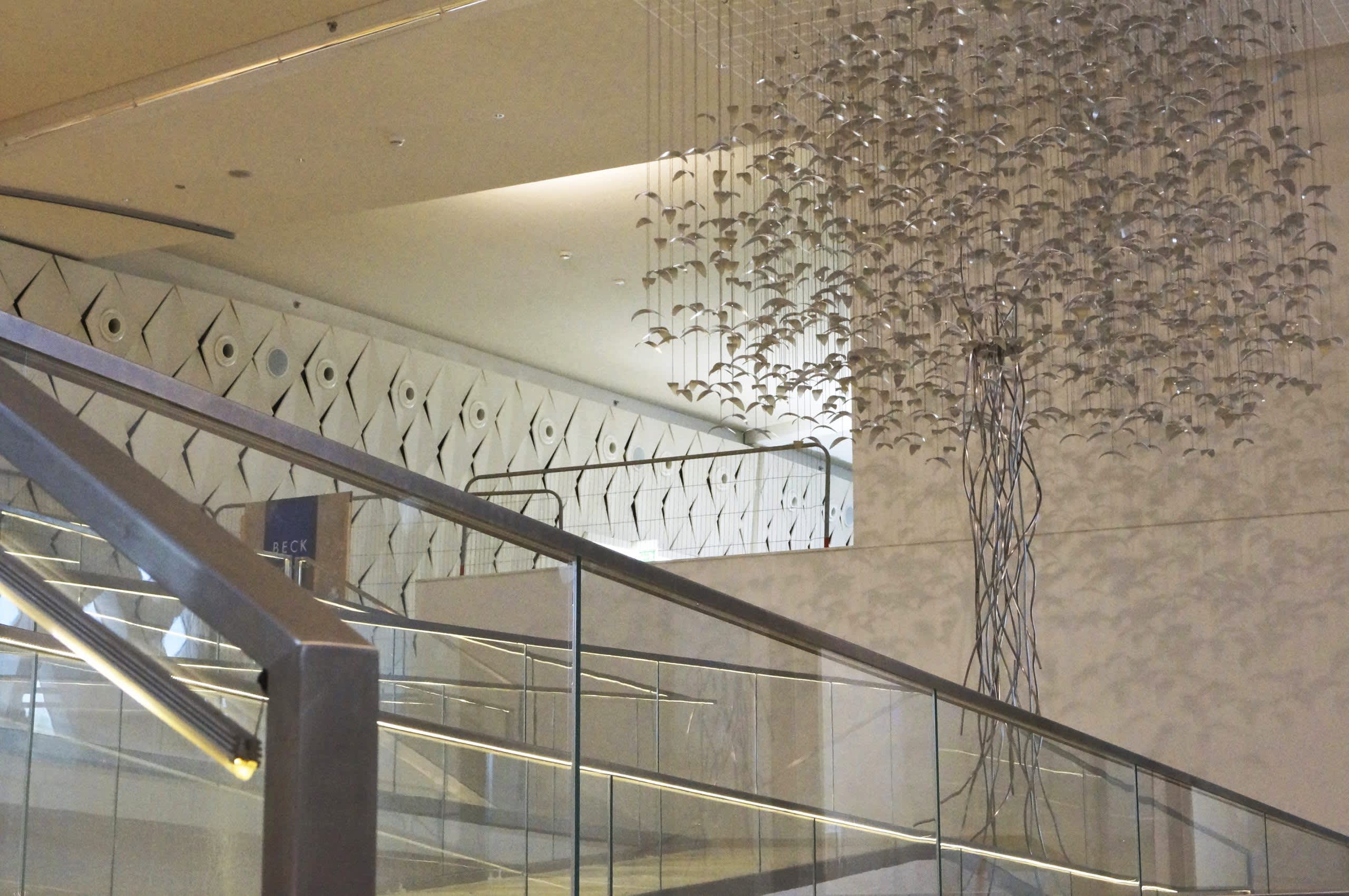 Project
Client: Sheikh Zayed Desert Learning Centre, Al Ain Wildlife Park
Location: Al Ain, Abu Dhabi, United Arab Emirates
Completion date: 2014
Artwork budget: $46,000
Project Team
Interior Designer
Victor Chorobik
AldrichPears Associates, Ltd
Art Consultant
Garry McNeice
Beck Interiors, Ltd
Industry Resource
Chris Lawrenson
Beck Interiors, Ltd
Industry Resource
William Unger
Superior Fabrication
Overview
Beck Interiors, UK, selected us to create a suspended sculpture referencing one of the few trees growing in the desert, the Ghaf tree, for Sheikh Zayed Desert Learning Centre, United Arab Emirates, an award winning museum by Architect Chalabi Architekten & Partner. Fitting into a high, complicated space, hanging over sloped walkways, it is made of anodized perforated aluminum, stainless steel tubing, stainless bead chain, and powder coated steel grids. Not a replica, this 12.5'D x 19.5'H sculpture is an artistic interpretation of the national tree of UAE, encouraging conservation of its aesthetic, cultural and ecological significance.
Goals
The goals for integrating this artwork into the project were clearly delineated because its space in the building had been selected before the artist, Talley Fisher, was brought on board. It had to be designed to fit within the tight constraints of its high space. Sheikh Zayed was praised for his extraordinary efforts in conservation, and the fact that this museum is a tribute to his life's work in the field, gave this sculpture special meaning and a reason to present the highest quality of design and fabrication. Because this artwork took over three years before being installation, the artist had time to refine and update new space and size specifications as they changed during construction. Even after it was packed and crated for shipping to the UAE, she received word that the "tree" was too long and needed to be shortened. Two weeks away from welcoming her baby daughter, Talley and assistants took the artwork back out of the crate for revision and re-packing. Installation instructions included in the shipping crate were followed perfectly, and the elegant Ghaf Tree is part of a remarkable museum and learning center.
Process
In spite of the distances between the site for the "Ghaf Tree" in Al Ain, United Arab Emirates, the art consultants in the United Kingdom, the creative director of interior design in Vancouver, our fabricator in southern Pennsylvania, and Talley Fisher's studio in Central Pennsylvania, collaboration worked remarkably well. Thanks to the Internet and computer design programs, ideas were exchanged with a modicum of delay. The art consultants in the UK and later at the Centre were our eyes and ears on site and dealt with logistical problems as they arose. Updated computer files and revisions to the interior space, providing new specifications, and ultimately giving the final approval for the design of the sculpture came promptly from Canada. The trunk of the tree, with intertwined curved rods, welded together, presents a similar imagery to the spiraling bark of a ghaf tree. Our long-time collaborator and fabricator brought the welded rods to the studio and helped determine their placement in the canopy of the tree, which is composed of two sizes of small, oval, curved perforated aluminum elements, anodized bright silver, and are an abstraction of leaves of the tree.