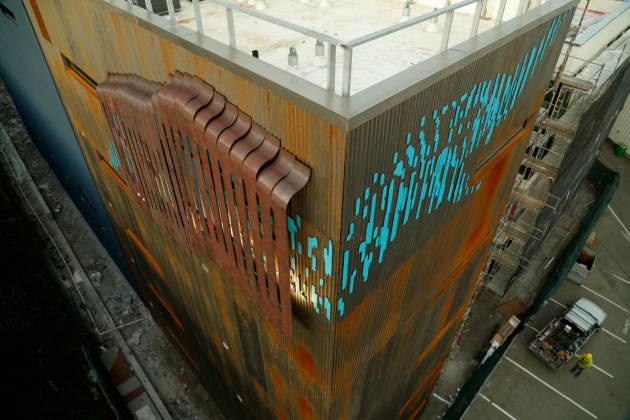 Photo: Stephen Linsley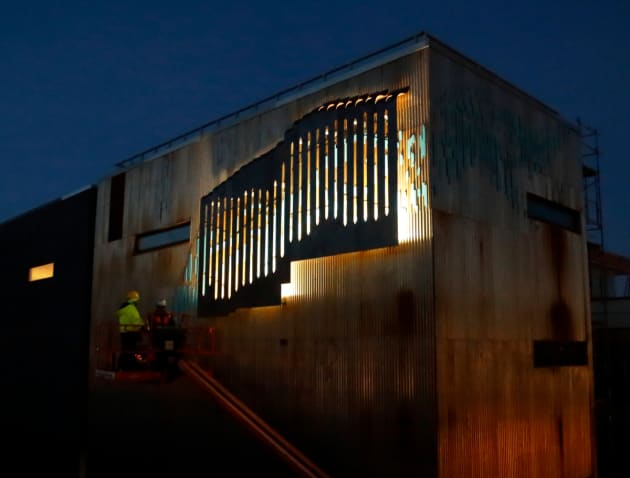 Photo: Stephen Linsley
Client: AvalonBay Dogpatch
Location: San Francisco, CA, United States
Completion date: 2018
Artwork budget: $112,000
Project Team
Artist
Jenna Didier
AtelierDIDIER
Art Consultant
Dorka Keehn
Keehn On Art
Architect
Marcial Chao
Pyatok

Overview
Working from the idea that there is an a priori spirit of place – a genius loci – that inhabits a site like the one in the Dogpatch, the artwork reveals this spirit. An architectural-scale optical illusion, a portion of the artwork presents an animation responding to passersby on the 280 freeway.
Goals
The choice of the corten steel as well as the cyan color of the graphics respond to the building cladding. As the corten cladding on the building weathers, the artwork will seem to emerge from the surface of the buildings facade; splitting to reveal the "spirit" moving within it. Recognizing that the audience is constantly in motion, the artwork responds to the shift in perspective as they go by.
Process
The artist coordinated the integration of the artwork into the facades of the building via a series of weekly meetings with Pyatok, Kennerly Architects, and KPFF Engineering. The team worked together to address materials, structural concerns and weatherproofing.
Additional Information
This approach marks a significant advance in the artist's goal of creating responsive public art works that require little to no computer-driven elements. The art work achieves a kinetic effect with no moving parts and opens the doorway for a greater range of gesture and emotion.