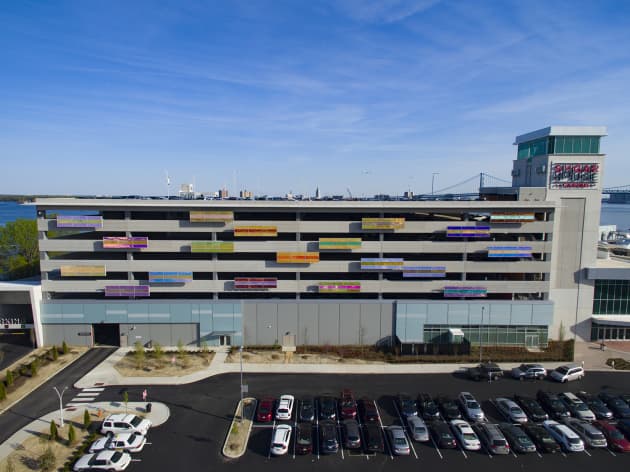 Client: SugarHouse Casino
Location: Philadelphia, PA, United States
Completion date: 2016
Artwork budget: $650,000
Project Team
Artist
Lyn Godley
Lyn Godley Design Studio
Public Art Agent
Susan Miller Davis
Architect
Ian Cope
Cope-Linder Architects
Client
Wendy Hamilton
SugarHouse Casino
Industry Resource
Mike Finnegan
Allied Environmental Signs
Industry Resource
David Corbo
Philips/ColorKinetics
Other
Charles Porter
DMA Associates
Overview
The brilliant full-color light display on the façade of SugarHouse Casino's new garage is an ever-changing exhibit of color. The highly engaging artwork represents the intersection of urban design, art and technology. The artwork is comprised of a series of light boxes and façade lighting that changes colors during the day and throughout the night, reflecting similar patterns in the flow of the Delaware River. Through the use of multiple layers of dichroic and color films, and programmable façade lighting, Philadelphians witness intense color shifts as they approach the casino, or as they drive along the I-95 expressway.
Goals
From the start of this project, it was important that the artwork be integrated with both the building and the setting. SugarHouse is situated along the Delaware River, which was key in the inspiration of my light installation. During my first meeting with the client, I had the chance to look out over the existing casino and was struck by the span of the Delaware River that the casino is built along. The river's horizontal flow worked nicely with the design language of the casino; that of long horizontal panels found on almost every facade surface of the building. Yet the river offered a reflective fluidness that constantly shifted with light, creating an increased sense of movement, as would my design through the use of the color changing back-lit dichroic films.
Process
As the artist and project manager for the commission, it was critical that the client team be assured that the project would be a success. It was the largest public art project they had taken on and they were involved from the start with design decisions. We met on a number of times with the whole client team, the architects, and construction managers, along with my design team and the fabricators and installers. The way in which we layered the films had not been done before so we could not reference another project as proof. So we would walk everyone through the testing of the materials with various lighting options, at different points in the day and evening so they knew exactly what they were getting and they became part of the design conversation with valuable input and considerations. These meetings at my studio addressed materials, lighting options, and install considerations. Later I spent a lot of time with the fabricator, working through the film layering, and testing full-scale units.
The project was a true collaborative effort with everyone involved, and in the end all felt that they had been a part of the process.