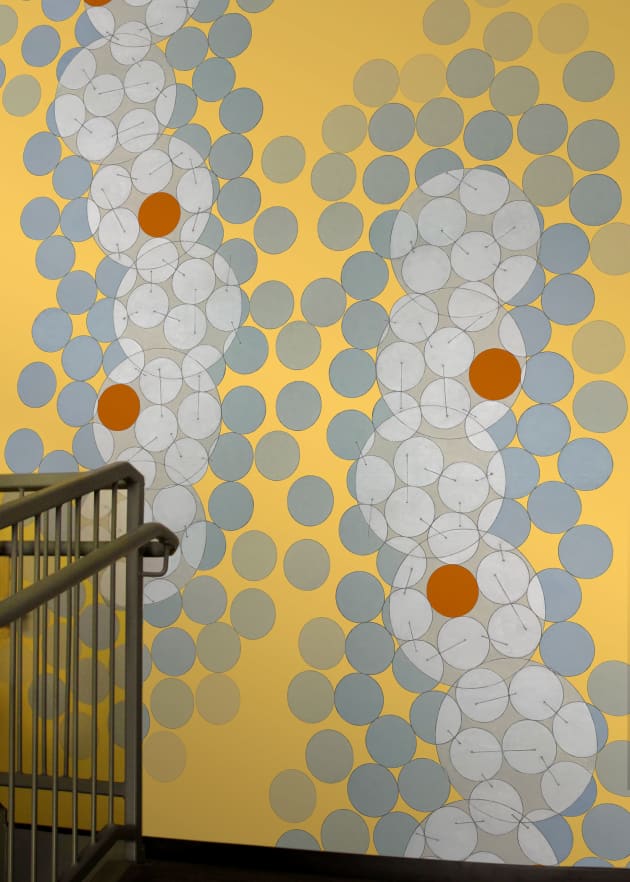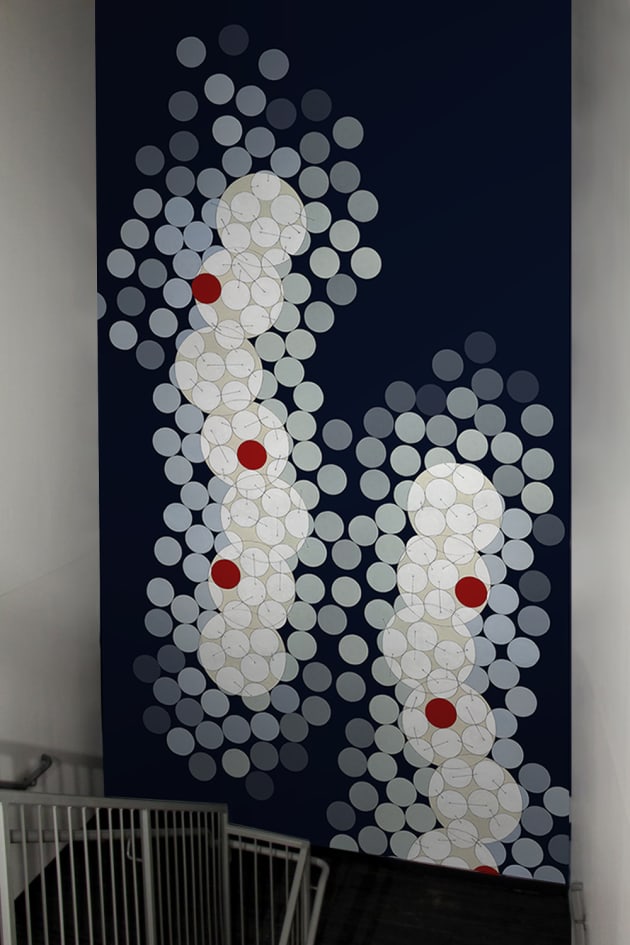 Client
Location: Austin, TX, United States
Completion date: 2020
Artwork budget: $10,000
Project Team
Artist
Annie Darling
Annie Darling Art
Art Consultant
Liz Graham
Liz Graham Art Consulting
Overview
This project required creating one colorful design with four iterations to cover a total of eight tall stairwells in a large financial institution in Austin, Texas. The intent of this project was to create a lively atmosphere for employees to enjoy while traveling to other areas of the building. Each wallcovering extended from floor to ceiling and was produced as vinyl wallpaper. The paper for each wall was hung in three sections and trimmed accordingly. Dimensions: One wall at 11' x 24' and three at 11' x 14'.
Goals
The goal for this project was to create four colorful wall coverings that would adorn two stairwells of four flights each. Colors for this project were chosen to match existing paint colors on each floor. The geometric style of my work was chosen to coordinate with two other pieces of work that were also colorful and geometric in nature, hence, it was my job to create work that would compliment these elements and enhance the beauty of the structure.
Process
I worked closely with the art consultant who initiated the project and we worked together with the interior designer to determine the artistic parameters of the project. In production I worked extensively with the wall covering manufacturer and provided on-site art direction for the installers throughout the installation.
Additional Information
These lively wall coverings were created using an original encaustic painting as the base of the artwork. The original work was photographed, then digitally modified to create an interesting and lively design. After the design was finalized, I replaced background and foreground (solid dot) color to create a different color combination for each floor. Colors were matched via paint swatch to PMS and then tweaked for vibrancy. Output was a 150dpi file at 100% size.