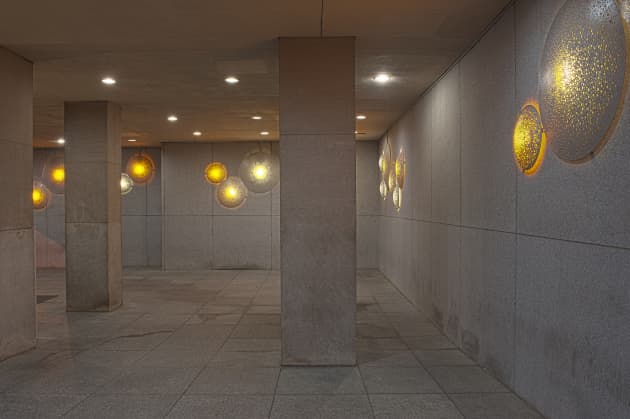 Client: Washington Area Metro Transit Authority
Location: Washington, DC, DC, United States
Completion date: 2011
Artwork budget: $150,000
Project Team
Other
Products Support Inc
Products Support Inc.
Industry Resource
Alexander Cooper
ASC Lighting Group
Artist
Michael Enn Sirvet
Sirvet Studios
Overview
Twenty heavily perforated convex aluminum discs of varying size lit from behind with colored LED light engines.
Goals
The goals of this artwork were to bring light and interest into I highly traveled yet dim and underutilized space within the Washington, DC Metro transit system. The overall design of the artwork was based around those goals and to this day the space is much more vibrant and inviting due to the installation
Process
The artist Michael Enn Sirvet designed the artwork. Lighting designer Alexander Cooper aided in the creation of the lighting scheme, and a high-tech metals fabricator constructed the aluminum dish shaped elements.