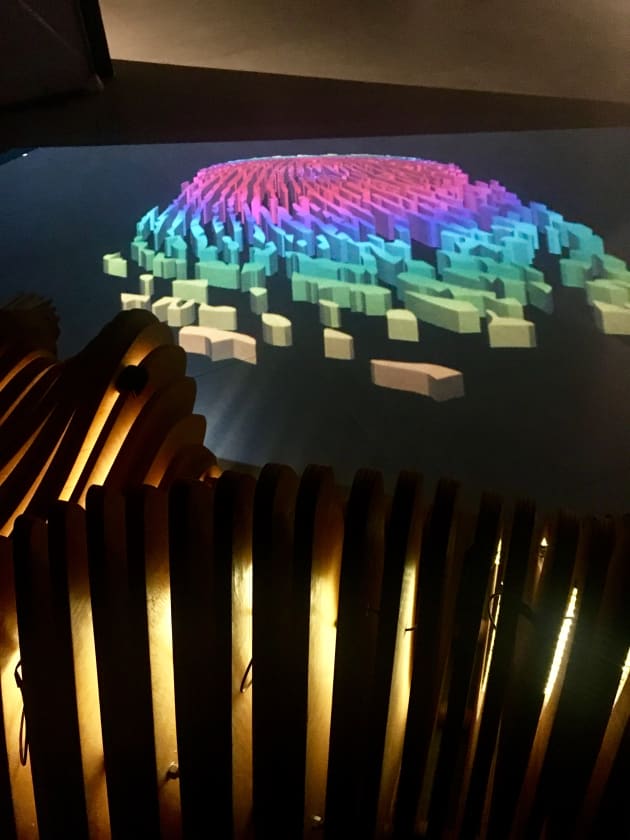 Client: City Life Festival
Location: Shanghai, China
Completion date: 2018
Artwork budget: $60,000
Project Team
Artist
Anaisa Franco
Anaisa Franco Studio
Programmer
Lucas Prado
Grupo AMUDI
Client
Yan Gu
City Life Festival
Overview
Expanded ID is an interactive public art installation that scans the visitor fingerprint and transforms its unique shape in a generative animation, which pulses colorful 3D blocks of the user's unique fingerprints shapes.
Human fingerprints are unique, difficult to alter, and durable over the life of an individual, making them the unique long-term markers of human identity. The project aims to allow visitors to experience an expansion of their unique fingerprint by interacting with a generative animation interface created especially for the project.
Goals
The main goal of the project is the creation of a unique experience that demystifies the fingerprint graphics of the people. I want people to notice and play with their own unique biometric graphics by experimenting with a playful large scale version of it. The interaction consists of a scan of the fingerprint as the input and the output is the transformation of the fingerprint graphics into colorful pulse blocks generated according to the biometric sensor scanning. Expanded ID is part of a series of works where I investigate the metamorphosis of biometric data applied to artworks.

The chosen design was inspired by the shape of the fingerprint. The sculpture grows following the border curves of the fingerprint and the rest of the space are covered by the generative animation. It is a sculptural fingerprint topography in the form of an interactive public artwork.

Process
The design process of the project started during a workshop of AA Visiting School called Hyper Threads. The teachers were from the Zaha Hadid office and they were teaching us how to model using Maya and export it using digital fabrication techniques. The workshop was at the Museum of tomorrow in Brazil in 2017.

In February of 2018, the work was selected to be developed during a residence at FABLAB Garagem in Brazil, financed by Homeostase Exhibition. During the residence, I developed the wood sculpture using Maya, Rhinoceros, and CNC at the Fablab Garagem. The interactive software and lights were developed in collaboration with the group AMUDI, which is a group of Engineers from the University of São Paulo that dedicates to the creation of art and technology projects.

After 3 months of production, the work was exhibited at Garagem FABLAB in Brazil. In 2018, the work was invited to be part of the LIFE city Festival in Shanghai, China, where it was locally produced and Exhibited in the public space for a period of 6 months. In 2019, the work was Exhibited in the LUME Gallery in São Paulo, Brazil under my last Individual show called EXPANDED ID.

Additional Information
The far-reaching potential of the design is the fact that it can have accommodated several people at the same time, plus it could be designed and installed in several different parks and squares. It also can be implemented in different sizes, colors, and shapes.