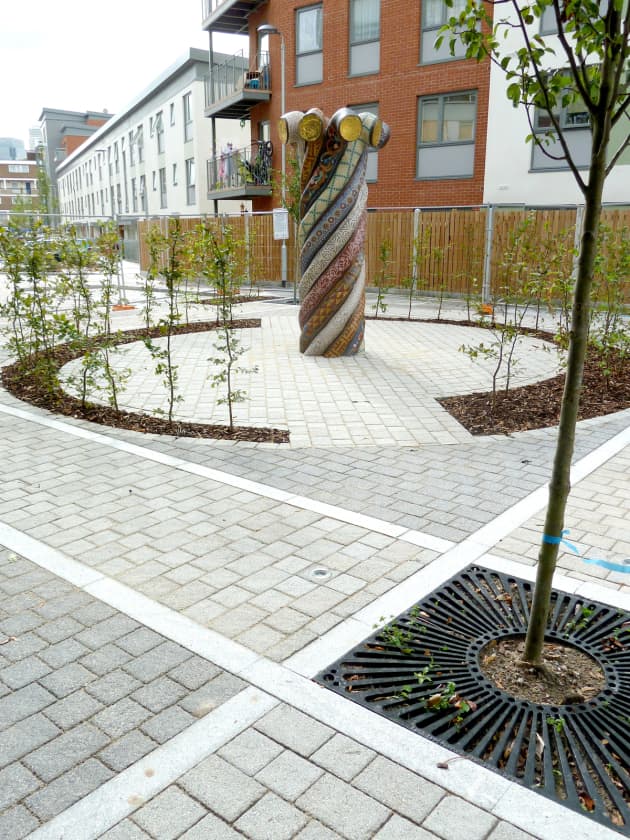 Client: Poplar HARCA
Location: London, United Kingdom
Completion date: 2012
Artwork budget: $40,000
Project Team
Artist
Gary Drostle
Drostle Public Arts Ltd
Art Consultant
Marcel Baettig
Bow Arts
Other
Jenny Hunte
Poplar HARCA
Overview
A mosaic sculpture for a housing project in Poplar, east London, UK. The brief was to reflect on the local area, its history and its community. Two factors inform the design: the former use of the site as one of the London Docks main rope making factories; the wide range of migrant communities that have arrived in the area for many centuries. The design represents different communities as strands of the rope, each represented through a fabric pattern, all the communities entwined together to form a stronger whole. The communities include: Ashkenazi Jews; Huguenots; Chinese; West African; Eastern European; Bengali.
Goals
The design of the work was integrated into the local landscaping scheme through close collaboration with the landscape design team.
Process
The client was closely involved at each stage of the design and fabrication process of the artwork. The project began with a research phase looking into local history, this was followed by a series of design and mosaic workshops with local school children looking at the various local communities and textile patterns associated with them.
Additional Information
The artwork was awarded the 'Best in Show' award at the 'Mosaic Arts International 2013' in Tacoma, Washington.