Photo: Kelly Moyers, Belle Mead Hot Glass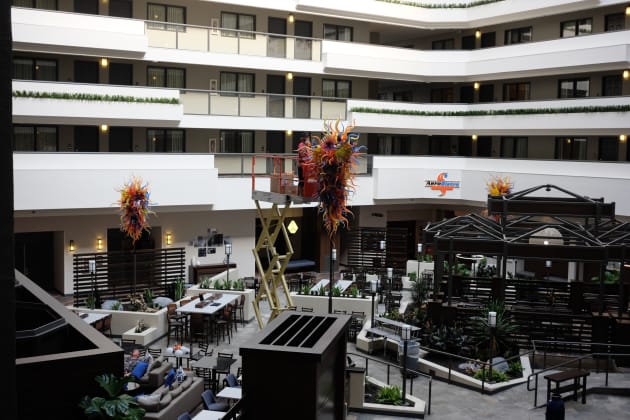 Photo: Kelly Moyers, Belle Mead Hot Glass
Photo: Kelly Moyers, Belle Mead Hot Glass
Photo: Kelly Moyers, Belle Mead Hot Glass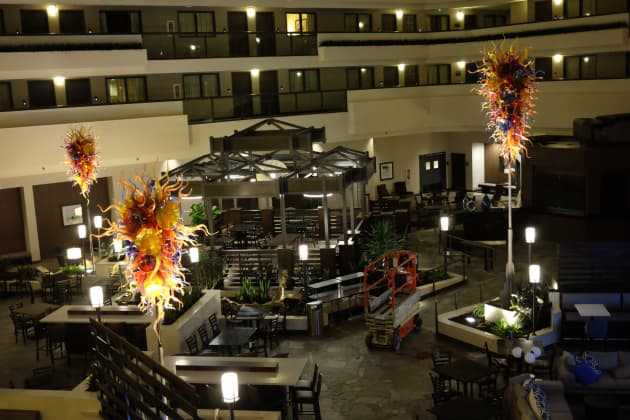 Photo: Kelly Moyers, Belle Mead Hot Glass
Client
Location: Los Angeles, CA, United States
Completion date: 2016
Artwork budget: $150,000
Project Team
Artist
Robert Kuster
Belle Mead Hot Glass
Client
Bob Alter
Sea View Investors LLc.
Overview
This brief called for a series of sculptural forms to integrate into the landscaping in the hotels large atrium. Designed to withstand serious earthquake threat, the choice was made to use stand mounted externally lit sculptures. The sculptures create a sense of defined space around the open entertaining area while still encouraging guests to look up and enjoy the open space of the atrium.
Goals
For this project we were asked to create an installation that would add a sense of drama and flair to the central gathering space of this large hotel and be safe in an earthquake prone area. Starting with a blank slate we listed all of the parameters that would constrain a design carefully and then using the inspirational sources provided by the client we began designs. In areas such as LA where safety concerns can alter aesthetics combining the practical demands of a space with the aesthetic goals of the client from the beginning allows us to find an imaginative path where neither beauty or safety is compromised
Process
From the very beginning of the design phase we knew we wanted to use the massive atrium space in a positive way. Working with the investors we did full sized mock-ups and color tests to refine the design. And, working with experts in the field we refined aspects of the design and it's stand to ensure the sculptures ability to remain safe for guests in the even of an earthquake. Specialists were called in to verify footings and welds and attachment points. Keeping this flow of information open between aesthetic and engineering interests is key to successful installations in these public spaces. And in the end we had a design that created helped define the space without closing it off and added excitement to their busy venue.
Additional Information
One of the interesting things about this project was the process of refreshing it two years after the initial installation. The hotel had undergone a complete style update that had unfortunately caused an enormous dust problem for the staff. Despite their care, the sculptures suffered some damage and we were called in for an update and maintenance. We added blue tones to compliment the new aesthetic of the space and collaborated with staff to set up a maintenance process that works smoothly in this installation. This long term involvement is a hallmark of our design.