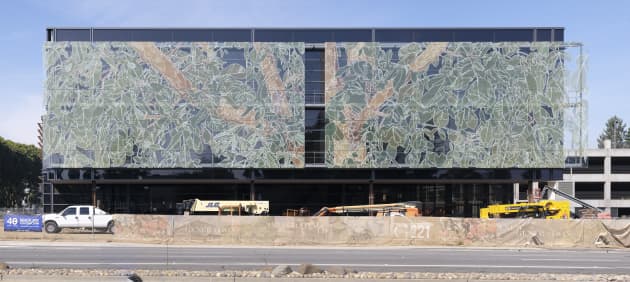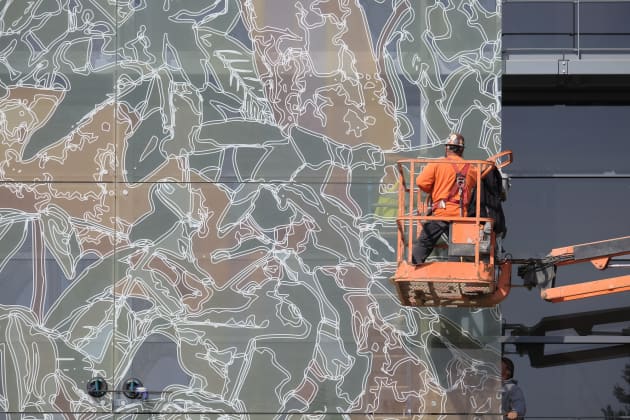 Photo: Stephen Galloway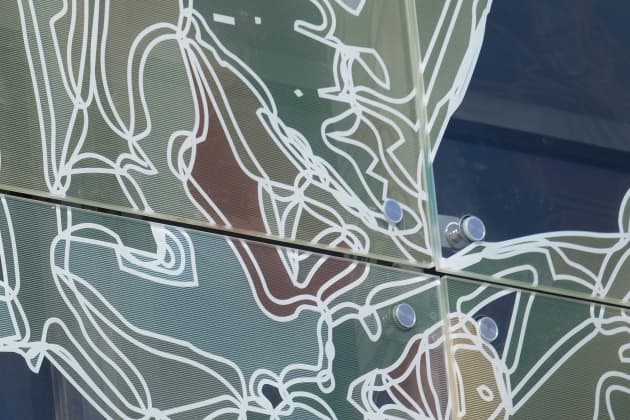 Photo: Stephen Galloway
Photo: Stephen Galloway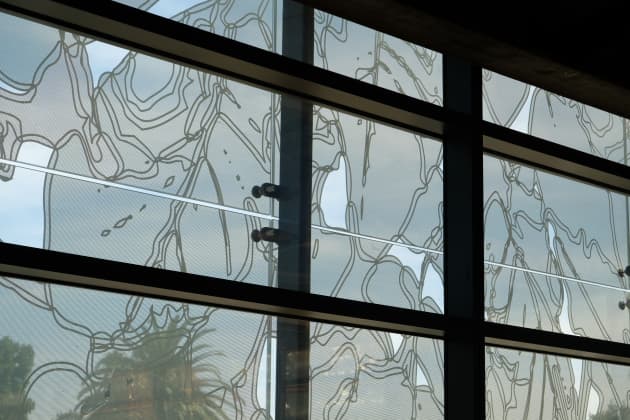 Photo: Stephen Galloway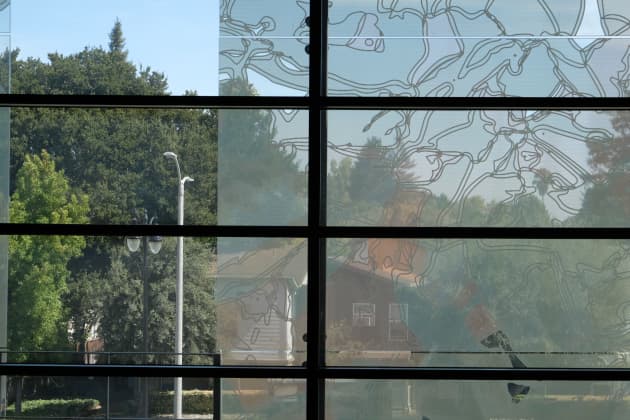 Photo: Stephen Galloway
Client: Spear Street Capital
Location: Sunnyvale, CA, United States
Completion date: 2018
Artwork budget: $813,000
Project Team
Artist
Stephen Galloway
Stephen Galloway Studio LLC
Art Consultant
Chandra Cerrito
Chandra Cerrito/Art Advisors LLC
Architect
Novum Structures
Overview
Element: Grove is a public artwork and the prominent feature of Grove 221, slated to be the headquarters for the genetics tech company, 23AndMe. The artwork is a 30' x 135' glass screen overlaying the top two floors of the southeast side of the building. The artwork image is created using ceramic frit, a permanent, fired-on glass coloring material.
Goals
The artwork, Element: Grove, is meant as a primary design feature of this new corporate campus. Fully visible from the main boulevard, the artwork brands the building and the site. To create the sense of the facade belonging to the site, the facade's format was designed to be in perfect proportion with the building.
Process
This project demanded deep collaboration through all phases. Many options were developed by the artist and worked through the architect and developer to fix the design direction. That design was further refined during a sampling process including the fabricator, the engineer and the artist. Finally, the artist spent 1 week in China working with the fabricator to manage the final production and quality control.
Additional Information
The composition is derived from a walnut tree, informed by the former life of the property, a once thriving fruit and nut grove, and a piece of the larger story of agriculture in the Santa Clara Valley that has since evolved into Silicon Valley. The artwork is scaled for appreciation from inside the building, from the grounds, and from the street.