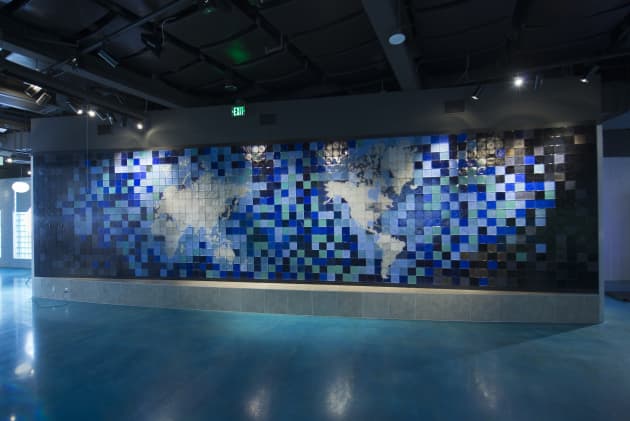 Photo: Tom Brooks
Client: The Toledo Zoo & Aquarium
Location: Toledo, OH, United States
Completion date: 2015
Project Team
Artist
Adam Goldberg
Gathered Glass Studio
Artist
Mike Stevens
Gathered Glass Studio
Artist
Eli Lipman
Gathered Glass Studio
Overview
1,368 six inch blocks of cast colored glass with fused silica sand to represent the landmasses. The Pacific is centered on this "pixelated" illustration of the world to showcase its vastness and importance on Earth. Located in the newly renovated WPA era aquarium at the Toledo Zoo, Toledo, Ohio.
Goals
Located in the Glass City, the WPA era Toledo Zoo decided to invite glass artists to submit designs for a public work in the Aquarium renovation project. One of the goals that The Zoo had was to commission a local artist team to create a piece for the entry way.
Process
Designing, creating, and installing an artwork for the entrance of a historic WPA building required attention to detail in our own craftsmanship, as well as the detail of the preexisting structure. From concept to completion the project took eight months. Our team worked closely with designers, engineers, suppliers, and zoo executives. This helped us develop another strength: flexibility. Having a flexible and evolving vision added to our success dealing with all the parties involved. We were able to complete the piece on time and within the stated budget.