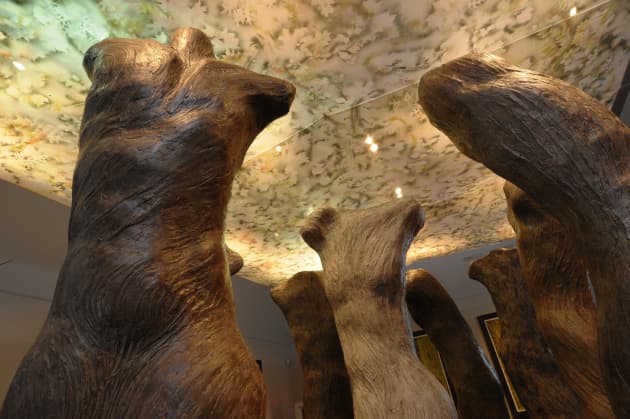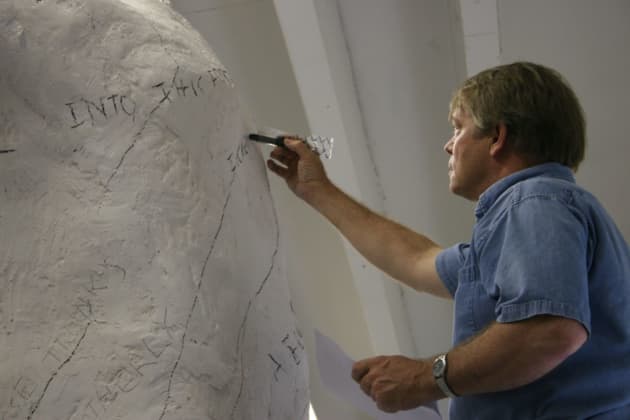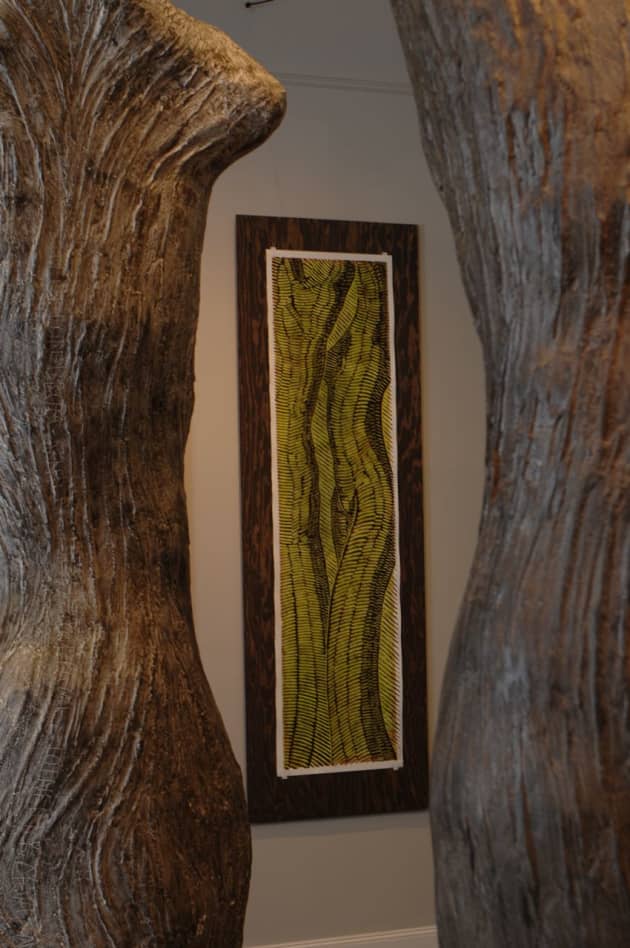 Client: Customs House Museum
Location: Traveling exhibit, TN, United States
Completion date: 2019
Project Team
Artist
Madison Smartt Bell
Overview
"Dream Forest" is an installation of nine tree-like sculpted forms resembling elongated human torsos, averaging 12 feet tall. Assembled together in a darkened room, the viewer walks among the sculpture as if in an old growth forest. Dappled light filters down through a painted scrim. The exhibit continues onto the surrounding walls with 8 foot tall woodblock prints on paper embossed with leaves. A nine-part continuous dream narrative is incised into the sculptures, embedding the text as part of the final surface.
Goals
The "Dream Forest" was first exhibited at the Customs House Museum in Clarksville Tennessee and was designed to fit the space of the Crouch Sculpture Gallery. The exhibit continues to travel to different venues in the region, and the exhibit dimensions can change depending on the exhibit space. It was produced independently by the artists and not as part of another project.
Process
In collaboration with author, Madison Smartt Bell, LeQuire has written an accompanying narrative that recounts a series of dreams. Bell has embellished and edited these to create the final text which appears on the sculpture and on the walls of the surrounding gallery. Alan LeQuire was the principle artist, but he collaborated with writer, Madison Smartt Bell, print maker James Sherraden, fabric artist Annie Freeman, and book artist Susan Hulme. LeQuire developed the ideas behind "Dream Forest" over a period of two years in conversations with Bell, Sherraden, and Freeman. Susan Hulme produced the hand-made artist's book with LeQuire in 2013 at Blue Marigold Press.
Additional Information
"Dream Forest" is an ode to our rapidly disappearing forest ecosystem. It is meant to remind us of the mythic power and beauty of that world. Language, sculpture, and printed imagery work together to create a physical, and emotional experience.