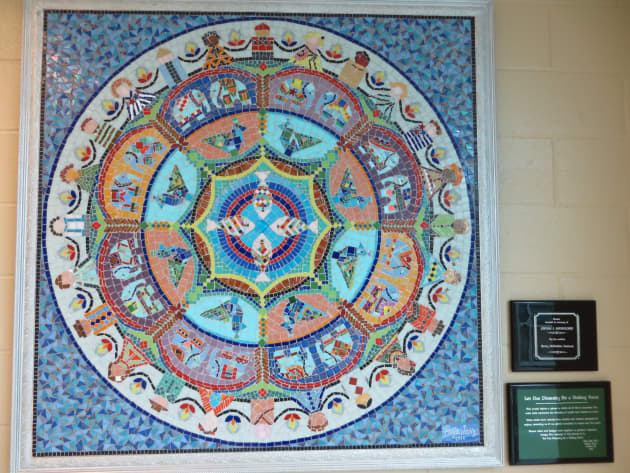 Photo: Anju Jolly
Client: Penn State University, DuBois Campus
Location: DuBois, PA, United States
Completion date: 2012
Artwork budget: $5,000
Project Team
Other
Penn State University
Artist
Dr. Anju Jolly
Anju Jolly Mosaics
Overview
This is a 4 ft x 4ft ( 16 Sq. ft) mosaic created for Penn State University DuBois Campus.
Goals
The idea of incorporating diversity was communicated to me by the administrators. So I created three preliminary drawings and the one they approved is the one I used to create this project. I walked around campus and attended a couple of events in next few weeks to get a sense of the spirit of the campus community.
I chose circle as a symbol of unity. For the first inner circle I chose a row of people as if holding hands; I tried to dress them in clothes from different cultures and backgrounds as I saw them on campus. The second inner circle I selected elephants that depict the African continent. The third inner circle shows peacocks depicting the Asian continent. At the very center are fish representative of the west. Also these circles cover the living beings on earth - people, land animals, birds ( air) and fish (water). Vibrant colors and designs work together to produce a dynamic energy. The message of this picture is to 'let our diversity be a uniting force'
Process
I am the sole designer and artist for this project. The university art committee wanted this to be a hanging type piece and not built into the wall. So I had to come up with a substrate which is lighter than wood, and yet sturdy enough to hang on the wall for years to come.
So I engineered a substrate with double layer of wediboard and framed it in the back with 8 inch wood frame which made the substrate light and strong.
I used pieces of vitreous glass, stained glass, embellishments, crystals, beads and stones to make the images. Surprisingly, the whole piece weights under 50 lbs.
Additional Information
I created the frame as well. :) The piece was dedicated in the memory of a Student.