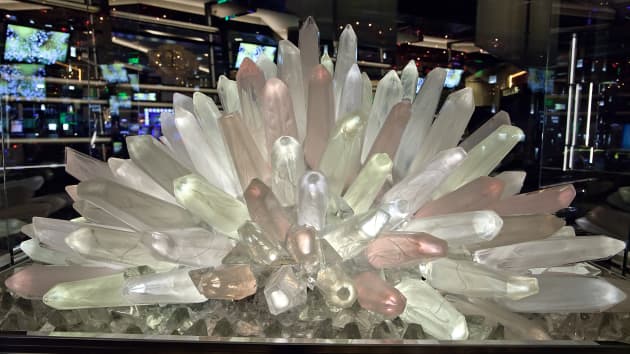 Photo: Rick Fowler
Client: Cosmopolitan Hotel
Location: Las Vegas, NV, United States
Completion date: 2010
Artwork budget: $60,000
Project Team
Interior Designer
Rockwell Design
Artist
Barbara Domsky
Domsky Glass
Overview
The "Crystal Sculpture" stands 7'x5'x5′ overall in size. This sculpture is fabricated from blown glass and steel. Each "crystal" is filled with fiber optic threads which allow color is change slowly each crystal at a different color setting giving the overall sculpture a sparkling effect. We fabricated an interior non-visible armature for which the blown glass is attached. We surrounded the sculpture with cast glass simulated, oversized diamond jewels to mask the view of the base and to add further sparkle to this glistening sculpture.
Goals
The Crystal Sculpture was designed as the entrance to the Cosmopolitan Hotel Book and Stage venue. The designer original concept was to have an enclosed fireplace for real flame and built a platform for this purpose. When fire codes snuffed that idea the designers turned to us for suggestions. We proposed and designed the concept of the Crystal Sculpture which included interior fiber optics which allow the blown glass "crystals" to slowly change color allowing visual interest and movement at the entrance to this main hotel venue. The "fireplace" base was used to hide all wires and illuminating devices.
Process
We were contacted by Rockwell Group New York and asked if we would like to work with them and Friedmutter Group to help them result this dilemma as they had already build the fireplace at entrance. We quickly met with a team of approx eight people and proposed our concept. We immediately fabricated a steel mold and fabricated a glass sample as our prototype to play with fiber optical light to see how the changing light would transmit. We were successful right of the bat. We drew up all designs for armature and light housings, ordered all lengths of fiber optic and illuminators and began the glass blowing process.
Additional Information
Even with the change of plans by the designers from real fireplace to lit sculpture, we were able to keep them on track and completed prior to their original timeline requirements. All installation was preformed by us.