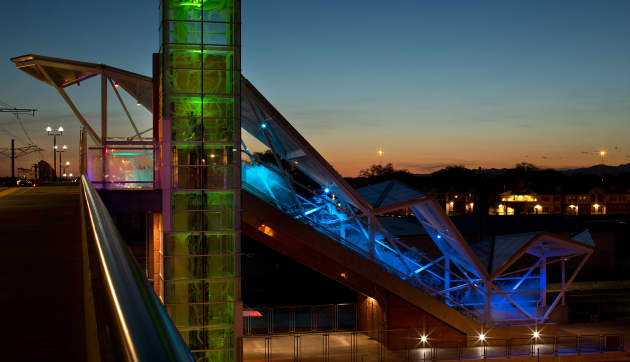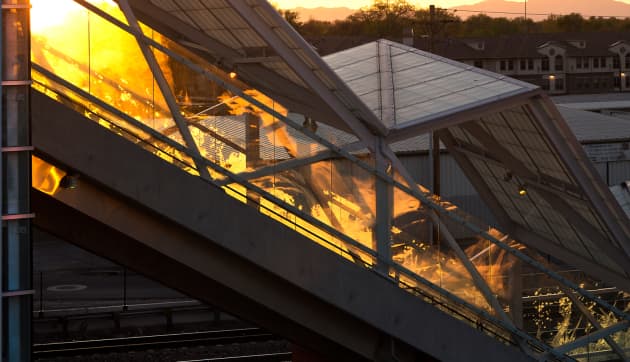 Photo: michel dubreuil
Photo: catherine widgery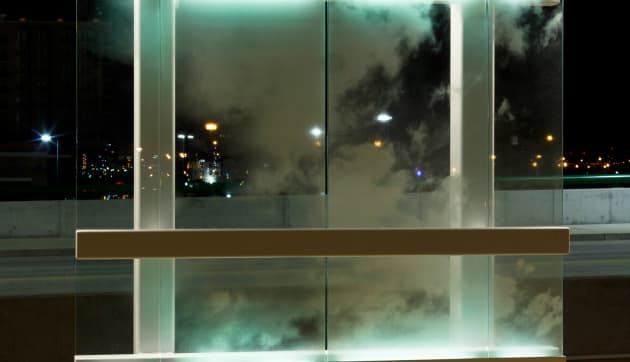 Photo: michel dubreuil
Client: Utah Transit Authority
Location: Salt Lake City, UT, United States
Completion date: 2013
Artwork budget: $589,000
Project Team
Artist
Catherine Widgery
Widgery Studio
Industry Resource
Jan Peters
Peters Studios
Industry Resource
Metal Arts Foundry
Metal Arts Foundry
Client
Utah Transit Authority
Industry Resource
Michel Dubreuil
Public Art Agent
Salt Lake City Arts Council
Salt Lake City Arts Council
Overview
Crystal Light transforms the two level environment of the Transfer Station of the UTA linking the new line to the airport with the existing commuter line. The dramatic weather of Salt Lake City is suggested in images of water in its different states: ice crystals, clouds, a rushing stream, gentle waves of the lake. These are etched into the glass windscreens and elevator tower to catch the sunlight during the day and at night color flows through the station with programmed lighting. Etched Glass, Stainless Steel, 75 x 200 x 78'. Salt Lake City, Utah.
Goals
A powerful statement: This flagship station of the new light rail line to the airport is one of the first things visitors to Salt Lake see. It needed to have a powerful impact, visible from both a distance and on the intimate level of detail for the passengers standing close to the etched screens.

Creative use of existing budget: The original budget of $180,000 wasn't much to make a powerful statement, but working with partners I was able arrange that all the glass involved was an in kind contribution, stretching the actual budget to over $350,000.

Always different. In transit stations many people use the station every day, so the work needs to be always changing: with sunlight and sky during the day and lighting at night. The etched glass creates shadow art on the platform beyond the physical boundaries of the work.

Energy: The surrounding mountains and the weather systems that sweep through the valley are a force of nature. Crystal Light captures the transformative energy of the dramatic Utah weather. The energy exchanged when water changes from solid, to liquid to vapor is embodied in this artwork
Process
This project was a collaboration from the beginning. The stakeholders, Utah Transit Authority, Roni Thomas of the Salt Lake City Arts Council, Salt Lake Art Design and Board for Utah Transit Authority and the architects FFKR Architects, MGB&A, Steve Greene & Associates, Landmark Design worked together to make this project the best it might be. They found the budget credits so we could treat large areas of glass and have a lighting program that animated the station. The Peters Studio worked with Isophone Glass in Germany for the large scale laser etching. Though they are among the premier laser etching companies in the world, they had never worked on a project of this scale and complexity before, clouds and water spray challenging the level of precision required. I worked with the photographer, Len Burgess, who had taken 100's of photos of ice crystals over decades. Lighting designer Roger Smith designed the program that shifts color and intensity in different rhythms. Metal Arts Foundry fabricated and installed the stainless steel discs that flow through the station platforms and down the stairway catching light. The contractor was Stacy Witbeck/Kiewit, and WilburSmith Associates, Ronald A. Straka.