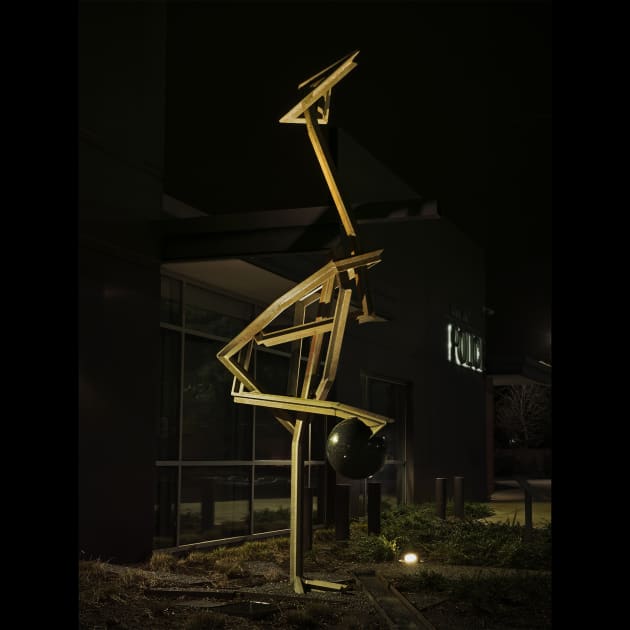 Photo: Matt Babcock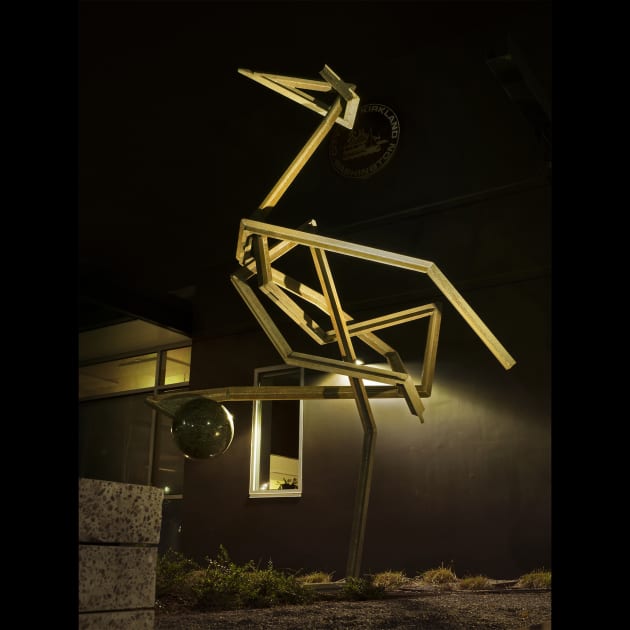 Photo: Matt Babcock
Client: Kirkland Cultural Arts Commission
Location: Kirkland, WA, United States
Completion date: 2016
Artwork budget: $135,000
Project Team
Public Art Agent
Kirkland Cultural Arts Commission
Overview
The piece stands outside the police station and courthouse. The title refers to an ancient legend and heraldic symbol of vigilance, honoring the police and courts. The wetland bird subject relates to the rain garden landscaping, highlighting the City's efforts to reduce environmental impact. In many cultures, cranes are symbols of good fortune. Therefore the piece is an encouraging welcome to people from the diverse community that uses the facility, often in times of stress. Because the underlying legend refers to a sentry who never sleeps, lighting was an important part of the job.
Goals
The artwork was commissioned after the building and landscaping were complete. The intent of the project was to honor the work of the police and courts and to suit the physical characteristics of the site. The project included foundation, lighting, and landscape features tying the installation into the existing landscape design.
Process
The installation was designed, fabricated, and installed by the artist. The design was presented to and approved by representatives of the police and courts, the city manager's office, the public works department, and the Cultural Arts Commission. The artist was responsible for the work of various subcontractors, including excavation, concrete, irrigation, electrical, delivery, and erection. Coordination was required with various public agencies for permitting, inspections, facility and grounds maintenance, and maintaining access to the police station and courthouse.
Additional Information
Materials include bronze and glass fiber reinforced concrete. Dimensions 17'H x 11'W x 5'D. Weight 2800 lbs.