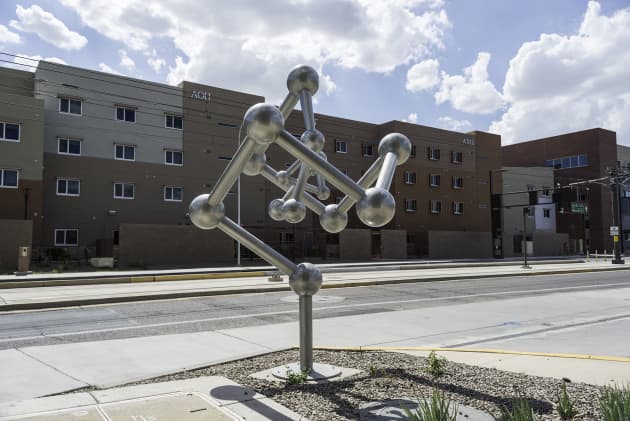 Photo: Ryan Parra
Photo: Mary Westheimer
Client: Sterling 920 Terrace
Location: Tempe, United States
Completion date: 2016
Artwork budget: $11,070
Project Team
Art Consultant
Molly Koehn
Curator Engine
Client
Sterling 920 Terrace
Sterling 920 Terrace
Artist
Kevin Caron
Kevin Caron Studios, L.L.C.
Overview
The developer of a large Arizona State University campus residence building had almost completed the structure when they decided to add a sculpture by the entrance of the building. Cosmography (109″ x 70″ x 70″) is constructed of powder-coated steel.
Goals
I was contacted by Curator Engine, a Phoenix, Arizona, based art consultant regarding currently available sculpture large enough for the location. My 9-foot-tall sculpture Cosmography fit the bill - except for the color.
Process
With the art consultant, I worked with the client to select a new color. After sandblasting, the sculpture was powder coated with an undercoat, a color that we worked with the consultant and their client to select, then clear to protect it in this high traffic outdoor area. I delivered and installed the sculpture, on budget and on time.