Photo: Tom Van Eynde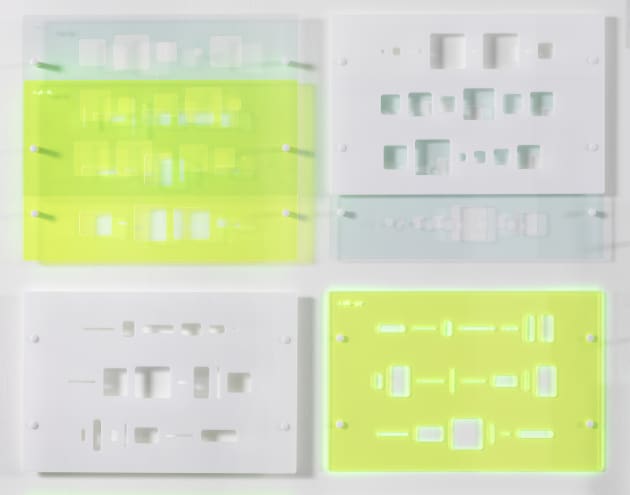 Photo: Tom Van Eynde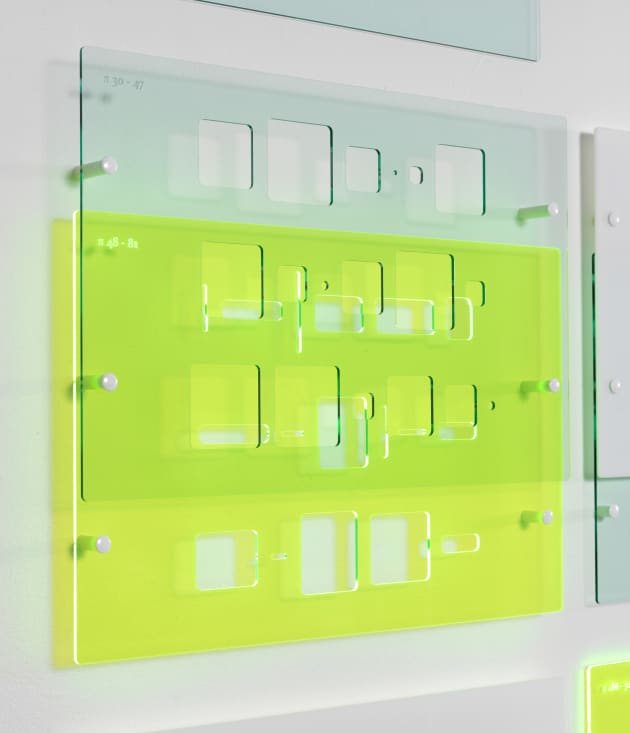 Photo: Tom Van Eynde
Client: Hyde Park Art Center
Location: Chicago, IL, United States
Completion date: 2016
Project Team
Artist
Yvette Kaiser Smith
Other
Hyde Park Art Center
Overview
Codex: pi 1021 was created specifically for a group exhibition, based on an existing smaller scale, less conceptually focused project. I had half of a wall with approximately 8 by 12 feet to work with.
Goals
This piece had two very specific works on either side. It had to consider its neighbors and its neighbors' lighting, yet make a bold statement.
Process
The curator wanted me to fill a space approximately 8 feet high and 12 feet across but did not want the overall shape to mimic the height to width ratio of individual tablets. He also wanted me to keep complexity but streamline or focus the internal pattern and logic. Final group ended up 92.5" tall and 134.5" across with 48 panels, each 11.5" x 17.5", hung 2" apart.
Additional Information
Three colors of laser-cut 1/8" acrylic sheet: fluorescent green, clear with green edge, and 31% light transmission white. Four all-purpose screws with white caps and white nylon spacers are assigned to each panel. Spacer depth varies from ¼" to 1 ¼". Panels allude to design templates, coded tablets, or pages. Simple geometric shapes plot numerical values following, in sequence, the first 1021 digits of pi. Zeros within the sequence shift panels to open spaces within the grid.