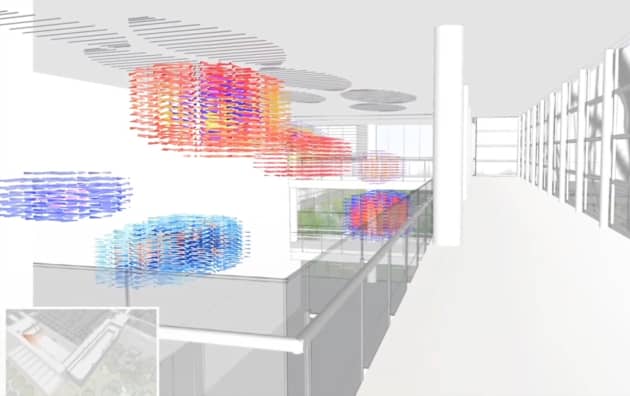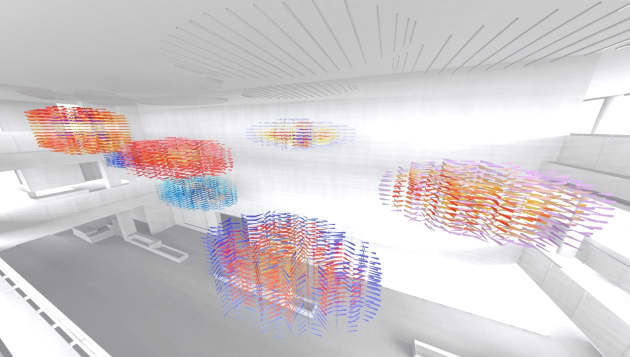 Photo: Jeff Tilley
Client: Parkland Hospital
Location: Dallas, TX, United States
Completion date: 2015
Artwork budget: $500,000
Project Team
Other
Corey Kapellas
Daniel Goldstein Studio
Overview
This mobile is for the new Parkland Hospital in Dallas. The mobile will be 100'X30'X30'. My goal while designing the piece was to bring the calming influence of nature inside. I chose to bring in the sky using the image of clouds. The mobile will be experienced from the ground floor level as well as the balconies that surround the upper levels. It consists of seven cloud forms each having hundreds of horizontal water droplet shapes which can freely rotate. As the individual elements are motivated by ambient air the clouds change their shapes.
Goals
The goal of the hospital's commissioning committee was to have an artwork that would not only enhance the architectural space but to also be a calming, welcoming and engaging addition to the hospital environment. Since this piece will be the first artwork people will experience as they enter the hospital it is important that the artwork sets a welcoming tone for their experience. This goal was very important to me. As someone who has spent a great deal of time in hospitals dealing with a life threatening illness as well as taking care of friends and loved ones I know that hospitals can be places that engender anxiety, fear and even despair. Thus, integrating a large artwork that is designed to engage and delight the visitor with its associations to nature, with color and with movement was of paramount importance.
The two stories of balconies around the atrium have benches that face the sculpture. The mobile will be constantly changing color and form and is designed to be a slow moving experience that will encourage meditation and stress reduction.
Process
The building was completely designed when I was brought into the project. The only collaboration that happened was between my team and the architects lighting and HVAC teams. We wanted to make sure that the sculpture would be properly lit and that the sculpture was not too close to the air vents,
I collaborated with the contractors in placing all the hanging points in the ceiling before they closed the ceiling up.